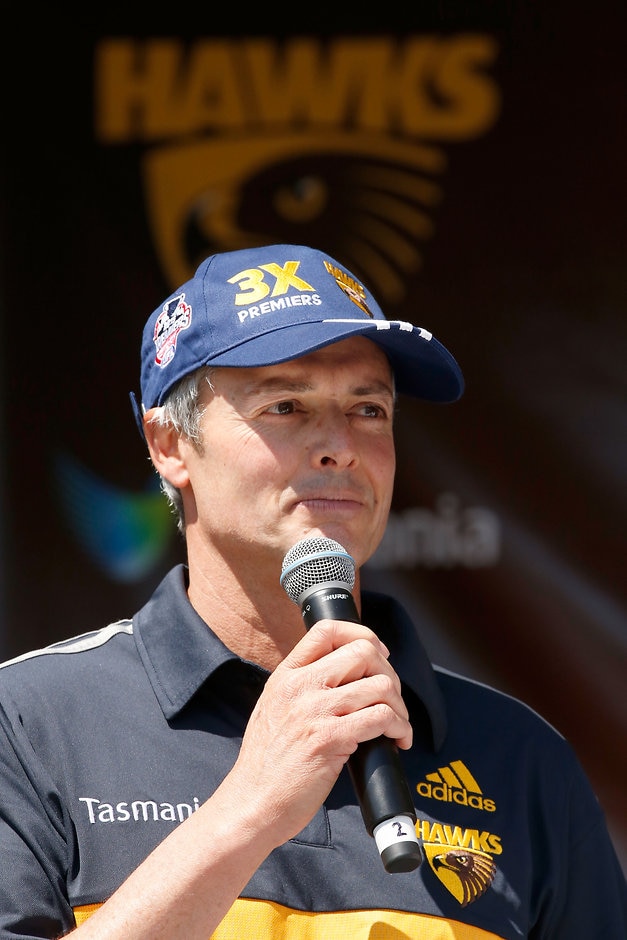 My motto has always been to leave two days earlier rather than a day late and now is the time
Andrew Newbold
HAWTHORN president Andrew Newbold has resigned, effective immediately and has handed the reins at the club to Richard Garvey.
The timing is a major surprise given it is less than two months since the Hawks' annual general meeting, at which Newbold gave every indication that he would complete the final two years of his term.
Newbold tips Clarko to sign, CEO commits for five years
It comes as negotiations continue for a new deal for four-time premiership coach Alastair Clarkson and as due diligence continues ahead of the purchase of a 28-hectare site in Dingley, which is slated to become the club's new home base.
Newbold, a board member since 2003, has been president of the Hawks since 2012 and has been at the helm for four Grand Final appearances and the last three premierships.
"On the back of multiple premierships and with the club in good shape, now feels like the right time to hand over the reins," he said.
"I started at Hawthorn as a board member when my second daughter was starting school. This year, 2016, marks her final year. It has been a rewarding 13 years for myself and my family but my motto has always been to leave two days earlier rather than a day late and now is the time."
Other achievements include several lucrative commercial sponsorships and the growth of Hawthorn into a true financial powerhouse, with more than 72,000 members, huge cash reserves and $70 million in turnover every year.
He replaced Jeff Kennett as president and while nowhere near as outspoken as his predecessor, he has come out on the front foot as required and was part of an industry group that travelled to the US in 2013 to discuss equalisation measures with the heads of various sporting leagues and clubs.
Garvey, a financial adviser and consultant, has been a Hawks director since 2010 and a vice-president since 2015. He was identified by the club as its next president after some succession planning undertaken by the club, but will only serve as acting president until the next annual meeting in December.
"I feel privileged to have the support and backing of the board in taking on the acting presidency position," he said.
"Andrew has done an outstanding job over a long period of time, as a director and president, and I hope to be able to build on the legacy he has created by continuing to develop the Hawthorn Football Club as a strong AFL business."
Didn't do a great job today telling players & staff of my decision to stand down - too emotional #HawthornAlways

— Andrew Newbold (@NewboldAndrew) February 2, 2016