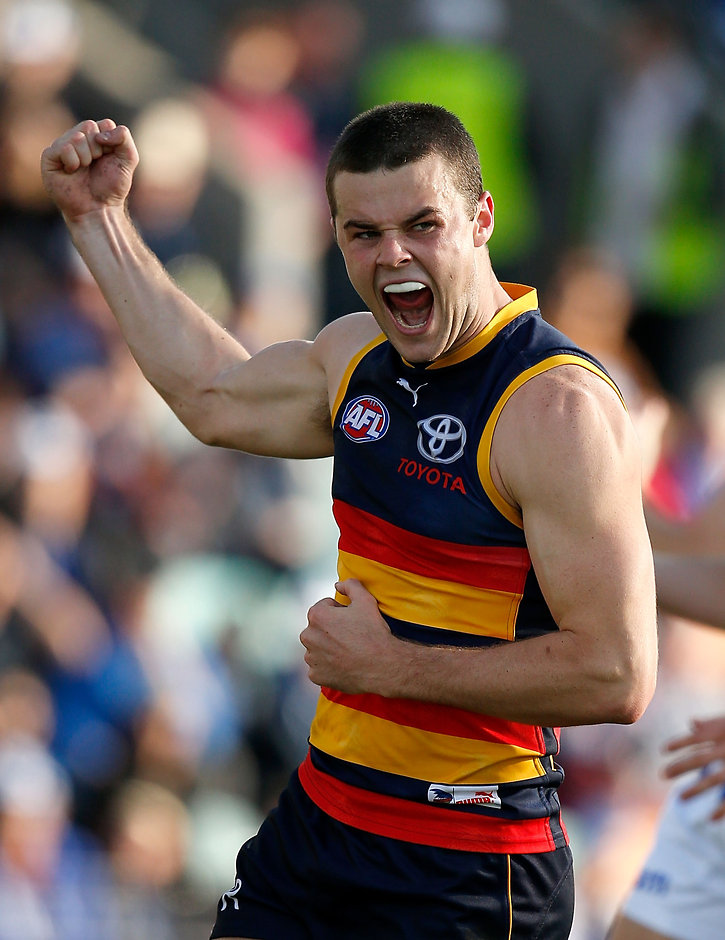 ADELAIDE defender Ricky Henderson says injury-plagued midfielder Brad Crouch has been "training the house down".
However Henderson cautioned Crows fans to rein in early-season expectations for the ball magnet, whose 2015 campaign was ruined by a stress fracture in his foot.
That followed a broken leg, Achilles and hamstring issues that severely hampered Crouch's 2014 and 2013 seasons.
As a result, the 22-year-old has managed just 25 games since his debut in 2013.
While dampening expectations, Henderson tipped that Crouch would eventually play a big role for the team.
"He hasn't played a game for about a year, so I wouldn't have too many expectations on him early in the year," Henderson said.
"He's been training the house down. He's as fit as he's ever been, so he'll be really good for us this year – pretty much a new recruit."
Having had a bulging disc removed from his back just before Christmas, Henderson is hopeful he can return to his damaging best this season.
He is a structurally important player to the Crows when fully fit, but the tail end of Henderson's 2015 campaign was affected by back pain and he's spent the bulk of the pre-season in rehabilitation.
He's nearing a return to full training and while he wasn't able to confirm whether he'd feature in the club's upcoming NAB Challenge campaign, Henderson said on Tuesday his sights were focused on round one against North Melbourne.
"I had a little disk bulge that I had removed – day to day it's so much easier … it was giving me a fair bit of pain," he said.
"Playing last year I was in a little bit of pain throughout the season.
"Moving on from here it's just about getting my conditioning back and getting back on track from there.
"We don't want to rush it too much because it is a back and it's obviously pretty important. Hopefully I can be back round one."