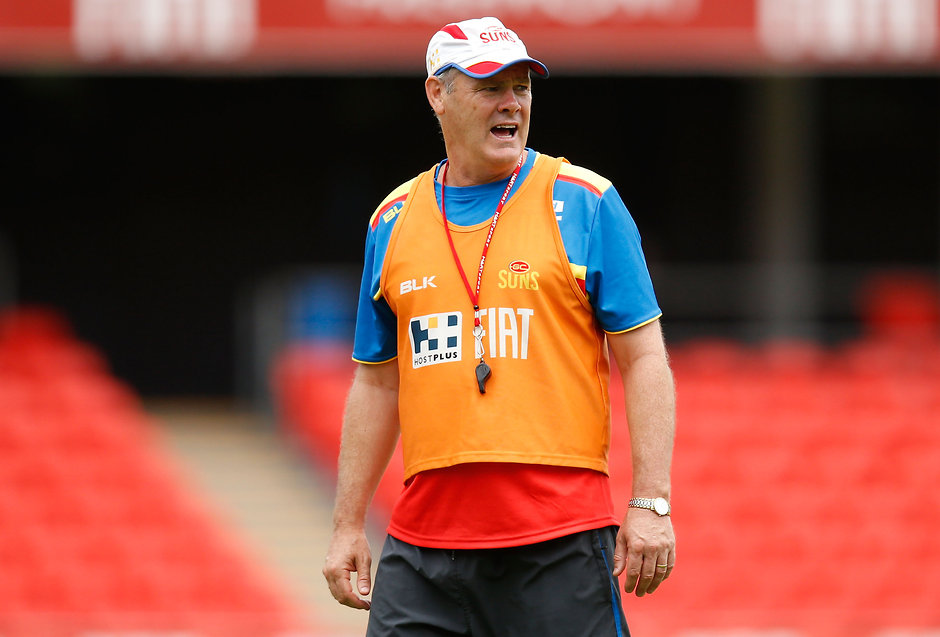 GOLD Coast expects star youngster Jaeger O'Meara to be back playing at some level by round one, Suns coach Rodney Eade says.
O'Meara missed the entire 2015 season after suffering a serious knee injury in a NEAFL practice match, and subsequently had surgery on both patella tendons.
O'Meara told AFL.com.au on Wednesday his rehabilitation this pre-season had not always gone smoothly, with the midfielder forced to back off his training at times after experiencing soreness in his knees.
Eade told SEN radio on Thursday that the Suns would take a cautious approach with O'Meara's rehabilitation, but thought he would be back on the field by the time the AFL season opens in late March.
"We're not putting a timeframe on it, so there's no pressure on him," Eade said.
"We don't want to fast track that. [We're looking at the] long term, not only long term with his career but long term with the season.
"We don't want him to start playing, miss a couple and then have to come back again.
"I would think he would be at least playing NEAFL by round one. What stage he's back in the firsts I'm not too sure.
"As I said, it was a significant injury, but he's increased his load and everything's tracking well then he plateaus, then he goes again, so we just have to see when those plateaus occur again and when he'll be able to play."
O'Meara also responded to reports linking him to a possible move to a Melbourne-based club when he spoke to AFL.com.au on Wednesday.
The 2013 NAB AFL Rising Star winner comes out of contract at the end of this season, but said he had "no interest" in talking to Melbourne clubs and wanted to focus on returning to fitness and form before opening contract negotiations with the Suns.
Eade was not concerned by the media speculation about O'Meara's future, saying the Suns were confident O'Meara and fellow out-of-contract youngsters such as Tom Lynch and Dion Prestia would want to stay.
"The main focus is just to get [Jaeger's] body right. From our point of view, we just want to give him every support and everything possible for him to get back and play good footy," Eade said.
"To be honest, we're reasonably confident in what we've set up now in the program and the way we're setting the club up that the players will see – especially if we can do well at the start of the year – that this is the place they should be."