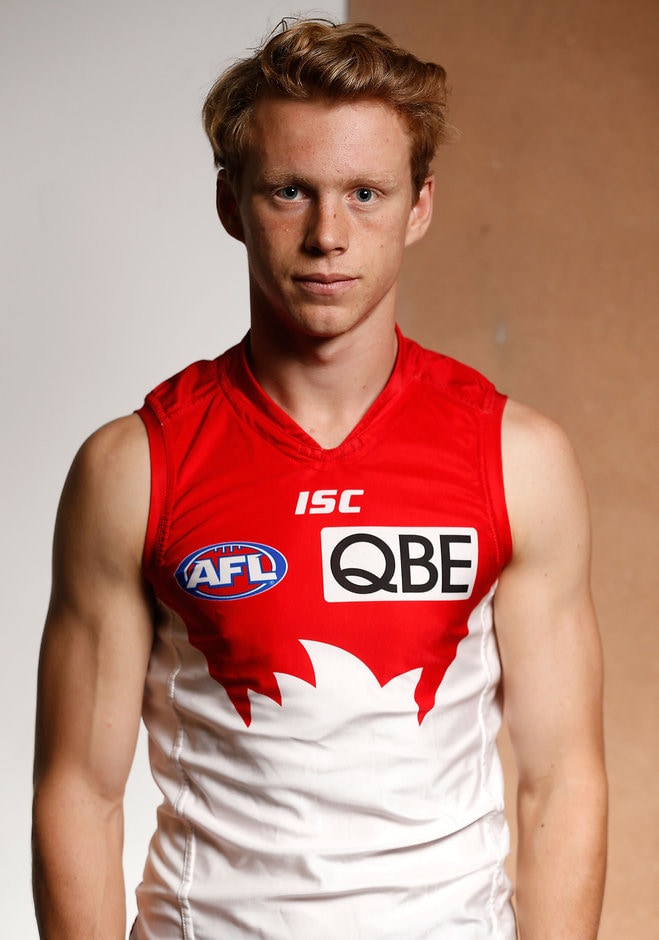 With Rhyce Shaw going out there's a spot there so he could potentially take that
Kieren Jack on Callum Mills' chances of playing in round one
SYDNEY Swans teenager Callum Mills has the qualities needed to back up the hype surrounding his fledgling career, according to his more experienced teammates.
Mills made history in November when he attracted the AFL's first bid under its new academy system, when the Swans blocked Melbourne's attempt to take him at pick No.3 in the NAB AFL Draft.
The 18 year-old was so highly rated by the Swans hierarchy that he was handed the No.14 jumper to start his career, the same guernsey worn by club legends and Brownlow Medal winners Bob Skilton and Paul Kelly.
From North Shore in Sydney, Mills arrived at the Swans with plenty of fanfare, and co-captain Kieren Jack said the new recruit had impressed everyone at the club while defender Jeremy Laidler called him a 'freak of nature' who could play anywhere.
"He's a really quality kid; he's determined, mentally strong and has performed really well over the pre-season, he hasn't missed a beat," Jack told AFL.com.au from the Swans' pre-season camp in Coffs Harbour.
"We don't want to put too much pressure on him because he's an 18 year-old kid coming into the system for the first time, but I think he can certainly have an impact much the same as (fellow academy product) Isaac (Heeney) did last year.
"The beauty of the academy is that we're fast-tracking kids in New South Wales to get to a similar level of those in Victoria and South Australia.
"They're almost ready made to come in and play AFL footy so that's really positive, and hopefully he'll come in and have an impact early.
Mills has been a star on the track in his first AFL pre-season with his class and composure under pressure more reminiscent of a veteran than a rookie.
Jack believes the Swans' top pick not only has the talent and skill to play senior football in 2016, he can have a real say on the side's success.
While Heeney burst onto the scene 12 months ago as a lively forward, Jack said Mills could slot into a role in defence, such is his ability and temperament.
"He reads the game really well and he's not afraid to organise, which are two really strong qualities you need if you want to play back and they're two pretty impressive traits to have for such a young player," Jack said.
"He's played down back, but he's also played a little bit in the midfield too.
"With Rhyce Shaw going out there's a spot there so he could potentially take that."
Kieren Jack and Tom Papley at the Swans' training camp in Coffs Harbour (Picture: Sydney Swans)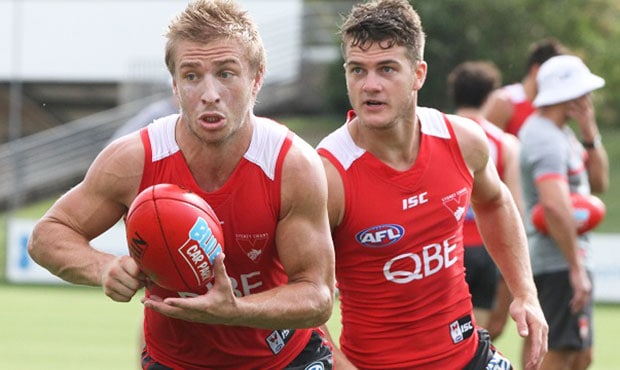 Swans defender Jeremy Laidler backed his co-captain's assessment of Mills' arrival at the club and said the young gun has some outstanding leadership qualities.
But while Jack tried to temper the expectations and dim the spotlight somewhat on the academy draftee, Laidler didn't hold back.
"I still don't know what position he'll play because he's a freak of nature and can play anywhere you put him," Laidler said.
"He's a pretty skillful young fellow and has been training really well.
"He's a good learner and a good listener, so I suppose if you chuck him on the wing or at half-back he'll just accept that and play a role for you.
"He speaks up in meetings which we love and always asks questions and is always looking to improve.
"He's one who'll definitely put his hand up for round one."