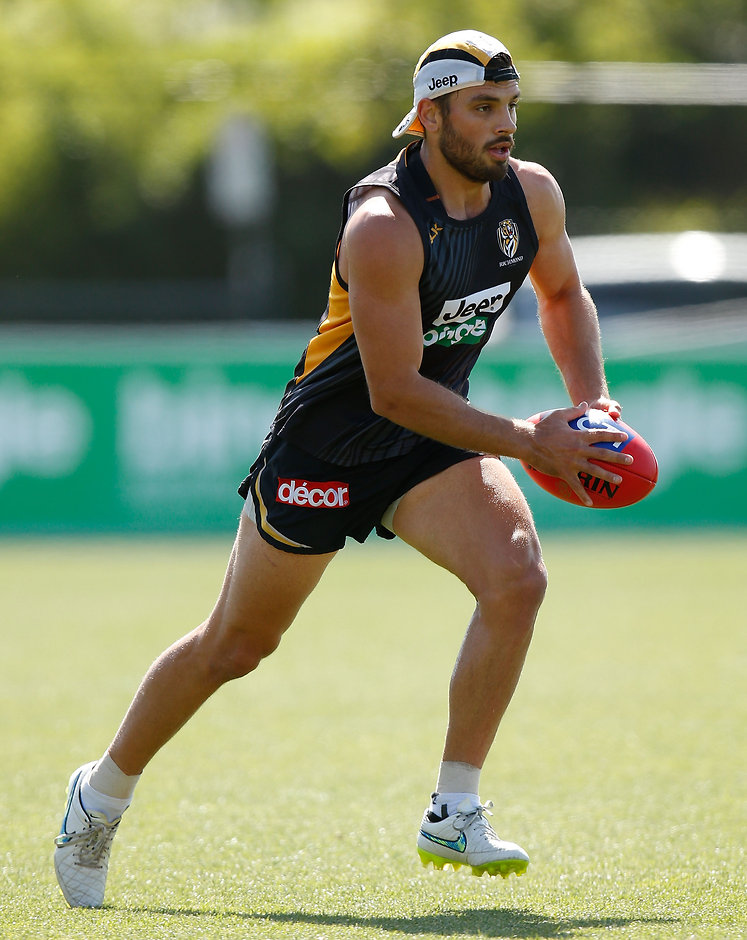 I'll admit I thought I should have played, but I've got to keep working so I'm definitely there this season if we play finals
Sam Lloyd
RICHMOND'S decision to drop Sam Lloyd on the eve of last year's finals series was the elephant in the room when the small forward sat down for his end of season exit meeting.
Six days after being told his good form was not enough to keep him in the team for the Tigers' elimination final against North Melbourne, Lloyd was still raw when he fronted a panel of Richmond coaches and staff.
Sitting across from him were Damien Hardwick, his line coach Greg Mellor, physical performance manager Peter Burge, list manager Blaire Hartley and head of coaching Tim Livingstone.
"It's quite intense," Lloyd told AFL.com.au.
"I was dropped on the Thursday and then my meeting was on the next Wednesday … it hadn't been a week and it was probably the elephant in the room, so they got it out of the way.
"I was disappointed and I've had a few conversations with 'Dimma' since and I've really used it as motivation through the pre-season.
"I'll admit I thought I should have played, but I've got to keep working so I'm definitely there this season if we play finals."
Lloyd was one of two surprise omissions when the Tigers announced their elimination final team last year, with Ben Lennon also making way for recalled pair Ben Griffiths and Reece Conca.
The match committee had decided they needed another tall to combat North Melbourne, prompting the Griffiths selection, while Conca's ability to play midfield got him the nod over Lloyd.
Overlooking Lloyd under those circumstances is unlikely to happen again, however, after a standout pre-season from the 25-year-old, who knocked a decent chunk off his 3km personal best.
"My versatility and spending time in the midfield is something I've been working on," he said.
"That's part of getting a bigger tank and that's something I'm up to now.
"I knocked a bit off my PB in the 3km, but it's been more the interval running.
"That's helped me on the track, where my pressure and tackling and physicality have lifted, which is what the coaches were after."
Lloyd was told in his exit interview that he had gone from a 'two' rating defensively to a 'six' in his second season. The aim now after a strong pre-season is to move closer to a 10.
Contracted until the end of this season, the former VFL goalkicker knows it is a big year and lifting his defensive game – as well as his versatility – is crucial.
Snared as a mature-age recruit when the Tigers were seeking AFL-ready talent at the end of 2013, Lloyd joined the club alongside former AFL players Matt Thomas, Nathan Gordon and Todd Banfield.
That trio has since been delisted, but Lloyd remains and has upside to his game.
"In a sense we (mature-age recruits) are a bit of a gamble," Lloyd said.
"Those guys all came from other AFL clubs, whereas I came from the VFL.
"I don't think I've played my best footy yet, which I'm aiming to do this year.
"It's a big year for me to show them I an make it at the top level."