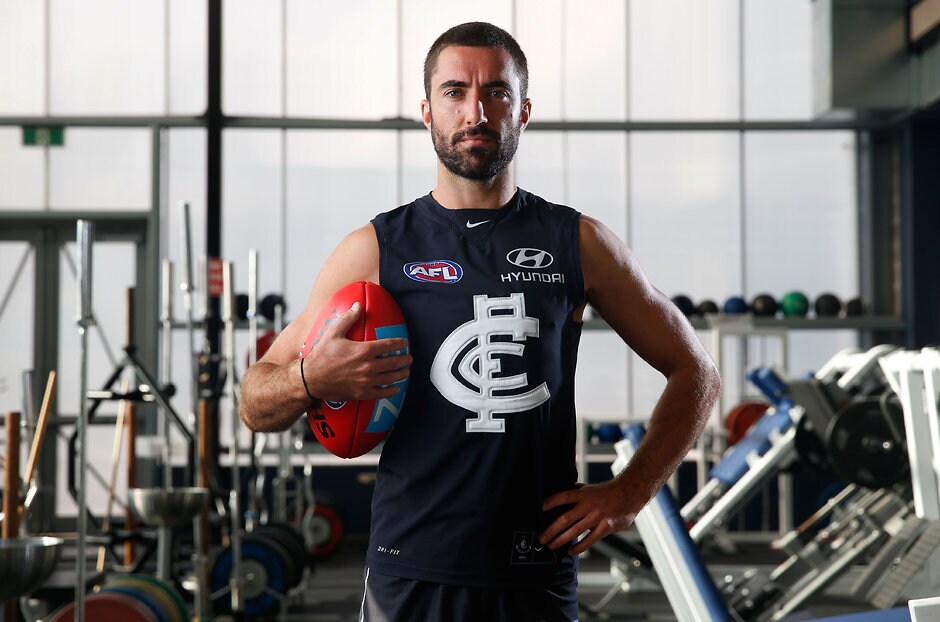 If they want me to stay, I am pretty happy to stay
Kade Simpson
Carlton's oldest player is showing no obvious signs of deterioration, with Kade Simpson revealing his body feels better than it has in several seasons despite completing a career-high off-season workload.
The Blues' courageous vice-captain, 31, will be out of contract at season's end but is keen to secure an extension that would ensure he plays at least a 15th season with the club in 2017.
Growing Cripps to become a bigger headache for opponents
The 242-gamer, who played 20 games last year in a horror season for Carlton, is realistic about his future given his age, but has been excited by the attitude of new coach Brendon Bolton.
"I hope so," Simpson told The Age about the prospect of a new contract.
"I know it can all go downhill pretty quickly once you hit 30 but the body is feeling great. I have been running the best I have.
"'Bolts' said to me the first time I met him (that) he is not coming in here to end my career.
"I will, obviously, just wait to the season starts, or when the club comes to me, and we'll just go from there. If they want me to stay, I am pretty happy to stay.
"I know everyone says it, but the body is probably the best it's felt for four of five years. I have barely missed a session all pre-season …
"In the off-season as well, I did as much training as I ever have done in the time away, so I have come back in pretty good shape, ready to go."
Carlton plays its first NAB Challenge game against Hawthorn in Launceston on February 18.