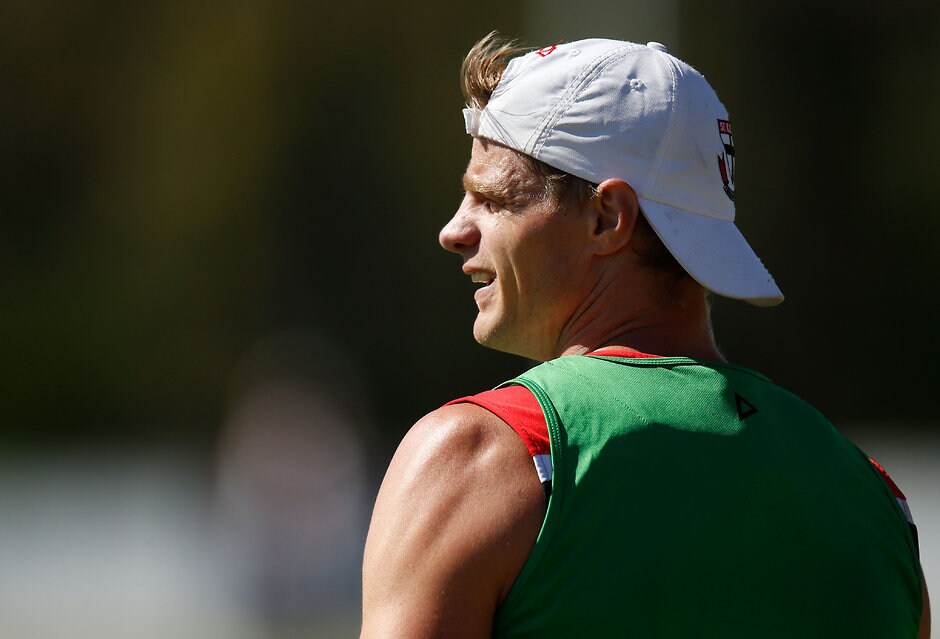 Many people associated with the club believe 2015 was actually his best year in the role and I couldn't argue with that
Alan Richardson, on Nick Riewoldt
ST KILDA star Nick Riewoldt says he still has the passion to captain the Saints as he prepares for a record 11th season in charge.
The Saints have voted Riewoldt in to skipper the club again and have made just one change to their leadership group from last year, with reigning club champion Jack Steven elevated to the eight-man team.
Riewoldt, 33, who now holds the club record for games as captain, said he still had a great hunger for the job as the young Saints look to build in 2016.
"I had a good post-season break to refresh and spent a lot of time thinking about whether I was still the right person for the role," Riewoldt said.
"I also spoke to 'Richo' (coach Alan Richardson) about what was best for the team.
"In the end, I knew I still had the passion and my teammates wanted me there, so I couldn't be happier or more excited."
Riewoldt, who is due to reach 300 games in round two, enjoyed possibly his best season as captain in 2015, according to Richardson.
The coach said it was clear the players and coaches believed he was the best man for the job as the Saints' younger leaders emerged
"He continues to grow as a captain and still has a genuine hunger to lead," Richardson said.
"Many people associated with the club believe 2015 was actually his best year in the role and I couldn't argue with that.
"He wants to guide [us] to another level in 2016 and I know our fans are excited about where this team is going.
"We surprised a few people last year with our attitude and competitiveness and we aim to keep improving and do the same this year."
The Saints' emerging leaders include David Armitage and Jarryn Geary, while young pair Mav Weller and Jack Newnes were elevated into the leadership group in 2015.
Richardson said he believed Armitage and Geary would "both make good captains and will continue to be excellent leaders for us".
Veterans Sean Dempster and Leigh Montagna were the other members of St Kilda's leadership group in 2015.
Steven, who turns 26 in March, said it was up to the club's leaders to help the young Saints continue their improvement this season.
"It's both an honour and a big challenge to be named in the leadership group for the first time – I am very keen to help drive our young list," he said.
"I really love the spirit in this playing group and people would have seen that on show last season.
"This group really has a crack and doesn't give in and, as a leadership group, we need to make sure people keep improving. We took a step in the right direction last season but we need to keep getting better."
The Saints' leadership group is decided by a player vote on how well their teammates represent the club's trademarks.
Captain and vice-captain positions are then awarded by the club's leaders, including Richardson, football manager Jamie Cox and CEO Matt Finnis.