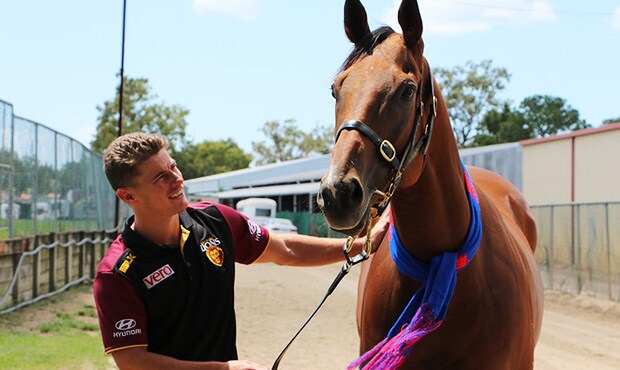 DAYNE Zorko is not horsing around - he's in for the long haul with the Brisbane Lions.

Speaking at Eagle Farm Racecourse on Tuesday morning, alongside Lions ambassador and sprint sensation Buffering, Zorko was emphatic. "I'm extremely excited and happy in Brisbane," he said.

The out-of-contract midfielder says some new faces and a new attitude around the club has him poised to sign a new deal in the near future.

It's a change of fortunes from the end of the 2015 season, when Zorko wasn't quite sure where his long-term future lied.

"We've got a really good young group coming through and I'd love to be a part of that. Hopefully, it'll (contract) be sorted out in the near future."

Zorko was one of four winners of the Lions' best and fairest last season, but wasn't totally at ease after a difficult year for the entire club.

He said the addition of welfare duo Craig and Melissa Lambert had made a huge difference to "take a little stress out of the joint".

Celebrating his 27th birthday, Zorko is the fifth oldest on the list behind Daniel Merrett, Stefan Martin, Trent West and Pearce Hanley and said it was important the older core stuck together.

"It's a new year and you try and put everything behind you," he said.

"We're looking forward to making improvements around the club, making it a really enjoyable environment and I think to date we've done that very well.

"I feel like I've got a massive part to play in the development of the younger kids, and being around for four or five years now, it's important I stick around."

With $6.4 million in prizemoney next to Buffering's name, trainer Rob Heathcote said he hoped to see some similarities between his champion horse and his favourite AFL team.

"Buffering had 18 goes before he won a group one, he's won six in his last 12, so he just keeps getting up off the canvas," Heathcote said.

"You get beat, so what, it's not how you get knocked down, it's how you get back up.

"It took him a long time to win a big one and he endeared himself to the public because of that never-say-die attitude."