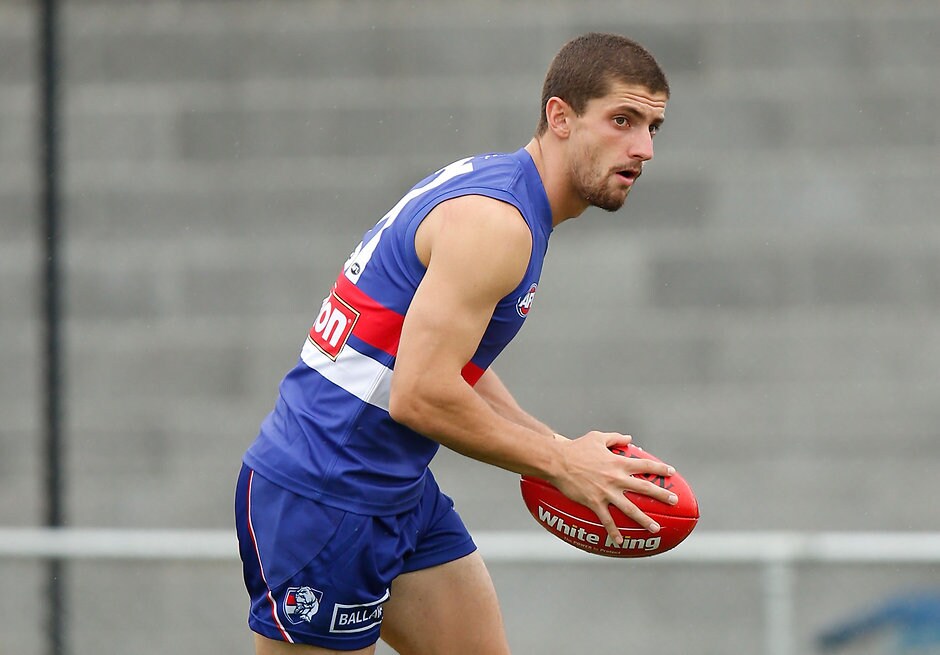 WHAT'S the best AFL Fantasy side you can pick with only mid-priced players?
AFL Fantasy is a game of guns and rookies, right? Not necessarily.
For many coaches, there's great appeal to the mid-priced player – the third-year gun ready for a breakout, the scoring machine coming back from an ACL tear, the untapped talent ready to unleash a Fantasy frenzy at a new club.
You know Dustin Martin will score well, you assume Christian Petracca will make you some cash – but what about players like Josh Kelly, Tom Liberatore or Ryan Bastinac?
With this in mind, it seems well worth conducting the ultimate mid-priced experiment.
For this purpose, we'll start with eight cash-cows on the bench. It means we're not wasting dollars and the quality of our on-field 22 is immeasurably stronger.
With $1million on the pine, we've got $9million to play with for our on-field team – an average of $409,090 per player. Let's make our mid-price range $50,000 either side of that. So, every player on the field must be between $360,000 and $460,000.
Click here to subscribe on iTunes

Just like a regular squad, you want to plow the majority of that cash into your midfield.
Jaeger O'Meara (MID, $415,000) and Tom Liberatore (MID, $443,000) never got on the park last year after serious injuries but averaged 92.7 and 98.7 respectively in 2014. Their Fantasy pedigree is assured.
Mitch Duncan (MID, $442,000), David Swallow (MID, $459,000) and Bryce Gibbs (MID, $449,000) were hampered last season by factors like injury and playing for Carlton, but expect a much stronger showing this year.
I'm tipping breakout years for Josh Kelly (MID, $406,000) and Luke Dunstan (MID, $389,000), high draft picks with impressive potential as ball-magnets. Ryan Bastinac (MID, $361,000) clocked 85.5 points per game in 2013 and won't be squeezed out of the Lions' midfield the way he was at North.
Tune into The Traders' live #AFLFantasy broadcast of the first #NABChallenge game of 2016 (Hawks v Blues) via AFL site/app on Thurs 18 Feb.

— AFL Fantasy (@AFLFantasy) February 9, 2016
Up front there is the luxury of being able to squeeze in guns like Lance Franklin (FWD, $452,000), Tom Hawkins (FWD, $364,000), Jack Darling (FWD, $391,000) and Jesse Hogan (FWD, $411,000). It's a touch heavy on key position talent, but you'd get short odds on at least one of those four not kicking a bag each round.
Aaron Hall (FWD/MID, $422,000) gets a guernsey based on his Fantasy tear late last year when he topped 100 in six of the Suns' final seven games.
Matthew Lobbe (RUC, $431,000) is an easy pick for a ruck slot, particularly after Paddy Ryder's suspension, and you can take your pick of new Cat Zac Smith (RUC, $389,000) or rising Saint Billy Longer (RUC, $371,000) to partner him.
Warnie reveals his initial AFL Fantasy squad
Backline selections will likely decide your Fantasy fate, and while the talent pool can look a little thin, there's plenty of solid citizens under $400,000.
Crow Brodie Smith (DEF/MID, $391,000) clocked an 82.2 point Fantasy average a couple of seasons back, and it was only a serious concussion that derailed his 2015 season.
Expect Matt Rosa (DEF/MID, $411,000) to be handed a new role at the Suns and for his Fantasy scores to receive a significant boost.
So keep an open mind to the prospect of an even team. If you can pick 22 players who are regulars for their side and deliver a solid average, you'll have the backbone of an extremely competitive Fantasy squad.