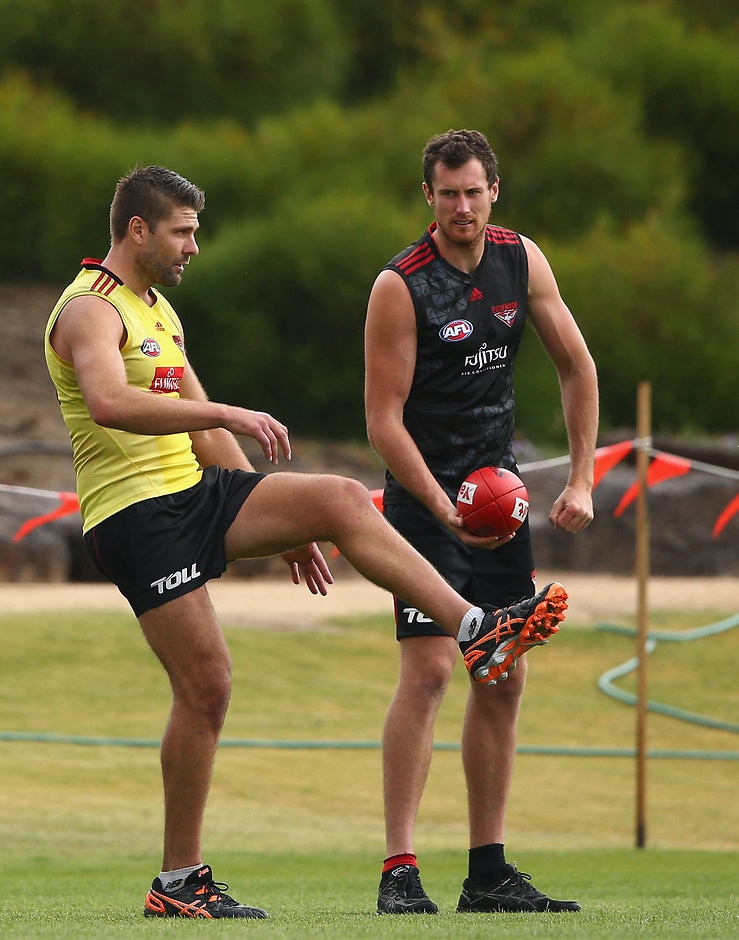 MARK Jamar is the only Essendon top-up player cutting it fine to be ready for the Bombers' round one clash against Gold Coast in 45 days, according to fitness coach Justin Crow.

Crow is overseeing the program designed to have the eight top-up players Essendon has signed in the right physical condition to play this season.

Crow has experience in such matters having successfully prepared short-term recruits at short notice for last season's NAB Challenge.

Former Lion Sam Michael trains with Bombers

That's why the 32-year-old, who has been in the role three seasons, didn't bat an eyelid when the job of getting the club's top-up players ready for 2016 fell his way in mid-January.

"We're better equipped than anyone in the League to do it because we have done it before," Crow told AFL.com.au.

"We're confident in the staff we have got here to do it."

Such is his confidence, Crow remains hopeful even Jamar will be ready given the time available between now and round one.

But he said the fact the former Demon started behind Ryan Crowley, James Kelly, Mathew Stokes, Sam Grimley, Matt Dea and James Polkinghorne made him the backmarker among the group at this stage.

"They have come from varying backgrounds, ranging from a normal WAFL program to doing nothing," Crow said.

"The best way to take guys from a low training base is to get a clear idea of what they have done in order to tailor individual programs and then we have receptive coaches to those players building up as they are required."

Each player was asked to detail any fitness work they had done in the month before joining Essendon and met with Crow to discuss where they might need to make up ground.

Impressed with the attitude of each player, Crow said recruiting experienced players had made his job much easier.

"They are generally mature players who know their bodies and have a good understanding of the level of fitness they need to get to which is really useful," Crow said.

"They're able to provide a quality insight into themselves and a realistic measure of where they are at."

Crow found most of the players had maintained some fitness through running but the weights program was the first thing that disappeared in retirement.

Hardening their bodies for competition has therefore become a priority as has cross training when possible.

Crow said the players were experienced enough to know their fitness levels needed to increase gradually and they understood "that if they put in the right sort of work they know they will get there".

He was also conscious that many of the players had begun to move into a career post-football and said the club was happy for them to keep making progress in that area so 2017 was as promising for them as this year had been.

But right now Crow is confident in what they can provide both on and off the field.

He expects each of the eight players to participate in at least one session of match simulation before the NAB Cup and then it will be a matter of assessing what lead-in suits the individual best.

The reality is some players might have a finite number of games in them so 'getting there' doesn't just mean being right for round one. It means being built to last'.

Crow is confident that whatever happens the inclusion of eight new faces will have its benefits.

"We're fortunate from a football sense but also a high performance sense to be exposed to all this IP and all these varied experiences," Crow said.
| | | | |
| --- | --- | --- | --- |
| THE ESSENDON TOP-UPS | AGE | AFL SEASONS | GAMES |
| James Kelly | 32 | 14 | 273 |
| Mathew Stokes | 31 | 10 | 189 |
| Mark Jamar | 32 | 13 | 155 |
| Sam Grimley | 24 | 6 | 3 |
| Matt Dea | 24 | 6 | 31 |
| James Polkinghorne | 27 | 7 | 94 |
| Jonathan Simpkin | 28 | 7 | 37 |
| Ryan Crowley | 31 | 10 | 188 |