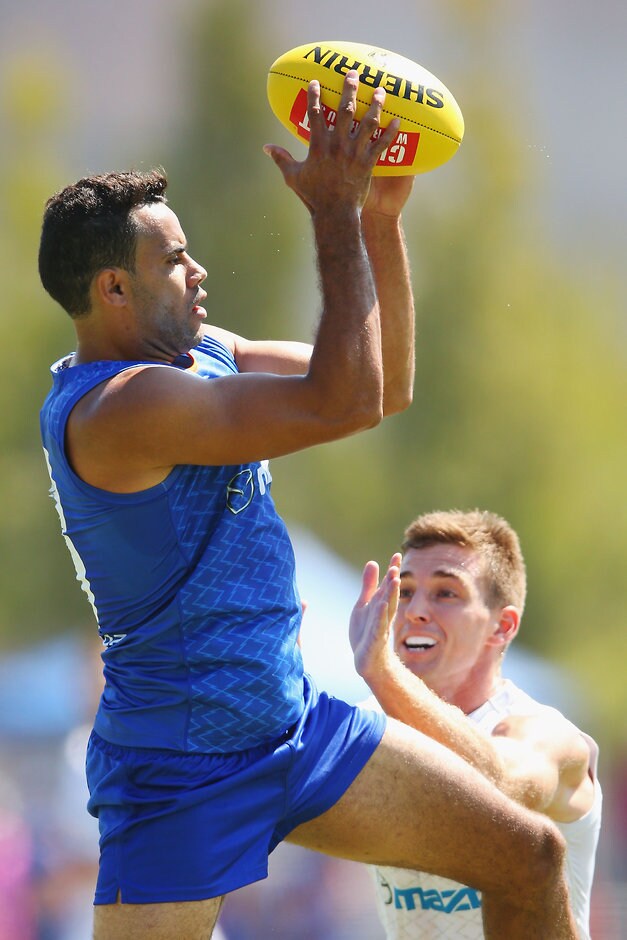 I think you'll see good things from Wellsy this year
Jamie Macmillan
DANIEL Wells' long injury lay-off and return to peak fitness could be the catalyst for the rejuvenated veteran to deliver some career-best football, his North Melbourne teammate Jamie Macmillan says.
Wells tore apart the Kangaroos' intra-club match on Friday, slotting four first-half goals and displaying the poise of years gone by to warm the hearts of several hundred supporters at Arden Street.
Veteran Roo on song in intra-club hitout
The 31-year-old has seemingly overcome a nightmare run of injuries after frustrating foot and Achilles complaints restricted him to just 12 games in the past two seasons as the Roos reached back-to-back preliminary finals.
Having shed 6kg this summer, Wells has never been in better shape and should boost North's push for a flag, with Macmillan predicting the dual club champion's output would hit new heights after his lengthy stint on the sidelines.
"Absolutely, I reckon (he'll get back to) his best and better," Macmillan told AFL.com.au.
"They always say when guys miss a bit of footy it sometimes benefits them later on.
"He's had effectively two years off and he's cherry-ripe to go, his passion for the game is still there, so he really wants to improve and especially with the other forwards down there, he's got a good bond with them.
"I think you'll see good things from Wellsy this year."
Only four times in the past nine years has the former No.2 draft pick played at least 20 games in a season, however Wells' dedication to rebuilding his fitness from what some thought were career-threatening injuries has impressed Macmillan.
"It's good to see him back. He's a class above and always has been," Macmillan said.
"He's been able to get his body right the last two or three months and in that first half (of the intraclub) we saw what he can do.
"He got hit up probably last year a little bit about presenting in the right shape and he's presented terrifically well."
Daniel Wells puts the pressure on Jack Ziebell. Picture: AFL Media

North targeted outside pace and skill in the off-season, bringing in ex-Hawks speedster Jed Anderson and former Saints wingman Farren Ray to lighten the load on evergreen Brent Harvey and Wells for run and carry.
Anderson slotted two goals in an encouraging cameo performance in his first intra-club hit-out, while Ray worked into the game nicely, and Macmillan had no doubt the Roos would match any opponent for speed this year.
"It's something about that has been spoken about a little bit. Even Sam Gibson, he might not be the quickest bloke going around, but he can maintain the same pace and 'Faz' was pretty good (in the intraclub)," he said.
"Jed coming in has added something else. Wellsy's effectively a new recruit for us too and he's certainly got a touch of pace too. I don't think now we lack any speed.
"Up forward we've got Boomer, Lindsay (Thomas), Robbie Nahas. Taylor Garner didn't play today, he's got a turn of pace. So I think we'll be fine in that department."
Macmillan was impressed with the performances of young ruckman Braydon Preuss and Declan Mountford last Friday and noted the heightened intensity as the Roos built towards an opening NAB Challenge encounter with St Kilda at Wangaratta on Saturday.
The reliable defender said he was aiming to play all three pre-season matches – including games against Collingwood and Hawthorn – to get some continuity after his Achilles and hamstring problems limited him to 17 games last year.