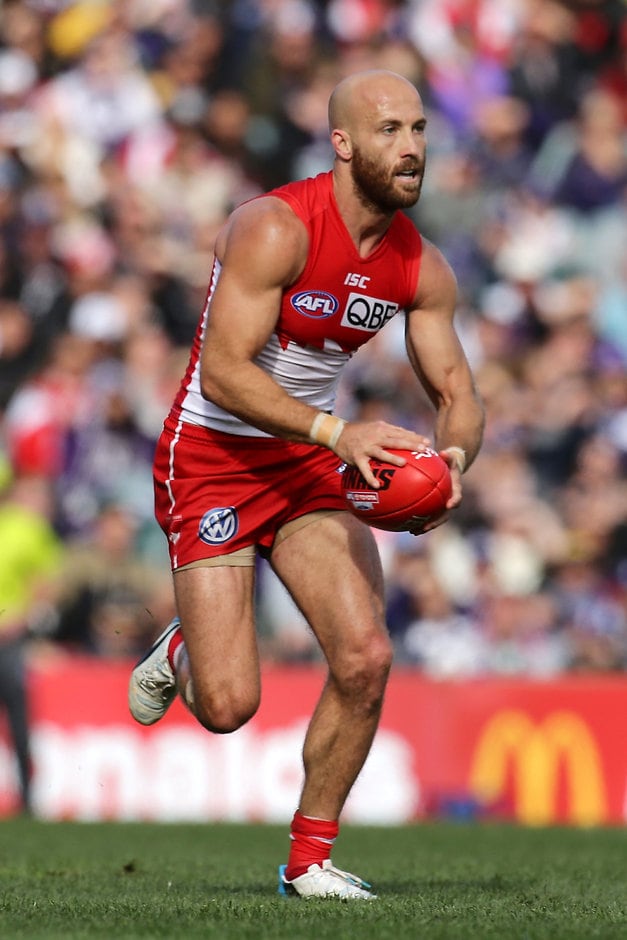 INJURED Sydney Swans co-captain Jarrad McVeigh will get an early insight into what his life could be like in retirement when he coaches the club in this week's NAB Challenge match against Port Adelaide.

McVeigh still hasn't joined the Swans' main training group since having knee surgery at the end of last season but will take over from senior coach John Longmire in a one-off experience when his side takes on Port at Blacktown on Saturday.

During last Friday's intra-club match, McVeigh sat with Longmire in preparation for his first taste of coaching, which he plans to explore further when his playing days are over.

The 30-year-old said he was initially reluctant to agree to the role when approached by Longmire a fortnight ago.

"I didn't want it to seem disrespectful to Port Adelaide because that's not what it's about. We actually think it's more important doing it this way for our playing group," McVeigh said.

"It's more about improving our leadership as players and a leadership group, and seeing what the players see out on the field and then trying to bring that to the coaches, and seeing if we're on the same page.

"Ultimately, it's what we do out on the ground that can be (the difference between) wins and losses, obviously coaches make a lot of moves throughout the game but in the end it's the players on the field that are trying to organise and do different things to win the game."

The dependable backman has played 266 games for the Swans – the fifth most in the club's history – and is still one of the club's most important players, finishing fifth in last year's club champion award.

He isn't expected to take any part in this year's NAB Challenge and is in serious doubt to prove his fitness in time for the club's opening game of the season against Collingwood at ANZ Stadium in round one.

It mirrors his 2015 pre-season when a calf injury cost him a chance to play in the first game of the season, but McVeigh returned with a 26-possession effort in a stirring win over Port the following week.

After spending a frustrating summer in the gym, McVeigh said his recovery had been slower than he expected.

"It's been a long process but it's more of a long-term fix than short term," he said.

"I've ramped up my running over the past couple of weeks. I'll back it off this week and then hopefully ramp it up again.

"The goal is definitely round one, but this week will tell a good story.

"I didn't play last year at all but then played round two, I think having 14 seasons under your belt can count for a bit of experience, so I'm not too concerned about that type of stuff.

"I'm taking it one week at a time and just seeing how the knee pulls up every week."

McVeigh said that star forward Lance Franklin was a likely starter for his coaching debut.

"He played really well on Friday night in the intra-club, (but) we've got three games in three weeks so we'll see how that pans out," McVeigh said.

"For him personally I'm sure he wants to get out there and back to playing footy again which is what he's good at."
THE VFL/AFL'S MOST RECENT CAPTAIN-COACHES
1981 Malcolm Blight (NM); aged 31 years, 40 days in first game
1979 Carl Ditterich (Melb); 33 years, 179 days
1978 Alex Jesaulenko (Carl); 32 years, 284 days
1972 Des Tuddenham (Ess); 29 years, 64 days
1972 John Nicholls (Carl); 32 years, 232 days
1965 Bob Skilton (SM); 26 years, 162 days
1965 Ron D. Barassi (Carl); 29 years, 49 days
1964 Graham Arthur (Haw); 27 years, 313 days
1963 Kevin Murray (Fitz); 24 years, 306 days
1958 Ron Clegg (SM); 30 years, 146 days
1957 Ted Whitten snr (Foots); 23 years, 351 days
1955 Bill Stephen (Fitz); 27 years, 14 days