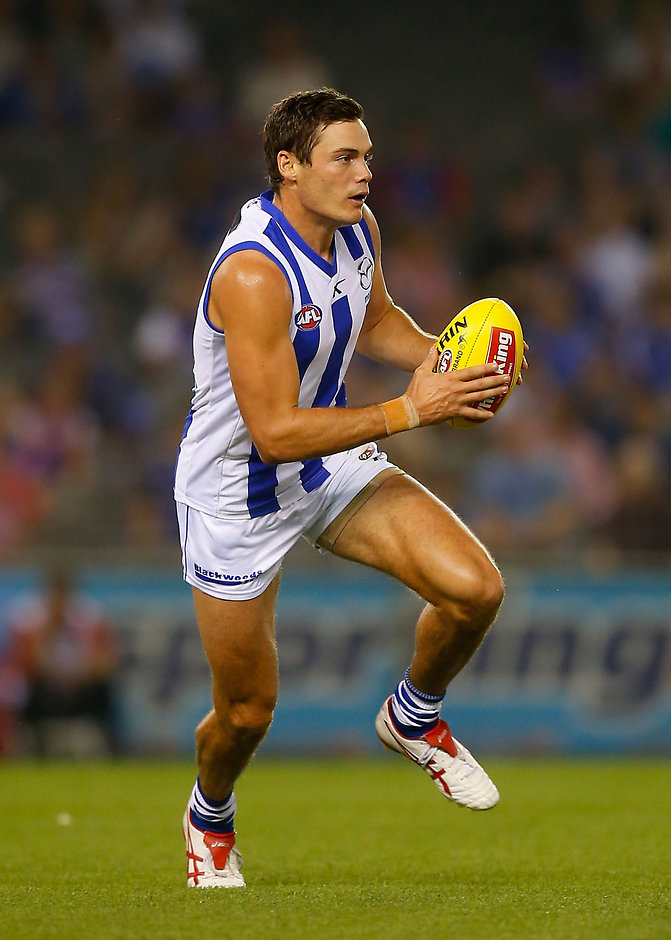 It was a surprise to me that we'd gone from that conversation to him playing again
Brad Scott on Nathan Grima
NORTH Melbourne coach Brad Scott admits he is surprised at Nathan Grima's impending return to football as an Essendon top-up player, after having serious concerns about the defender's well-being last year.
Grima is tipped to become the latest signing by the Bombers as they piece together a list hit by season-long bans to 12 of their players.
The former Roo retired last year after 86 games in eight seasons at the Roos following a persistent back injury.

Scott said the 30-year-old had called him to inform North of his intentions to pursue a position at Essendon.
AFL.com.au understands the injury-plagued defender is close to signing a one-year deal that will see him become the Dons' ninth top-up player.
"It was a real surprise to me. It's a really tough decision for 'Narni' and initially, I've got to be honest, my first thought was concern for his welfare because he's had some pretty significant back injuries over the journey," Scott told SEN on Wednesday morning.
New contract for new Don before his club debut
"At the end of last year our discussion was mostly around his well-being in life, not just in sport. I wanted to make sure he was in the best medical hands to live a fulfilling life, and to be able to pick up his kids when that day comes.
"It was a surprise to me that we'd gone from that conversation to him playing again."
Grima was one of the most popular players at North Melbourne during his career and Scott said he had the club's backing to resume his career at Essendon.
"He just has this burning desire to get back out there and compete," Scott said.

"I've always regarded him as the ultimate competitor and who be it for anyone to question this decision he's made. We fully support him and wish him all the best."
During his career, the defender required three surgeries on his troublesome back, but was also plagued by a series of knee and foot injuries.
Grima was recruited as a 22-year-old by the Kangaroos at the end of 2007 at pick No.14 in the rookie draft.
The Bombers have already signed ex-Cats Mathew Stokes and James Kelly as top-up players for season 2016.
Former Fremantle tagger Ryan Crowley, Mark Jamar, Sam Grimley, James Polkinghorne, Matt Dea and Jonathan Simpkin have also signed short-term contracts with the club.
The Bombers have just one more spot on their list to fill before the March 15 deadline.
The club can also promote two rookies on to their senior list.