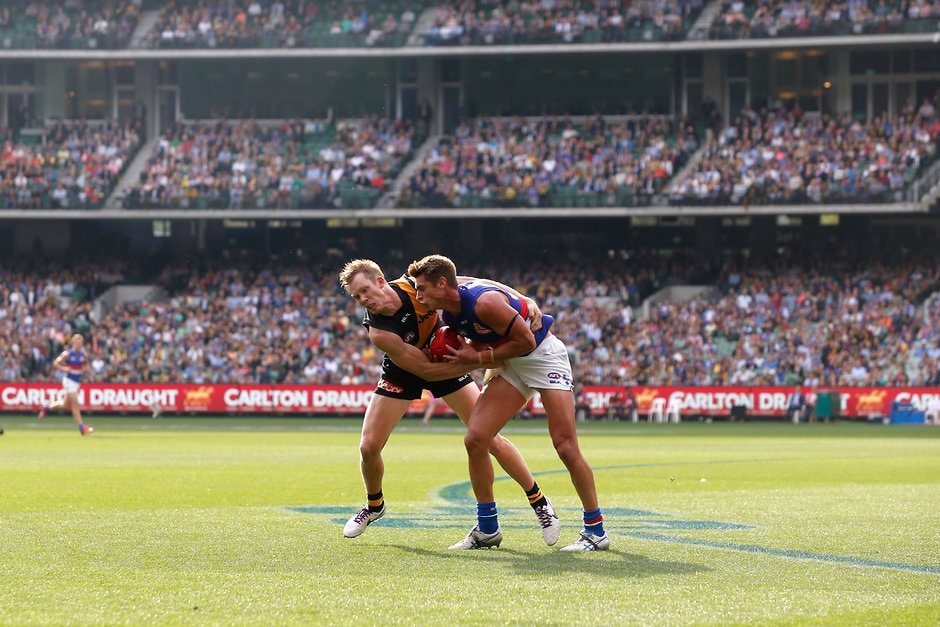 RICHMOND is confident the AFL's new dynamic ticketing model will benefit fans after the club trialled a similar pricing strategy last season.
The League has presented the latest version of variable pricing to clubs, with the Tigers one of a handful of clubs considering implementing it this year.
Clubs will be able to increase or decrease ticket prices by as much as $3 four times in the lead-up to games under the model, meaning some tickets to big games could increase in cost by a total of $12.
However, the AFL is adamant it will be a "favourable" outcome for fans given lower-drawing games can be subject to discounts.
Richmond's general manager of consumer business Cain Liddle said the club had tested a similar model last year by dropping costs for its round two clash against the Western Bulldogs and its success had shown dynamic ticketing value to work.
"We trialled this last year without advertising it. We dropped the price when we played the Bulldogs in Melbourne for our level one seats," Liddle told AFL.com.au.
"We reduced them by 30 per cent and we saw an increased take-up, which confirmed to us that it would work.
"So if we do elect to go down this path this year, it will be equally balanced between using it to fill those lower bowls and potentially generate extra revenue, and increase the experience for those who might have paid to sit on level four."
Liddle said the opportunity to bring bigger crowds to games was an important factor in considering the variable pricing model, to enhance the atmosphere for attending fans.
"Ultimately a lot of the discussion this morning has been around affordability, and we totally agree that affordability is a critical issue," Liddle said on Wednesday.
"But from our perspective, so is getting the maximum amount of people to games and delivering the best possible experience when they're there. At the moment that's difficult when you don't have any flexibility."
Liddle denied suggestions fans of bigger clubs would necessarily be hit most by price hikes closer to games, saying it was rare for the Tigers to sell out their MCG home games.
He also reiterated the view of the AFL's club and operations manager Travis Auld that members would not be affected.
"Where demand is low, you have the flexibility to change things and actually reduce the price and improve the experience of people coming along," Liddle said.
"That's the reason we're looking at it, and clearly members won't be impacted and general admission is capped at $25."