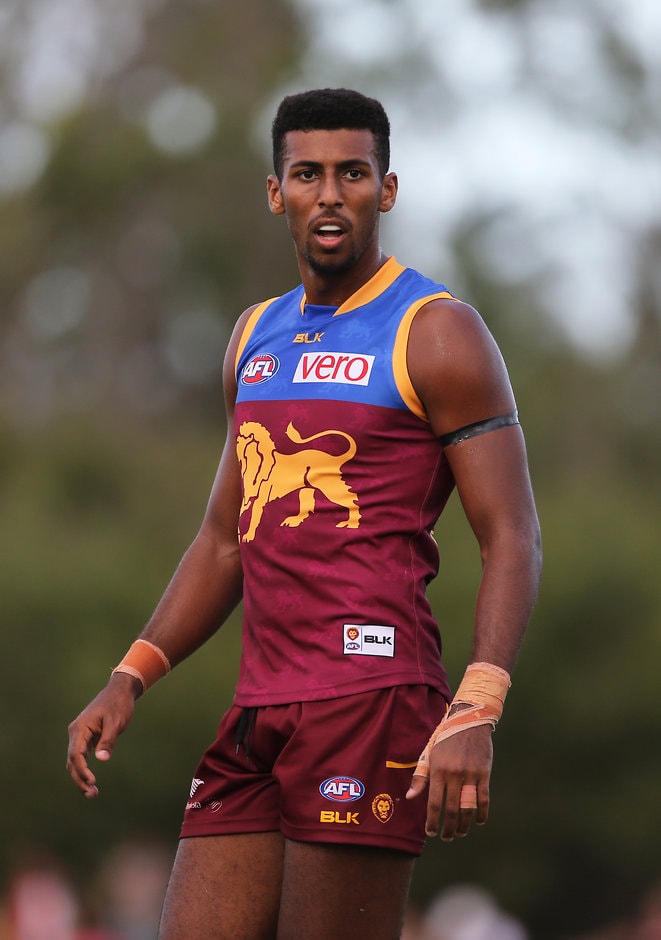 THREE years after playing his first game of Australian football, rookie Brisbane Lions ruckman Archie Smith now feels like he belongs.
The athletic 20-year-old no longer wants to be known as a basketballer-turned-footballer, but a footballer that used to play basketball way back when.
And this is the year he wants to make an impact.
It's a headspace that's been hard to change for Smith after starring as a junior basketballer and rejecting offers from a host of Division 1 colleges in the US to chase a career in the NBA.
He's watched his friend Dante Exum get drafted by the Utah Jazz, and the probable No.1 pick in the 2016 NBA Draft, Ben Simmons, star at the college level.
But after being talent-spotted by the Lions' academy and ultimately drafted by the club at the end of 2013, Smith is no longer looking in the rear-view mirror and is now all systems go on forging a successful career in the AFL.
"At the end of last season I hit a turning point, and the feeling-out period of AFL had gone," Smith told AFL.com.au.
"I really want to dominate this sport and succeed in this sport.
"I'm going to attack everything with a 'playing seniors' mentality because that's all I want now, I want a career in AFL.
"I love this sport and I want to take it further.
"I feel comfortable out there, I feel confident out there. Now it's just a matter of each day trying to find something new to improve."
It's Smith's third and final year as a rookie and he's well aware of the significance of 2016 if he is to progress his career.
With only a handful of games to his name before being drafted, his first two years of playing in the NEAFL have been a steep learning curve both physically and mentally.
He's had premiership player Jamie Charman as an early mentor, has then learned from Matthew Leuenberger, is toiling against Stefan Martin day in and day out, and most recently has built a strong bond with assistant coach and former Crow, Bulldog, Lion and Magpie Ben Hudson.
Fans will get their second glimpse into Smith's development in Sunday's NAB Challenge opener against Gold Coast at Burpengary, 12 months after making his debut against St Kilda at the same venue.
Smith says he is now far better placed to show his wares on the senior stage.
With Martin and Trent West as the other ruckmen on the Lions' list, Smith is just an injury or two away from being called upon to carry the ruck responsibilities in premiership matches.
"I'll make sure I'm ready each week whenever Leppa calls my name," he said.
"No offence, but I don't want to be like (North Melbourne's US import) Eric Wallace. He's gone after his third year, I want to make a career out of this and it's make or break, but that's a good thing.
"If I keep doing everything right, hopefully I'll get another shot.
"I've got no regrets. Basketball is a massive part of my family on both sides. I still have love for the sport, but my passion is AFL.
"I find myself watching hours of footy without realising it. I'm watching the sport as religiously as I used to watch basketball."
Smith is aggressive, loves tackling more than anything in the game, and said going up against Martin so regularly was the quickest learning curve he could hope for.
"I love everyone at the club. I don't want to leave at the end of the year," he said.
"I've formed an attachment with not only the sport but the club and I don't want to go anywhere and I'll always have that in the back of my mind, even when it's eating junk food or going out, because I want to be here next year."