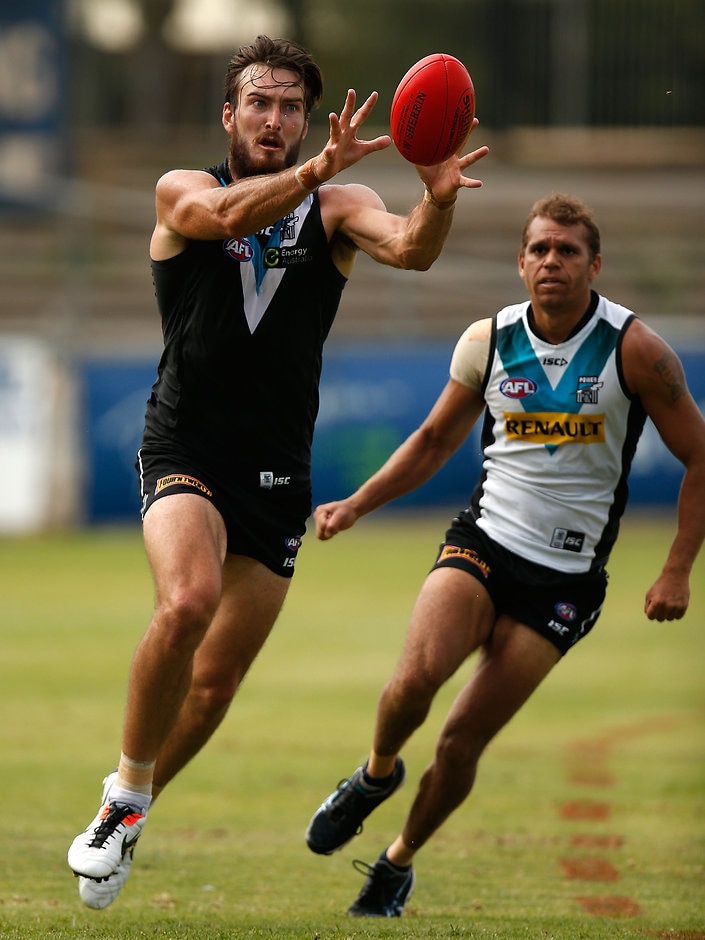 Previous years I wouldn't have done 40 per cent of pre-season, where I've done probably close to 90 per cent now
Charlie Dixon
NOT ONLY is Charlie Dixon hopeful he'll play in Port Adelaide's final NAB Challenge game, but he's confident he'll play a full season for the first time in his career.
Dixon was plagued by constant ankle injuries in his five seasons at Gold Coast and never played more than 16 games in a year.
While a minor knee injury will sideline him for the start of the Power's NAB Challenge his ankles are in better shape than in previous years.
How will the 2016 NAB Challenge work?
He said that up until he hurt his knee he'd completed the vast bulk of pre-season training – the biggest summer he'd ever experienced.
"I definitely think I'll play the full season. I've got a very good base, it's more than I've ever done," Dixon said.
"I had no real troubles [with my ankles] at all through pre-season this year, which has been really good, whereas in previous years I've had setbacks just starting to run and changing direction.
"Previous years I wouldn't have done 40 per cent of pre-season, where I've done probably close to 90 per cent now, missing a few weeks here and there with [the knee].
"I'm really confident in my body and [the knee injury] is just a bit of a rest for me."
The 25-year-old key forward started assisted running on Wednesday and said he'd look to run unassisted in Sydney on Friday.
That would then pave the way to play in Port's last game before round one, against Richmond on March 10.
"[I] haven't had any dramas with it, no soreness, no nothing, haven't lost any quad muscle or anything like that so I'm ticking along really well," he said.
"I'm hoping to get back for NAB 3."
Dixon confirmed he would likely spend 2016 predominantly in the Power's forward line, as opposed to splitting his time between attack and the ruck.
Port will begin its NAB Challenge in Sydney on Saturday against the Swans.