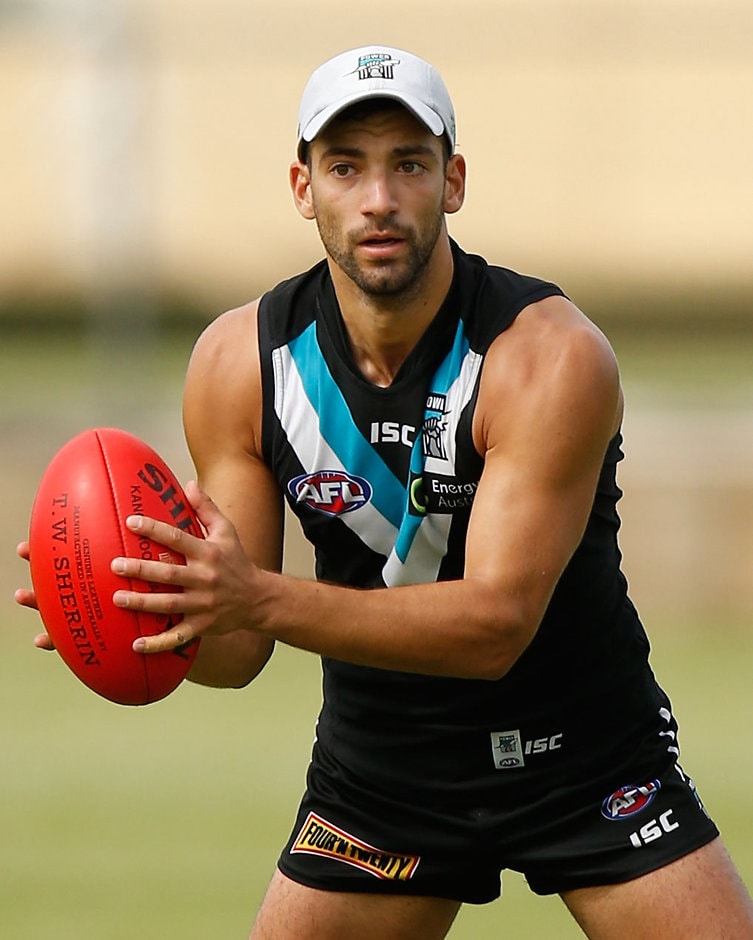 There were definitely things that didn't work out for me in Melbourne
Jimmy Toumpas
NEW PORT Adelaide recruit Jimmy Toumpas says he takes responsibility for his performances at Melbourne, and has worked exceptionally hard on earning the respect of his new teammates.
Toumpas moved to Port Adelaide in the off-season as part of a four-way trade following just 27 games over the past three seasons.
The 22-year-old was recruited by the Demons from South Australia with pick No.4 in the 2012 NAB AFL draft.
Toumpas told AFL.com.au that he has been honest with himself and his performances over his three seasons at Melbourne.
"There were definitely things that didn't work out for me in Melbourne," Toumpas said on First Bounce.
"I've definitely put my hand up and taken responsibility for a lot of those things.
"One of them was my contest, and it definitely needed to improve over another pre-season."
Toumpas revealed he had been working closely with Port Adelaide assistant coaches Michael Voss and Garry Hocking on the contested side of his game.
"I've trained really hard with 'Vossy' and 'Budda' Hocking to get that to a standard where it'll hold up," Toumpas said.
"They're very, very competitive blokes. They love getting involved in training. I do a lot of one-on-one work with both of them, and when the whips start cracking they love having a crack at it and putting their body on the line.
"They're very competitive and hard to move around. So you're pretty sore after a session with those two.
"I reckon I've done a lot of good work in that field, and hopefully I can put that into practice over the pre-season games and really put my name up for selection for round one."
Toumpas said there were similarities between Melbourne and Port Adelaide in terms of work ethic, but he has been impressed with the standards that are set at Alberton.
"They're a very hard-working team," Toumpas said.
"(Coach) Kenny (Hinkley) sets some really high standards. All I tried to do when I got to the club was just to work my backside off and, I guess, earn the respect of the boys and earn the respect of the coaches as well."
Toumpas has been named in Port Adelaide's squad for Saturday's NAB Challenge clash with the Sydney Swans at Blacktown.