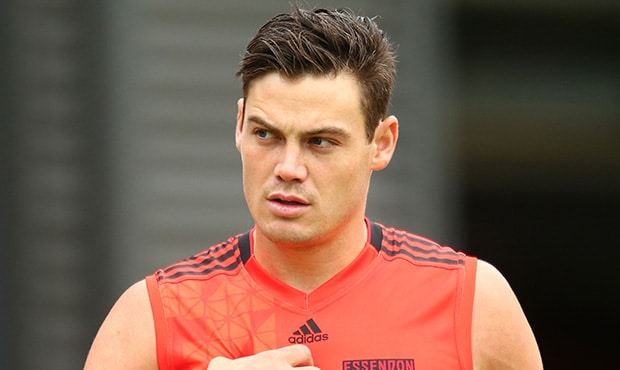 If I'm not there in round one, it's not the end of the world
Nathan Grima
NATHAN Grima isn't putting unrealistic expectations on himself after his shock return to football, with the Essendon top-up player aiming to play half a NAB Challenge game and conceding he's no certainty to be fit for round one.
The ex-North Melbourne defender didn't take part in the Bombers' intraclub game on Friday, just days after it was revealed he was planning a stunning comeback from a debilitating back injury that prematurely ended his career last year.
"I don't think (I'll play) next week, but we've got three weeks so hopefully I can play a game," Grima said.
"If I'm not there in round one, it's not the end of the world. The guys have got faith in the group they've got and my role will be off-field and on-field."
Grima, a popular and upbeat character whose sense of humour will lift morale at the Dons, was the ninth top-up player signed by Essendon.
Naysayers have panned the 30-year-old's comeback, but Grima feels rejuvenated following his third back operation last year.
Six months ago he was laying in hospital bed, recovering from a cut 15cm down from his belly-button and couldn't pass anything after his bowel shifted during the operation.
It goes without saying that a proposition to play AFL again was the last thing on Grima's mind.
"I would've just said (then) 'get out of here before I jump out of this bed and give you a hiding because you're taking the mickey out of me' almost," he said.
"That's why I'm so happy and passionate about it - because it's football, it's a game, and we love it.
"Whilst there's people who are negative about me playing and will say 'he's past it' … well, in 10 years time when I'm sitting back with my kids and wife, I'll say how good was that year at Essendon, those two games I played before I broke down," he joked.
Nathan Grima has received a warm welcome at Essendon. Picture: Getty Images

Now Grima no longer wakes up with back pain, doesn't have to take painkillers and had been training alongside his brothers since November at Essendon District Football League club Strathmore until the Bombers came calling.
North coach Brad Scott was among those close to Grima who were stunned by his reversal, concerned for the welfare of the 86-game "ultimate competitor" and his quality of life after football.
But Grima said he was in a great space mentally and physically for the first time in years.
"While (Strathmore training) is not AFL intensity, I've done more work probably over that period than I had at North in the last few years because of my nagging back injury," he said.
"I've been able to clear my head mentally and get away. I was in a pretty nasty space when I had the third back operation last year.
"That was probably what Brad (Scott) meant with his comments about our conversation about picking up my children and when I haven't enjoyed a quality of life. But that hasn't entered me head at all in the last four-to-six weeks … I feel unbelievable.
"I haven't had back pain in the morning for the last three months – I haven't had that (lack of pain) for the past five years.
"I know the risks now with my back and I'm confident with the decision I've made."
A fan favourite at North Melbourne, Grima admitted he's copped some flak from a small band of Roos supporters on social media, but the overwhelming response has been positive and he still loves the club.
"I'd still love them to win the flag … if we don't win it here," Grima said. "But I'm here now and I want to give everything I can to this footy club and reward the guys who gave me a chance."