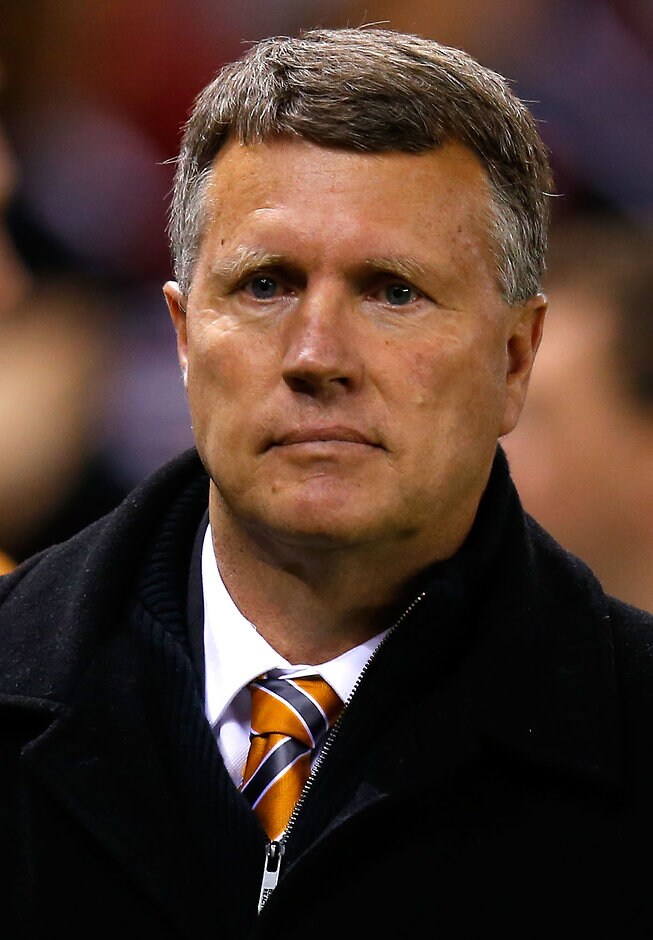 GREATER Western Sydney chief executive Dave Matthews is not worried about the state of the club's off-field team, despite the resignation of football manager Graeme Allan just weeks before round one of the 2016 season.
Allan, who has also played a role in the club's list management after Stephen Silvagni quit the job in November 2014, will return to Melbourne later this year to be closer to his family.
GWS officials will spend the next few weeks scouring the nation – with the help of Allan - to find his replacement, before the 61-year-old officially finishes up his time in Sydney at the end of April.
Matthews told AFL.com.au that he wouldn't rule out appointing two candidates to take over from Allan, who has split his time between football operations and list management since Silvagni quit to also return to Melbourne.
The shock decision comes after the Giants' highly regarded welfare team of Craig and Melissa Lambert left the club at the end of last season to return to Queensland to take up similar roles with the Brisbane Lions.
Matthews wasn't shocked by Allan's resignation and he's not concerned about the club's football operations despite losing three highly influential footy personnel in recent months.
"No I'm not, I think change is part of the industry I mean it's a natural thing," Matthews said.
"People have made enormous sacrifices to get this club up and going and the Lamberts have children who are finishing school now in Brisbane so we understand those sorts of decisions.
"They will always have a great legacy here and so will 'Gubby' (Allan).
"People come and go and that's the reality of life.
"(Senior coach) Leon Cameron has just committed through to the end of 2018, the new welfare program that 'Gubby' put in place under the leadership of (head of development and welfare) Brett Hand and (welfare manager) Dylan Addison has been terrific, and all those things are well considered and well thought about.
"There are no issues as far as the off-field stability of the club at all.
"It's been a decision that's been discussed for a while, 'Gubby' and I have been discussing the right time and succession planning and other things for some time.
"He's taken his time over the decision but he's in no rush to get out the door.
"It won't unsettle our footy department in any sense at all, he's going to help us find and appoint the right successor."
Matthews said that Allan's impact at the AFL's newest club had been enormous.
"I was involved in appointing 'Gubby' to the Team GWS group that evolved into the Giants of today - he has been ideal for a start-up club given his wealth of experience, his resilience and his successful track record," he said.
"He played a pivotal role, along with former head coach Kevin Sheedy and current senior assistant coach Alan McConnell, in preparing the club for entry to the AFL by overseeing our list build, managing all football operations and guiding the club's welfare program.
"His legacy to the Giants, and therefore the AFL, is immense. He has done an incredible job setting us up for future success."
One of the game's most experienced football brains, Allan helped build the Giants' list with McConnell, and started in the job two years before the club officially entered the competition in 2010.
He played a huge role in the club's ability to re-sign key young stars Jeremy Cameron, Dylan Shiel, Stephen Coniglio and Devon Smith last year, as well as attracting experienced players Heath Shaw, Ryan Griffen and Joel Patfull to the Giants.
Via a club statement released on Monday, Allan said he made the decision to end his time with the Giants to spend more time with his growing family.
"With my wife having moved to Melbourne this year to be closer to our children and grandchildren. The time is right for me to join them," Allan said.
"Naturally I'm saddened to be leaving the Giants but I am very grateful for being afforded the opportunity to start and then continue to build the football department of the AFL's youngest club.
"I thank everyone at the club for a brilliant six years, particularly David Matthews, Peter Taylor and Tony Shepherd for supporting our football strategy from the beginning to where it is today.
"I will leave Western Sydney with lifelong memories and friends and I believe that this football team is on the verge of realising great on field success and the club will continue to flourish off field."