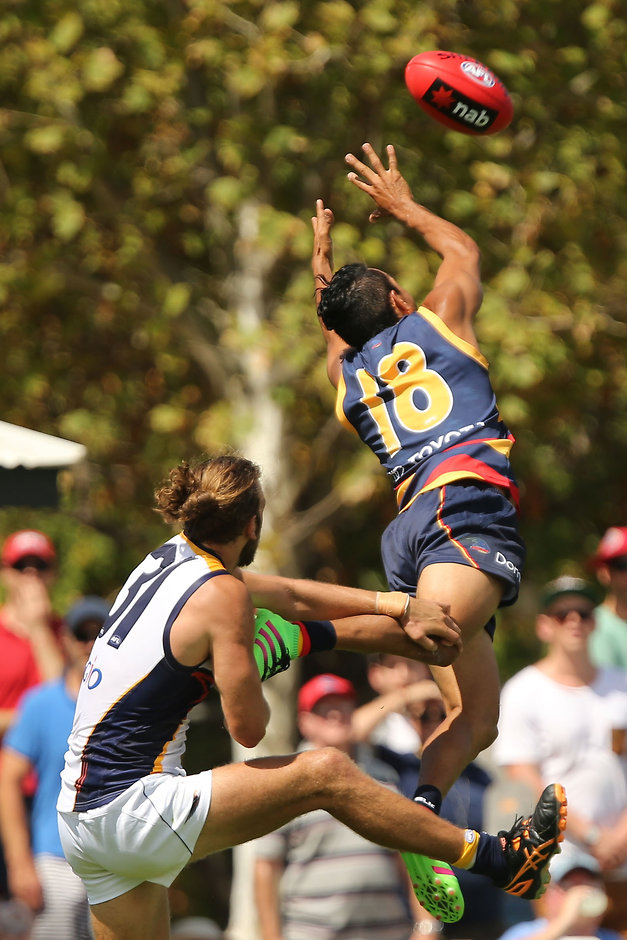 It's almost a bit of a privilege to be out there with him
Tom Lynch on Eddie Betts
WHEN Eddie Betts is in the sort of form he displayed against West Coast, teammate Tom Lynch considers it an honour to share the field with the small forward.
Betts was playing at a level his West Coast opponents couldn't match on Sunday, booting six goals – including a super goal – to go with four assists.
Six-goal Eddie stars as Crows thrash Eagles
It was a display that suggested the 29-year-old was setting himself to continue his upward late-career trajectory; in his two seasons at West Lakes he's booted 51 and 63 goals after averaging 32 majors a year in nine seasons at Carlton.
His ability to weave out of trouble to create space is almost unmatched in the AFL and it was on full show at Unley Oval – as was his ridiculous goal sense.
Eddie Betts nails a @NAB Supergoal! That's $500 worth of Sherrins for Templestowe Junior Football Club. https://t.co/h34tvjSEBb

— AFL (@AFL) February 21, 2016
Lynch said it was a pleasure to play with him.
"You just sort of have to kick the ball anywhere near him and you look pretty special yourself," Lynch said.
"One time the ball got kicked in, didn't even know he was coming and then he nearly took mark of the year in NAB1.
"He's a special player to play with, it's almost a bit of a privilege to be out there with him.
"We've got a lot of new, young, exciting players and he's certainly someone they look up to and can learn off."
Sunday's game was a non-contest. The Eagles flew a severely understrength line-up to Adelaide in order to give their inexperienced players a taste of a genuine opposition, and spare their older players a flight.
The Crows, on the other hand, played a seasoned side that destroyed its opposition, eventually winning by 100 points.
Lynch said it was difficult to accurately gauge how his side fared but the club had areas it needed to "fine tune" over its next two NAB Challenge matches.
"They didn't send too many of their starting players so it's hard to get an indication from the score but we can only control what we can," he said.
"We moved the ball pretty well, our team defence we felt like has improved but there [are] a lot of areas we need to keep working on – it was only the first hit-out.
"We've got some fine tuning to get ready for that round one, it starts this week to create some of those habits again."
The Crows face Fremantle in Mt Barker next Sunday.