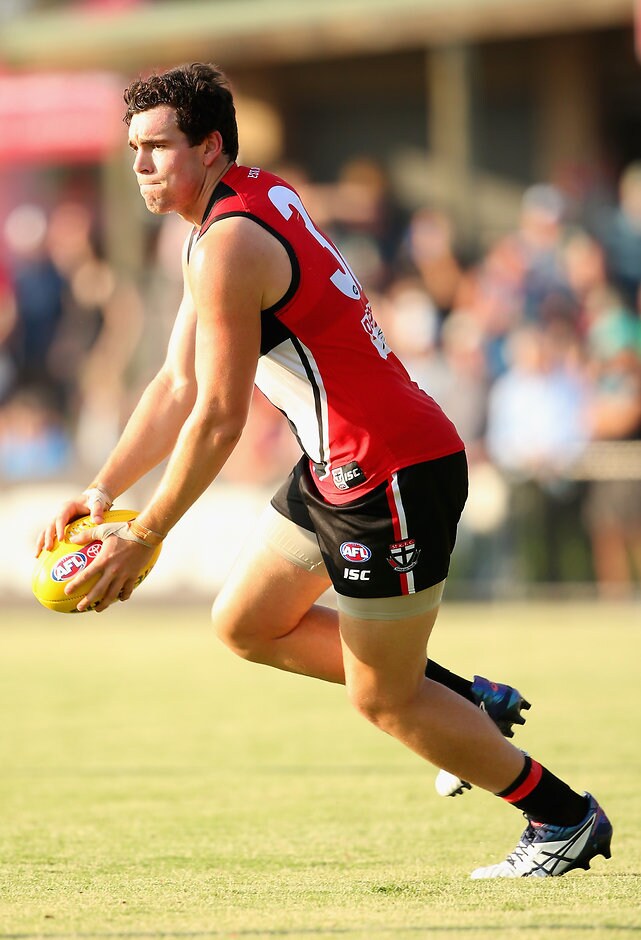 More likely he'll be available for round one. The damage there is not too bad
St Kilda football manager Jamie Cox
ST KILDA forward Paddy McCartin will most likely miss the rest of the NAB Challenge after suffering a low-grade hamstring strain.
The No. 1 pick in the 2014 NAB AFL Draft left the ground about 10 minutes into the Saints' game against North Melbourne last Saturday in Wangaratta.
Saints football manager Jamie Cox said the 19-year-old was a slight chance to play in St Kilda's final NAB Challenge game against Melbourne on Sunday, March 13.
"Paddy won't be available for NAB2, but he might be available for NAB3. We're hopeful," Cox told the club's website.
"But probably more likely he'll be available for round one. The damage there is not too bad thankfully."
McCartin kicked three goals from his six games in his debut season.
In more bad news for Saints supporters, Dan McKenzie has come down with glandular fever.
McKenzie, 19, didn't get on the bus to Wangaratta after falling ill. He was set to play against the Kangaroos.
"We're hoping again that it's only a mild case and he won't be too long out of the game," Cox said.
McKenzie was selected at No. 22 in the 2014 NAB AFL Draft and played seven games in his first year. He is contracted until the end of 2017.
He is the second Saint to contract glandular fever, after Bailey Rice recently came down with the same illness.
The Saints play their next NAB Challenge game against the Brisbane Lions on Sunday, March 6.