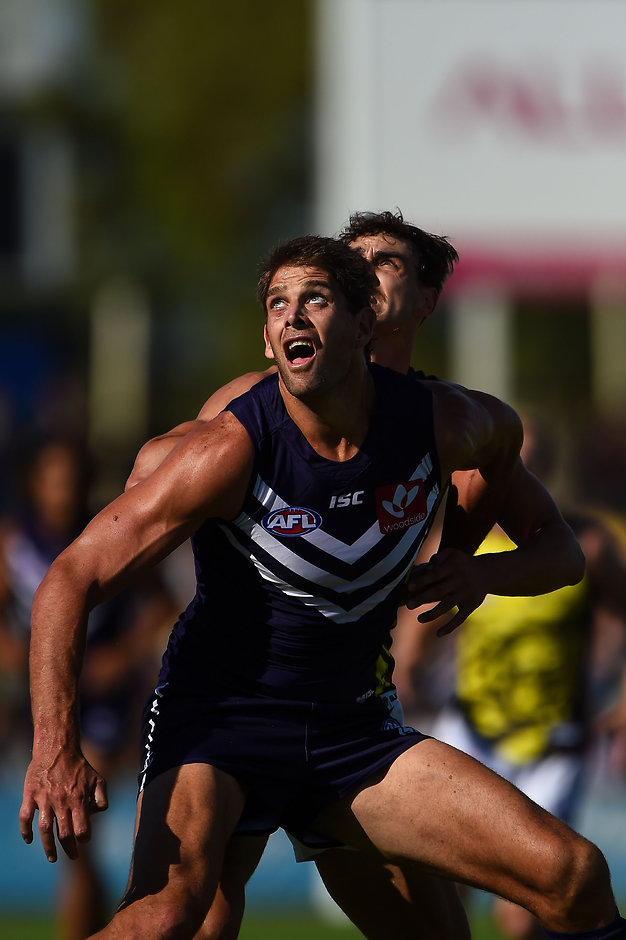 I think everyone is a little bit uncomfortable with it
Aaron Sandilands
AARON Sandilands' suspension and the ensuing controversy over the third-man up ruck tactic should leave AFL officials "a little bit uncomfortable", Fremantle coach Ross Lyon believes.
Sandilands has been ruled out of the Dockers' round one clash with the Western Bulldogs after accepting a one-week ban for rough conduct against Richmond's Ben Griffiths in last Friday's NAB Challenge clash at Rushton Park.
The Dockers veteran made high contact when he bumped Griffiths, who was attempting be the third man up in the ruck duel that Sandilands was contesting against rookie Ivan Soldo.
Lyon said the risk of challenging the suspension was too great despite the club feeling like it had the "moral high ground" given that Sandilands had never before been suspended in his 239-game career.
However, he said the club would discuss the third-man up situation with the AFL to try and clean up the confusion that exists at ruck contests.
AFL warns Ballantyne over mid-game phone call
"There's some grey areas that the AFL will look into," he said.
"The third man up, obviously Aaron's dominant, teams do it a lot, at some point he's got to be able to protect himself. I'll leave it there and we'll be in some dialogue and the competition will look at.
"We go third up as well; we've got tall mids so we're not complaining.
"But if you're a ruckman you'd be concerned about third up because it's your ribs, it's your back and clearly now it's going to be harder to protect yourself so it needs to be looked at.
"I think everyone is a little bit uncomfortable with it.
"Not the fact that we're protecting the head, we're thrilled with that, but anyone in the AFL is probably looking at it and thinking it's an uncomfortable week, I think.
"But we're all big boys and we move on and focus on this session and this game down at Mount Barker against Adelaide."
Griffiths hits a Sandilands brick wall. #NABChallenge https://t.co/AwmDZqaH6h

— AFL (@AFL) February 19, 2016
Lyon was pleased with the performances of ruckmen Jon Griffin and Jack Hannath in the first NAB Challenge game against the Tigers.
Zac Clarke was held out of last week's game against Richmond after coming off an interrupted pre-season due to some ongoing knee issues. Clarke is fully fit and is in line to play against Adelaide on Sunday but Lyon said he had some work to do to win his place in the round one side against the Western Bulldogs.