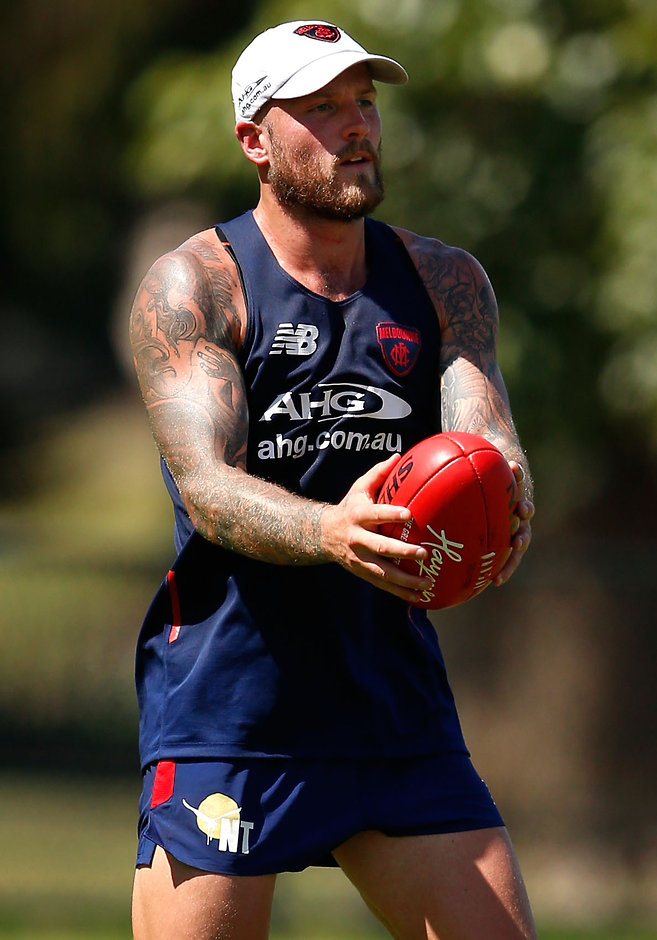 A COLLISION with fellow midfielder Angus Brayshaw almost three weeks ago has left Melbourne skipper Nathan Jones an unlikely starter against Port Adelaide on Sunday.
Jones and Brayshaw knocked knees at Casey Fields and the skipper hobbled around before leaving the field.
The knock was minor but it affected the 28-year-old's gait, setting him back enough to miss the NAB Challenge opener.
He looks certain to be available in later rounds of the NAB Challenge.
But former captain Jack Trengove is making solid progress as he continues his comeback from a foot injury and is not far from joining full training.
Melbourne fitness coach Dave Misson told melbournefc.com.au the 24-year-old Trengove would need a month of full training before being able to play a game.
He has not played since round two, 2014 but has been meeting each requirement in recent weeks
"Trenners has probably done six sessions with the group now. He did two-thirds of the session [on Tuesday], so he's not far away from doing full training," Misson said.
The club also hopes Heritier Lumumba will have recovered from ankle surgery in time to make an appearance in the final NAB Challenge game for the pre-season in mid-March.
Lumumba recently completed three quarters of the session with the main group and, barring mishap, would be in shape to play against St Kilda on March 13.
However, Chris Dawes will be given time after suffering four calf injuries in 12 months with the coach recently telling the 27-year-old to be selfish in order to get his body right to play.