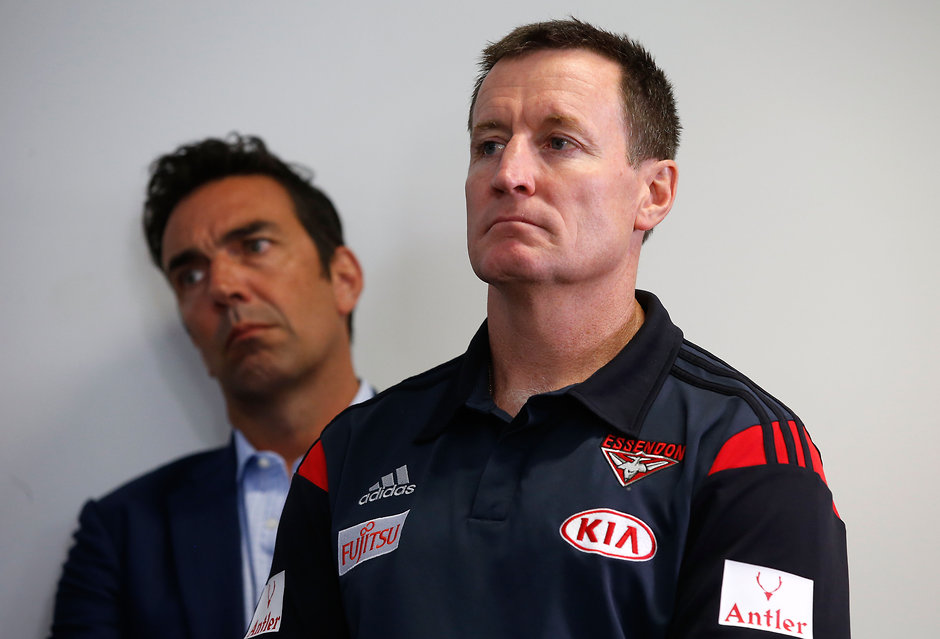 There was just dead silence and everyone was numb and so disappointed
John Worsfold
JOHN Worsfold was getting more nervous as each minute passed. It was January 12, and Essendon's new coach had arrived at the club's Tullamarine base before dawn to wait for the Court of Arbitration for Sport's verdict on their 34 past and present players.
Worsfold wasn't alone. By about 7am, all of the club's players and coaches – aside from the 12 facing anti-doping breaches – were in a room eating breakfast. After nearly three years of the supplements saga, a final decision was expected at 7.30am. It didn't come straight away, which made Worsfold anxious.
"I thought if it's a positive result we'll get told and word will filter through immediately," Worsfold told AFL.com.au.
"I was thinking if it was not a great result, my gut feel was there would be a bit of an explanation to those players about what it means before we found out. As time ticked by… I was getting pretty nervous."
After about half an hour of waiting, text messages began to filter through the room to remaining Bombers. One came from midfielder Brent Stanton: 'We've got 12 months'. But even that left them with mixed feelings.
"The players were saying he's the sort of guy who's likely to send that through as a joke to stir us up, so they weren't even sure how to read that," Worsfold said.
"When [Essendon CEO] Xavier (Campbell) came down and announced what the finding was, there was just dead silence and everyone was numb and so disappointed."
Worsfold gave the players half an hour to digest the news 12 of their teammates were going to miss all of the 2016 season after being found guilty of taking banned drug thymosin beta-4.
They were shattered for their friends, and distressed about the season ahead. Just as an end point to the saga seemed imminent, the scandal was stretched into a fourth season.
The club gave the players two days off, and most of them met up with the suspended players for drinks that Tuesday afternoon, with Worsfold also dropping in to offer support.
The players weren't the only ones rocked by the ban. Nobody saw it coming. Late last year, club chiefs were confident even if the players were found guilty they would escape bans. The worst scenario Worsfold was preparing for was the players dealing with being labelled 'drug cheats', not actually missing games.
"I thought that [in itself] would be tough to deal with," he said.
"When the finding came down and they'd been given full accountability so therefore a two-year ban, which has come back to be pretty much one season, it was a shock. I knew I was going to have stuff to deal with and it was at the furthest end of the scale."
John Worsfold fields questions two days after the CAS verdict. Picture: AFL Media
Worsfold was appointed by the Bombers last October after James Hird departed the club following a tumultuous reign. Worsfold quickly introduced his style: staff noticed he was in early every day and was one of the last to leave.
Players noted him to be attentive; he wanted to know what was happening in every area of the club, and to learn as much as he could about the environment.
He wanted to see how much – if any – damage was left, but not to dwell on it.
Essendon was attracted to these qualities, and the Bombers' list appealed to the West Coast premiership captain and coach, who left the Eagles at the end of 2013. Worsfold's values have served the club well since the devastating blow in January.
Without captain Jobe Watson, All Australians Cale Hooker and Michael Hurley, midfielders David Myers, Travis Colyer and Dyson Heppell and ruckman Tom Bellchambers (among several others), Essendon enters Worsfold's first season in charge as clear favourite to finish last.
His expectations for this year, clearly, changed as the players at his disposal changed.
"A pass mark will be around finishing the year and the players saying we've made big strides forward in terms of what we want to achieve together. Where we finish on the ladder and our wins and losses will have some bearing on that, but I don't know what will be classed as a pass mark," he said.
Younger players like Darcy Parish, Aaron Francis, Kyle Langford, Jayden Laverde and Conor McKenna will get games if they deserve them, but not if they're not ready. Worsfold is excited by the talent still at his disposal, and thinks the nine top-up players the club has signed have given the list more balance.
With every session the Bombers feel the experienced replacements are becoming more naturally integrated into the group, and last week, following their first full scale intra-club, the players went to the Moonee Valley races for a bonding session. Worsfold is intent on making this year as enjoyable as possible.
Worsfold has faced the task of integrating top-up players into his squad. Picture: AFL Media


Despite entering the year with little expectation, the Bombers remain committed to being back in the top four by 2018, an aim publicised by the club's hierarchy last October. Worsfold believes this year won't set back their overall plans to build a premiership side.
"I'm not seeing that we can fast-track our pathway to success, but I can see that we won't be delayed at all," he said.
"I thought our squad, potentially this year, but more so next year was going to be a pretty handy squad at a good age and experience demographic.
"But there's a lot of things that have to take place for that to happen. The No.1 thing is to get all 12 players back at the club, but if not, as many as possible. That will maintain the momentum I believe we could have started building."
Worsfold hasn't once regretted his decision to step back into coaching since losing perhaps half of his best 22. Instead, he feels more driven.
All of the top-ups have come into the club and told Worsfold they expected the group to be "floored" by last month's setback, but the buzz has returned as the season has drawn closer.
He knows 2016 will be an unprecedented season for Essendon and big questions remain: Will the Bombers win a game? Can they avoid claiming the wooden spoon for the first time since 1933? Will all of the 12 banned players return to the club?
Worsfold can't answer them with any certainty yet, but he is confident on one thing.
"There's definitely a light at the tunnel and we're well and truly through the darkest part of the tunnel. That's the only way I could describe it," Worsfold said.
"It feels like it's been a long, long tunnel but there's either going to be nothing at the end of it or good at the end of it. And I can tell you there's definitely good at the end of it.
"The club is not in the strong branded position it was five years ago, but we've got a clear ambition to get back there. It's going to take hard work, commitment and desire, and from everything I've seen, everyone at the club is driven by that."