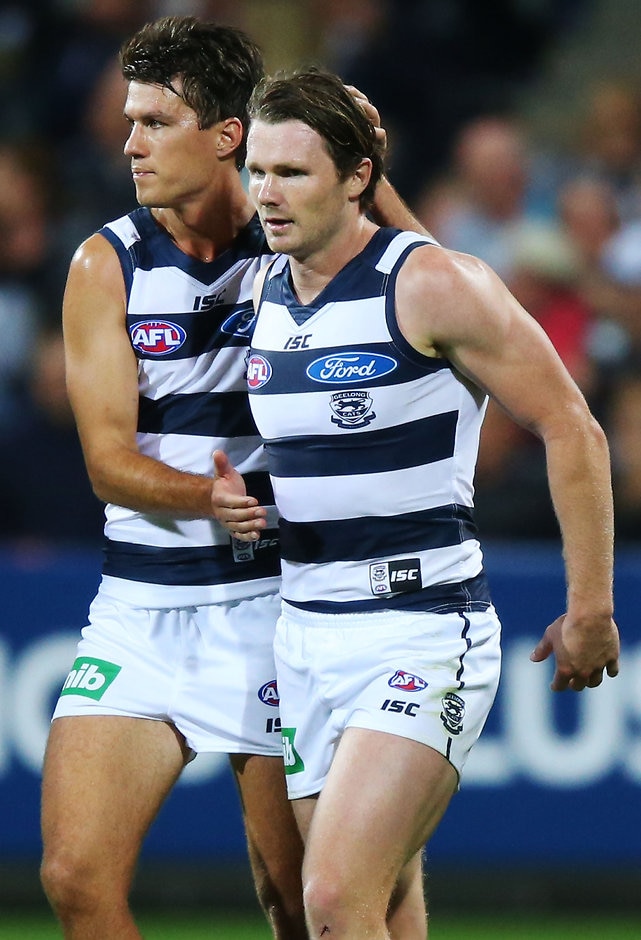 It (the build up of expectations) is something I can't really control, so I don't worry about it too much
Patrick Dangerfield
GEELONG recruit Patrick Dangerfield lived up to the hype in his first game in Cats colours, amassing 28 disposals and kicking three goals.
Neither nervous nor worried by the anticipation of fans, he sharked the first tap-out of the game and kicked the ball forward to the delight of the 20,000 supporters crammed into the ground.
While the build-up had seemed huge to outsiders, Dangerfield remained unruffled.
"It's something I can't really control, so I don't worry about it too much," he said.
"If I can, then it's something I should look to worry about, but if it's something I can't then there's no point wasting energy on it."

Scott Selwood to miss season opener
What he can control after 154 matches with Adelaide is a game.
And at times in the NAB Challenge he did just that, kicking a couple of goals in the second quarter, going for a trademark run in the third and slotting a long goal on the three-quarter time siren to show his class.
Although the tiger snake that interrupted a pre-game stroll on the beach earlier in the day caused him more stress than the expectations of others, he did concede he was pleased to get the first outing in new colours out of the way.
"It was good. [You're] always rusty the first game," Dangerfield said.
He said the team would take time to gel, but there were signs that when they did the ball movement would be exciting.
Whether he plays against Essendon in Shepparton remains a decision for the coaches, but one thing is for certain, Dangerfield feels at home.
"It's funny, halfway through last season everything seemed like it went quite slow. But since the end of my last game until now it really does feel like it's gone in the blink of an eye. You have to enjoy every moment, and I certainly enjoyed tonight," Dangerfield said.
So did the locals and, you'd imagine, his teammates.
He can play, but he knows that team success is built on many, not one.
"For us to succeed this year it's going to be on the back of a real even contribution from everyone who pulls on the Geelong guernsey," Dangerfield said.
"It's never built on one person. It's not built on Joel Selwood or Tom Hawkins. It's the entire playing list."
Not concerning at all..... Relaxing stroll not so relaxing... #snakesonabeach #tigersnake #massive pic.twitter.com/hyRg2f8fx9

— Patrick Dangerfield (@dangerfield35) February 25, 2016