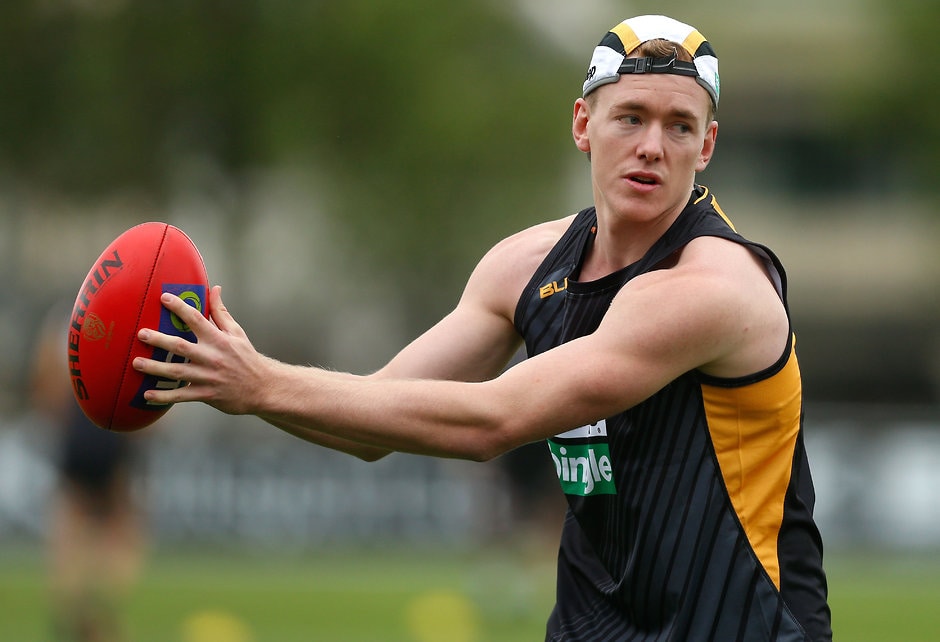 I'll try and take a bit of that inside job off him (Cotchin)
Jacob Townsend
HARD-bodied Richmond recruit Jacob Townsend says he is committed to helping Trent Cotchin break tags this season and giving his new captain more freedom to win the ball.
Cotchin's average disposals have dropped the past three seasons from a career-high 27.5 in 2012, when he finished equal runner-up in the Brownlow Medal behind Jobe Watson.
The skipper was shattered after being held to just nine possessions in last year's elimination final against North Melbourne, with Ben Jacobs tagging him out of the match.
Townsend, who played 28 games in four seasons with Greater Western Sydney, was targeted by Richmond in last year's trade period to fill an inside midfield role and take some pressure off Cotchin.
"That's going to be my focus coming in to this year, being there to help him break the tag a bit and allow him to play his natural game," Townsend told AFL.com.au.
"I'm really keen on building that friendship and on-field relationship to help improve his game and my game as well.
"I'll try and take a bit of that inside job off him but, 'Cotch' being 'Cotch', he tries to take more responsibility on himself because of the competitiveness in him.
"He needs to ask for help because your teammates are there to help in a game."
While Townsend has the size and physical game style to help break tags for his teammates, the Tigers have also recognised his pure ball-winning ability after a standout performance in round 23 last year.
The 22-year-old won 22 possessions (11 contested) against Melbourne in a performance that put him firmly on the radar of opposition clubs and had GWS lifting its efforts to re-sign the New South Welshman.
"GWS was making a play for me as well but I came down here to seek more opportunities," he said.
"If a club comes and seeks out your service, obviously they're pretty keen on you and that made me feel pretty good.
"The Tigers said they were after an inside midfielder and I think I fit that bill."
Richmond has not been renowned for tagging in the past few years and Townsend will bring an ability to play that role when needed.
He has also spoken to his coaches about a secondary role at half-forward, given the interchange cap will be reduced to 90 this season.
The onballer did not start full pre-season training with his new team until after Christmas because of a foot injury, but he has barely missed a session since and said his skinfolds and body composition were at career-best levels.
"The program down here has put me in pretty good stead before the season," he said.
"I've just got to crack in now and go out there and play my way and hopefully that gets me a game."