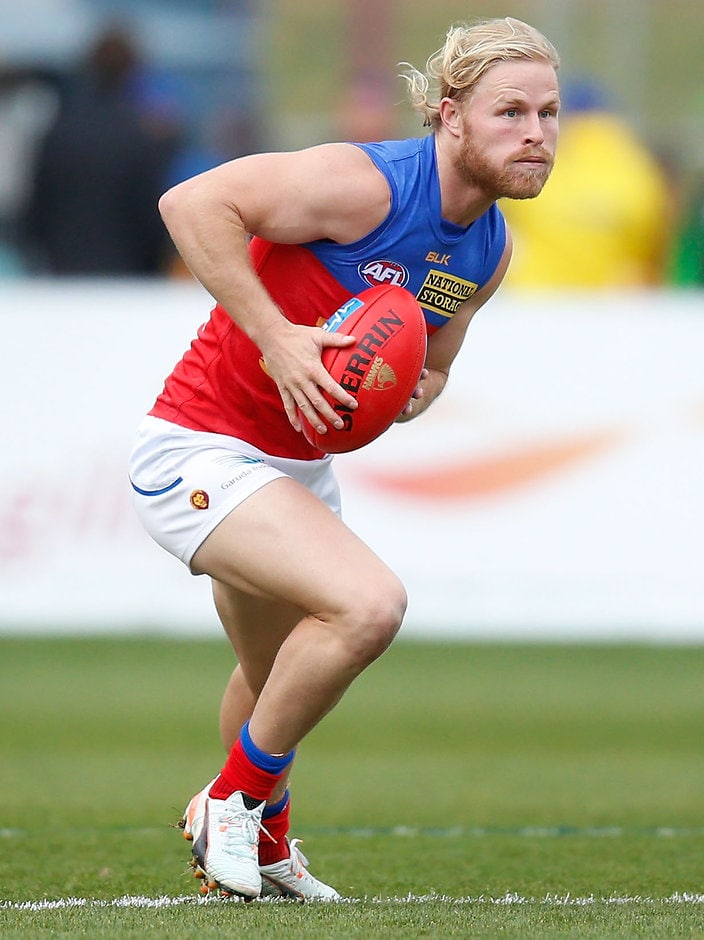 THE BRISBANE Lions plan to break out of their attacking doldrums in 2016 by playing a run-and-gun brand of footy.
Over the past two years they have really struggled to score, ranking 16th in scoring in 2014 with fewer than 70 points a game, and 17th last season at a tick under 71 a game.
That won't win you many games and the Lions know it.
They want to play quicker and more direct this year, and after three off-seasons of upheaval, now believe they have the cattle to implement such a strategy.
"It probably ties in with the fact we've got a young and exciting list and that's how we want to play, an exciting and bold brand of footy," assistant coach Murray Davis told AFL.com.au.
"And that's what the fans want to see,"
But as Davis, Justin Leppitsch and the rest of the coaching staff know, it's one thing going with the theory and another being able to implement it.
Against Gold Coast in Sunday's NAB Challenge opener, it looked like the Lions were stuck in mud for much of the match, kicking down the line from the back pocket time after time after agonising time.
At one stage in the third quarter, they kicked the ball out of bounds on the full on four straight occasions.
To be fair, it was extremely windy at Burpengary and the Lions trotted out a very inexperienced outfit with young players more intent on not making a mistake rather than taking the game on.
In many respects the mistakes were understandable and post-match, Leppitsch was confident they errors were easily fixable.
When Pearce Hanley, Daniel Rich, Ryan Bastinac, Tom Rockliff, Dayne Beams and Dayne Zorko return, Davis says you can expect a totally different mindset.
"There's still an emphasis on defence, but once we turn it over, we want to move it quickly," he said.
"The quickest route is through the corridor.
"Most teams are very good defensively when they're given time to set up. We think if you can win the ball back and take advantage of little lapses in concentration, that's our best chance to score.
"Playing that style of football requires a lot of footy smarts and being bold. The bold part is having the courage to do it and the smart part is knowing when to do it.
"Those two things are critical. The game is played at a frantic pace and there'll be times in quarters with less rotations where we can't do that.
"And of course the third part is having the skill."
Pearce Hanley's run from defence is a key part of the Lions' plan. Picture: AFL Media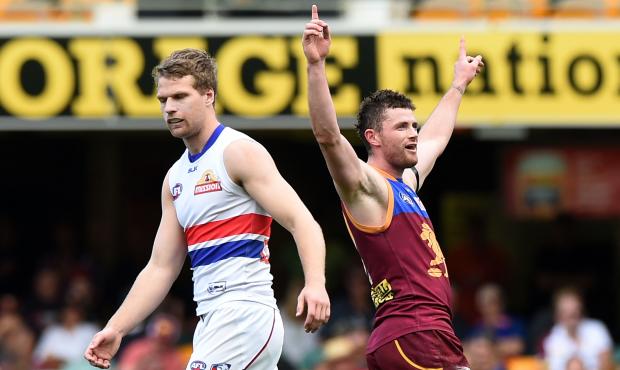 It's a tricky cocktail the Lions have put most of their pre-season into mixing.
The defensive half is now populated with their better ball users and runners to overlap with.
Sam Mayes is highly skilled and will play half-back. Ryan Harwood – who is prone to the odd clanger but generally a good kick – a back pocket, and the likes of Rich, who is arguably the team's best kick, will drop back to help out.
The run will come from Bastinac, Tom Cutler, Marco Paparone and Hanley.
Above all else, quick movement will give their young forwards a fighting chance.
Between Josh Walker, Jono Freeman, Michael Close and draftees Josh Schache and Eric Hipwood, there won't be many games when the Lions' forwards are either older or stronger than their opponents.
They need to be given space, and preferably one-on-one opportunities.
In the waning weeks of a disastrous 2015, the Lions were given a glimpse into how being more aggressive could pay off.
In three of the final five rounds they topped 100 points, and grabbed two victories, including an unlikely upset of the finals-bound Western Bulldogs in round 23.
"I think it was work in progress last season," Davis said
"Based on personnel and who we had out there, we couldn't play that way (aggressively).
"We tried it sometimes but just couldn't execute it. We probably saw the fruits of that in the back half of the year.
"As coaches we felt we had to kick off 2016 where we left off 2015 and emphasise the importance of playing that way.
"Players have to have courage to do it, as long as they know when and where … and from a coaching point of view that we keep encouraging them to do it."
Whether both a change in mindset and change in outcome is achieved, only time will tell.