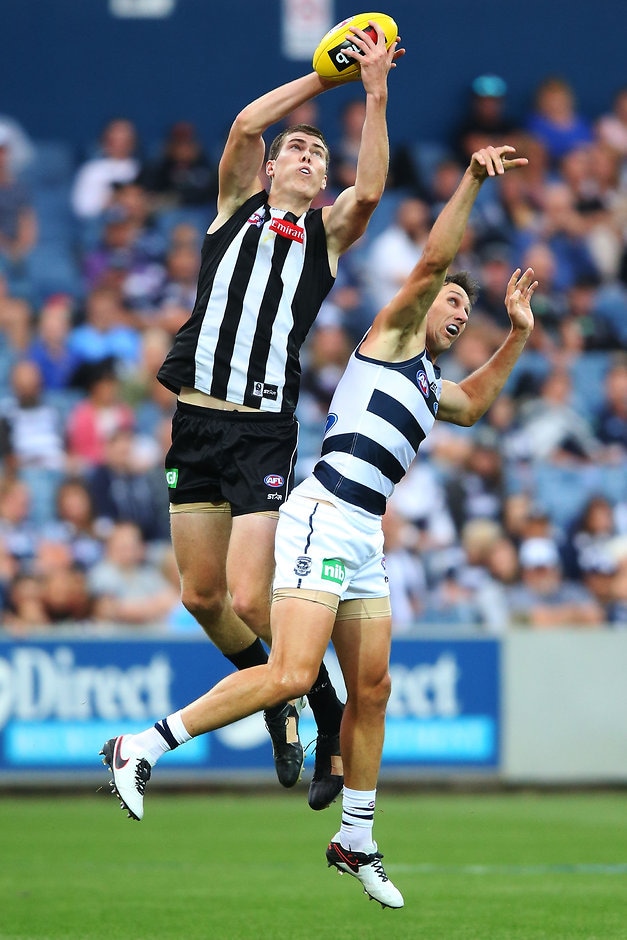 GEELONG and Collingwood kicked the most goals in a pre-season game this century in Friday night's shootout at Simonds Stadium.
The tally of 39 goals topped the previous best of 37 goals between Geelong and Melbourne in the 2008 pre-season.
Such was the frenetic nature of the contest, goals have been scored at a greater rate only five times in either pre-season or premiership matches since 1999.
Champion Data measures goals kicked per 120 minutes to determine scoring rates with the record being 46 goals per 120 minutes for the famous round 16, 2001 game between Essendon and North Melbourne.
In that memorable match, the Bombers came back from a 58-point quarter-time deficit to win.
In Friday night's game, 39 goals were kicked in 113:27 minutes, which translated to 41.3 goals per 120 minutes.
The Magpies kicked 15 goals from 26 inside 50 entries in the second half on Friday night, an amazing 58 per cent conversion rate.
The high-scoring encounter has helped boost the number of goals in the first 12 NAB Challenge games to 267, which is 38 more goals than the first 12 NAB Challenge games in 2015.
Whether the scoring boost has anything to do with rules being trialed in the NAB Challenge is unclear but the AFL will consult with clubs this week about their effect
AFL.com.au understands the AFL wants to determine a position on whether the protected area will stay at 10 metres, as it has been for the first part of the NAB Challenge, or move to eight metres, which is the other option being considered, before each team plays their final NAB Challenge game.
Richmond is the first team to finish the NAB Challenge series, with its final game on Thursday March 10.
Debate is also expected about the effect of the adjustment of the line of the mark throughout the NAB Challenge.
Players appear to have adjusted to the stricter interpretation of the deliberate out of bounds rule with the average number of boundary throw-ins per game 36 in the NAB challenge, which is comparable to last season's figures for the premiership season.
The AFL has made no secret of its desire to open up the game and ensure a balance exists between attack and defence.
Stats supplied by Champion Data