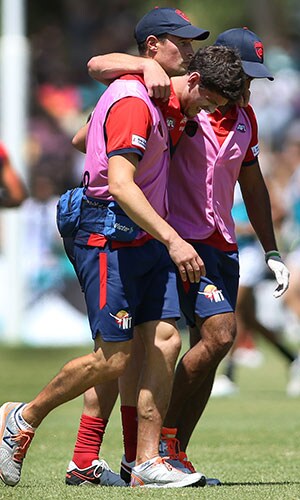 ALTHOUGH Melbourne is confident midfielder Angus Brayshaw's knee injury is not serious, they are waiting to consult with orthopaedic surgeon Julian Feller before making an exact diagnosis.
The 20-year-old midfielder had scans on his knee early this week but Feller has not yet been able to examine the scans as he is attending a conference in the United States.
AFL.com.au understands the injury is considered on the minor side with a slight meniscus tear or minor damage to a blood vessel among the potential outcomes.
Melbourne football manager Josh Mahoney said the club felt it was important to get the surgeon's assessment to determine the appropriate rehabilitation program for Brayshaw.
"Although it means a slight delay in the prognosis, the player will benefit from a rigorous assessment. There is no drawback on us waiting," Mahoney told AFL.com.au.
The young star played 21 games in his first season and showed his class after being the No.3 selection in the 2014 NAB AFL Draft.
He went down with a knee injury in the first minute of the opening NAB Challenge game against Port Adelaide causing skipper Nathan Jones, who was watching on television, to panic.
The skipper admitted on Sunday he was relieved when he spoke to Brayshaw late Saturday night and heard the prognosis was not serious.
Coach-in-waiting Simon Goodwin said after Saturday's win he expected Brayshaw's injury was minor and he would not be sidelined for long.
The Demons are expecting to welcome back experienced midfielders Jones and Bernie Vince this week and Heritier Lumumba remains some hope to play in the club's third NAB Challenge game.