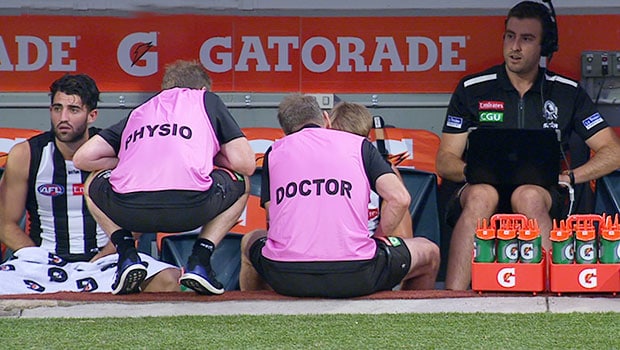 COLLINGWOOD forward Alex Fasolo has been given a "formal warning" by the AFL for urinating into a cup on the interchange bench at Simonds Stadium.
But the 23-year-old has laughed off the incident during last Friday night's clash with Geelong, describing it as "a little bit of a storm in a pee cup".
The League issued a statement on Wednesday night saying it had accepted Fasolo's version of events that he believed there was "no option" for him given there was a construction site behind the interchange bench.
Fasolo also told the AFL he had tried to be as discreet as possible by using a towel to hide his actions from public view.
The AFL said if it happened again a player would be handed a sanction.
"It was the AFL's position that, in any future occurrence, visiting players should use the nearby Geelong VFL rooms in the Ford Stand and while a warning was sufficient, any repeat conduct would be subject to a sanction," the statement said.
Earlier, Fasolo had called the investigation a "nothing event".
"It's a little bit of a storm in a pee cup you might say. It's a bit of a nothing event, but the AFL was seen to make sure they did something about it," Fasolo told Fox Sports.
"I don't see the big issue, I think we'll be right. I think everyone's going to be fine."