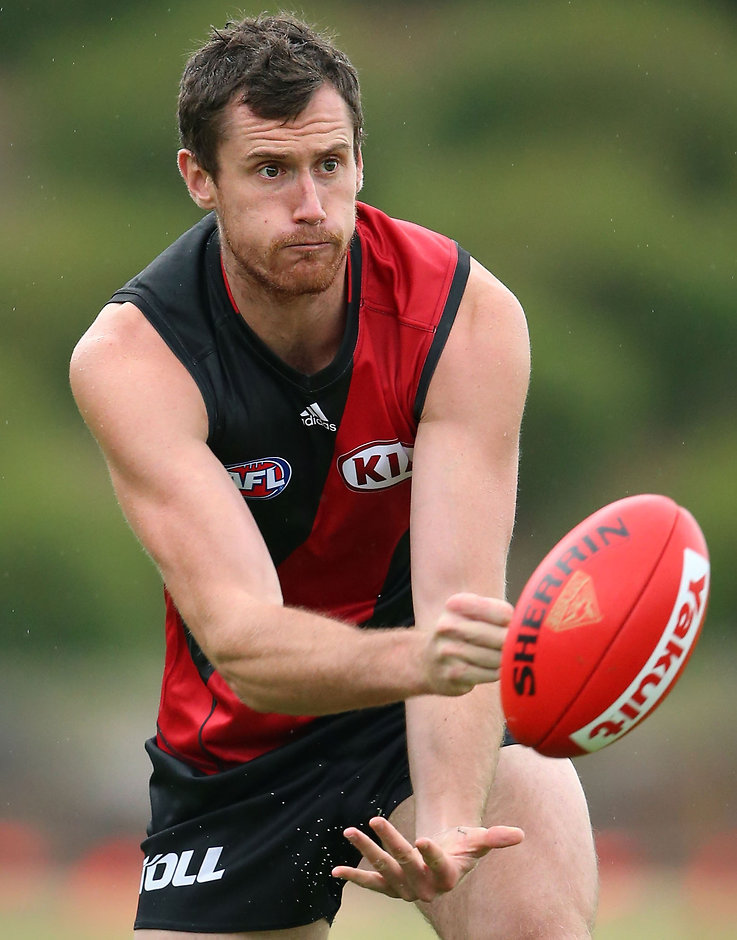 Our aim is to still have him ready for round one. That'll be a line-ball call come that week
John Worsfold
MATTHEW Leuenberger is likely to be fit for the opening round of the season, but the Bombers could explore the option of bringing the ruckman back through the VFL after a compromised pre-season.
Leuenberger, who transferred to the Bombers from the Brisbane Lions as a restricted free agent in the off-season, has been hampered by Achilles soreness for much of the summer.
Bombers coach John Worsfold said Essendon's final NAB Challenge game against West Coast in Perth on March 13 would be the true test for Leuenberger.
"He's on track for NAB3 and [it will depend on] how he pulls up from that and the workload we're giving him," Worsfold said in Shepparton on Friday afternoon.
"Our aim is to still have him ready for round one. That'll be a line-ball call come that week.
"My guess is he'll be available to play, but it'll be at what level he'll be able to contribute with his pre-season."
The Bombers had a light training run at Deakin Reserve on Friday in scorching 39-degree temperatures ahead of Saturday's NAB Challenge showdown with Geelong.
The AFL has invoked the heat policy, meaning there will be shortened 22-minute quarters with eight minutes at the quarter breaks and 25 minutes at half-time.
"Generally at this time of year the players have trained in some pretty tough conditions and they're well conditioned to it," Worsfold said.
"With eight on the bench and the rotations that are happening the longer ground time would be fine, but this just mitigates against the quarters extending out too long."
Veteran Adam Cooney and top-up players Mark Jamar and Matt Dea will make their first appearances of the season.
"Obviously Jamar tapping the ball down to our mids, they haven't roved to him before so a bit of it is just getting out and getting to know each other," Worsfold said.
"It's about playing alongside different guys and we'll try a couple of things in terms of positional moves as well."
Former Cats James Kelly and Mathew Stokes are in line to play against the Eagles as they prepare for round one.
Mark Baguely, Essendon's vice-captain, will be acting skipper in Brendon Goddard's absence.
Former Bomber Nathan Lovett-Murray, who was one of the banned 34 past and present Essendon players, was in attendance and having a look at his old side run around.