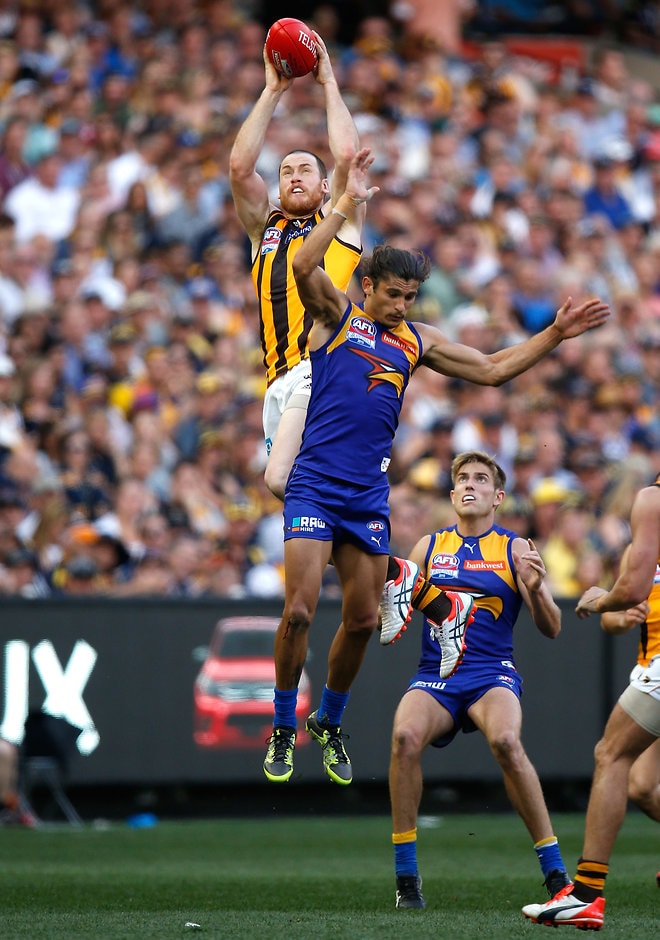 He's such a unique character and special guy around the club
Former teammate Brad Sewell
BAROMETER. Goalkicker. Leader.
Among current AFL footballers Hawthorn star Jarryd Roughead is close to unique.
On the field he is one of the League's most valuable players, but within the four walls at Waverley he is the glue that helps bond together a diverse group.
While a knee injury won't stop him being the larger-than-life character his teammates are drawn to, Roughead the player will be missed in the first half of the season.
The question is: how much?
In theory, losing the versatile 29-year-old should rob Alastair Clarkson's team of some flexibility.
Not many 193cm forwards can crash packs, land cat-like on their feet, rove the crumbs and snap goals that would make Cyril Rioli proud.
Even fewer can also play like a bulldozing midfielder and direct, teach and inspire those around them.
In big games, it's often Roughead creating the spark – like his unforgettable running goal from a centre bounce against Port Adelaide in the 2014 preliminary final – that lifts his team.
"He's such a unique character and special guy around the club," dual premiership Hawk Brad Sewell told AFL.com.au.
"That is evident on the field in the way he pulls everyone together in the forward line and the impact he can have around the ground as well."
In a career that has delivered four flags, nearly 500 goals, a Coleman Medal and two All Australian selections, Roughead continues to evolve.
Champion Data's tracking recorded him doubling his midfield presence during the last home-and-away season, compared with 2014.
He attended 161 centre bounces and still booted 50 goals, cracking the half-ton for the third straight year.
Like the Crows covering for Patrick Dangerfield, picking up Roughead's slack will take a team effort and the Hawks might have to face six of last year's finals teams – plus finals hopefuls Geelong and Greater Western Sydney – before he returns.
One rival scout believes Hawthorn's opponents will sniff an opportunity.
"We put a lot of work into 'Roughy'. Not only is he a very good player, but he gets them going and when he's not having a good day he can run in the midfield and make some stuff happen for them," the scout told AFL.com.au.
"We figured if he didn't have an impact, it would put a lot of pressure on (Jack) Gunston and Rioli and David Hale back then (before he retired), if he was playing key forward, to try and hit the scoreboard.
"When he wasn't marking it or kicking goals, he creates a contest which brings Rioli and their other small forwards into play.
"It's going to be a massive loss for them."
Stats can be read varying ways, but Champion Data's AFL Prospectus reveals that no Hawk had a wider gap between their best and worst in wins and losses last season than Roughead.
In much simpler terms, when their spearhead kicks goals, it goes a long way to securing a Hawks victory.
They have won 85 per cent of games when he has booted at least one goal since 2012.
But that success rate plummets to just over 50 per cent when he has been held goalless.
The good news for Hawthorn fans is that when Roughead has been sidelined, the Hawks have coped.
Despite his brilliance the Hawks have won four of six (67 per cent) reshuffling the line-up without Roughead since 2012, compared with 80 per cent with him in the side.
And such is the in-built flexibility in Clarkson's team that many, including Sewell, are tipping Roughead's extended absence to be a blow, but not a catastrophe.
"He will certainly be missed, but in terms of the structure they will have the ability to plug that and have somebody come in and play that role," Sewell said.
"So the Hawthorn adage of losing one soldier and replace him with another will ring true in this scenario. But to what extent? Time will tell."
James Sicily and Tim O'Brien appear the next 'soldiers' in line, and Clarkson is keen to give the pair every chance to cement a spot after multiple seasons serving the 'Hawthorn apprenticeship'.
Neither has set the NAB Challenge alight so far, yet both have shown promising signs – while delisted Demon ruck-forward Jack Fitzpatrick has offered glimpses as a potential replacement for Hale.
More responsibility will fall on Ryan Schoenmakers' shoulders, but it's difficult to imagine the League's most potent team – boasting a forward line with Gunston, Rioli, Luke Breust and Paul Puopolo – struggling to hit the scoreboard.
"We've designed a structure so that if someone goes out, someone can step in, but I think the leadership role is a pretty big one that Roughy leaves in our forward line," Jordan Lewis told the club's website.
"He's been the commander there for probably 10 years now, so these young guys really need to get on board, step up and perform in that area.
"Roughy's a pretty vocal guy … there's an opportunity there for some to step up and take a bit of control over how the forward line functions."
| | | | |
| --- | --- | --- | --- |
| | ZERO GOALS | 1-2 GOALS | THREE-PLUS GOALS |
| | | | | | | | | | |
| --- | --- | --- | --- | --- | --- | --- | --- | --- | --- |
| SEASON | MATCHES | WINS | WIN-% | MATCHES | WINS | WIN-% | MATCHES | WINS | WIN-% |
| 2005 | 12 | 3 | 25 | 4 | 2 | 50 | 0 | 0 | 0 |
| 2006 | 12 | 5 | 42 | 7 | 2 | 29 | 1 | 1 | 100 |
| 2007 | 6 | 3 | 50 | 7 | 2 | 29 | 9 | 8 | 89 |
| 2008 | 1 | 0 | 0 | 8 | 6 | 75 | 16 | 14 | 88 |
| 2009 | 1 | 0 | 0 | 10 | 3 | 30 | 8 | 5 | 63 |
| 2010 | 3 | 2 | 67 | 10 | 5 | 50 | 10 | 5 | 50 |
| 2011 | 2 | 1 | 50 | 7 | 6 | 86 | 2 | 1 | 50 |
| 2012 | 6 | 4 | 67 | 11 | 8 | 73 | 6 | 5 | 83 |
| 2013 | 2 | 1 | 50 | 8 | 6 | 75 | 15 | 15 | 100 |
| 2014 | 2 | 1 | 50 | 7 | 6 | 86 | 14 | 13 | 93 |
| 2015 | 5 | 2 | 40 | 11 | 7 | 64 | 8 | 8 | 100 |
| CAREER | 52 | 22 | 42% | 90 | 53 | 59% | 89 | 75 | 84% |
| 2012-15 | 15 | 18 | 53% | 37 | 27 | 73% | 43 | 41 | 95% |