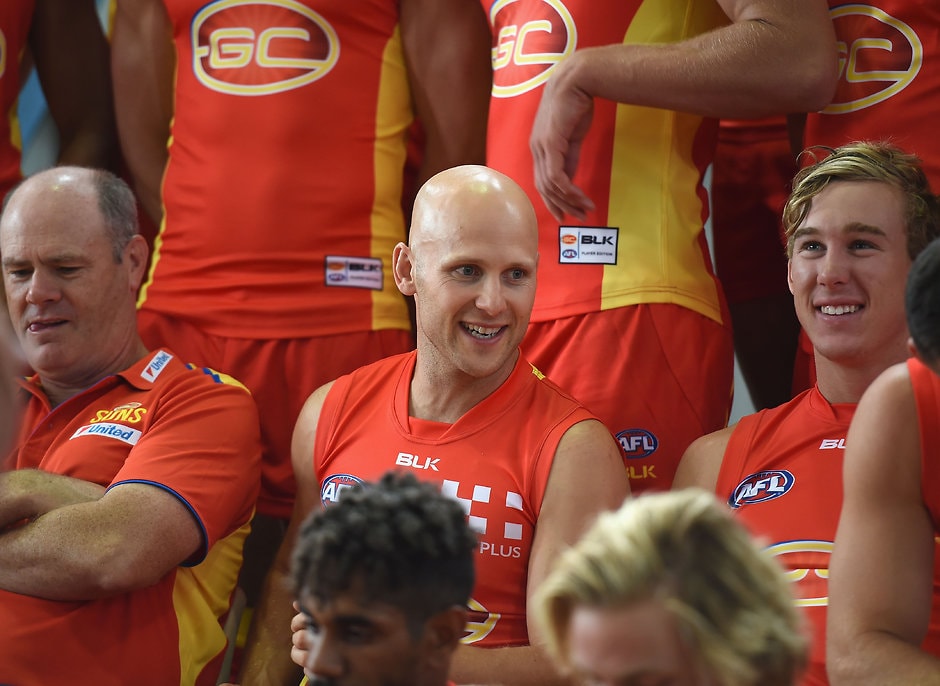 I don't think we'll need a captain for 12 months, we'll need someone who's going to be long-term
Suns coach Rodney Eade
GOLD Coast will look to implement a captaincy change while present skipper Gary Ablett is still playing, according to Suns coach Rodney Eade.
Ablett, 31, has captained the Suns since their inaugural 2011 season, with the club confirming last month he would continue in the role in 2016 alongside vice-captains Tom Lynch, Dion Prestia and Steven May.
Eade told AFL.com.au Ablett was capable of playing beyond his existing contract, which expires at the end of 2018, but said he had spoken with the skipper about the need to formulate a succession plan.
After the siren: Rocket a little less fiery
"Gary is really improving his captaincy. He's really quite passionate about it, which is great, but I think we need to identify who our next captain is going to be," Eade said.
"(When we make a leadership change) I don't think we'll need a captain for 12 months, we'll need someone who's going to be long-term.
"People might think, 'You've got 10 in the leadership group, it's a big number.' But West Coast had nine in its leadership group last year and made the Grand Final.
"I think (expanding our leadership group) will expedite our growth in leadership.
"We've got three vice-captains, who have got an opportunity. We'll have to develop and put some time into them, but probably the next captain will come out of those three players in one, two or three years' time.
"That's not set in stone, though. Steven May has come out of the clouds really in the last 12 months, so someone else could do that this year."
Ablett is yet to return to the field after an injury-plagued 2015 season, with a minor foot injury sidelining him from Gold Coast's first two NAB Challenge games.
The two-time Brownlow medallist remains in doubt for the Suns' final pre-season game against Adelaide on Friday night at Metricon Stadium.
But Eade said Ablett was well placed to return to his best after a "great" pre-season.
"Based on what he's shown on the track I would have thought he'll be the same player we've come to know," Eade said.
"In terms of the number of kilometres he's run and the intensity, he's said, 'I don't think I've ever done anything like this before'.
"But he's really enjoyed it and really embraced it, so he's in a pretty good spot. He's done exceptionally well."
Ablett's intensity at training has led the way for the Suns. Picture: AFL Media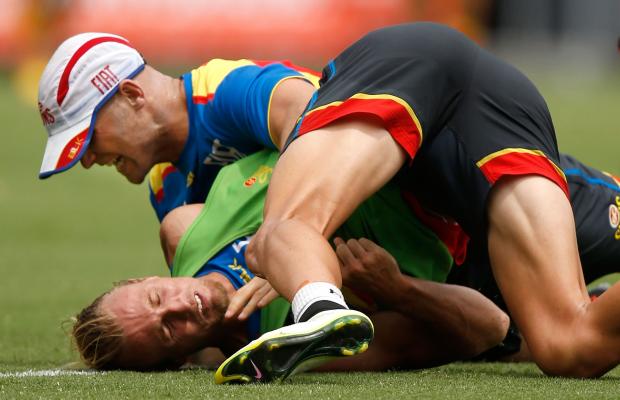 Eade expects Ablett will – like a lot of midfielders – spend more time in the Suns' forward line this season given the interchange rotation cap will drop from 120 to 90.
The Suns coach is not so sure how the rest of his attack will be structured.
Charlie Dixon's departure to Port Adelaide in last October's trade period means spearhead Tom Lynch will need some aerial support, with Sam Day and Peter Wright the leading candidates to provide it.
Eade says the Suns' three talls could play alongside each other at times this season, but doubts there will be room for both Day and Wright every week.
"It might be horses for courses. It's going to depend on form and a whole range of different variables," he says.
Eade says Day, 2010's No.3 draft pick, has given himself every chance to bounce back from a 2015 season disrupted by illness and injury, having dropped 6-7kg this pre-season.
"He just needed to lose weight. He's improved his tank, he's been able to run a bit better, been able to stay in the contest longer," he says.
"He just drops out of games for a bit too long at times, but he's certainly got some raw talent.
"He just needs to have that drive to be able to deliver consistently, minute by minute and quarter by quarter."