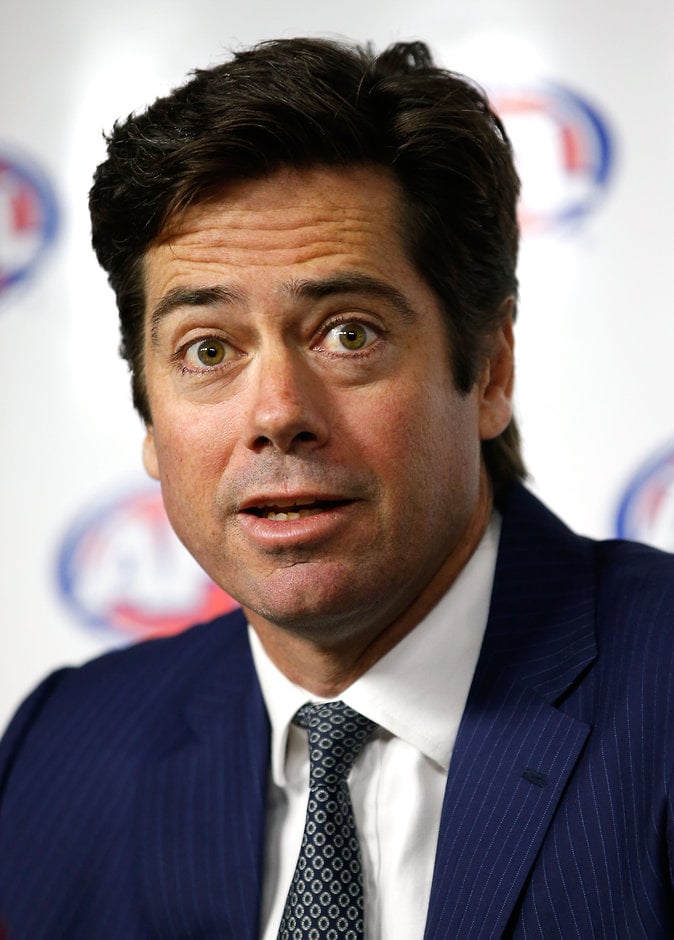 I'd love it to have more of a spruce up
Gillon McLachlan on Etihad Stadium
AFL CHIEF executive officer Gillon McLachlan says the League will continue to educate players on illicit drug use after Collingwood boss Gary Pert claimed it remains the biggest issue in the game.
Pert said on Wednesday that players' behavior with drugs had not "fundamentally changed" despite Collingwood pair Lachie Keeffe and Josh Thomas' shock positive tests to a performance-enhancing drug.
The duo was banned for two years for testing positive to clenbuterol, which they believe came through ingesting an illicit substance.
McLachlan said he had spoken to Pert briefly on Wednesday following the Collingwood chief executive's comments, but that he couldn't reveal the results of the new illicit drug policy.
"I'm not going to discuss the confidential hair testing. All I'm going to say is that from the AFL's perspective, this is a challenging issue. We have strengthened our policies," McLachlan said.
"We called it at the start of last year and [football operations manager] Mark Evans did a great job of changing the policy in consultation with the Players' Association. It's a voluntary program with the players and the players ultimately have rights, but they [also] have responsibilities.
"We will continue work with them, educate them and enforce the policy to make sure we're in the best position possible."
McLachlan also addressed Eddie McGuire's proposal to build a new $1billion stadium near the MCG and demolish Etihad Stadium once the League takes ownership of the Docklands venue.
The League will buy back the venue, which opened in 2000, for $30 in 2025, but discussions continue between the AFL and Etihad about an earlier buyout.
"Ed's floated an idea today and I've had conversations with Ed about that. We'll own Etihad for $30 in nine years time so at some point you have to consider all types of options," McLachlan said as he launched 10 diversity umpire academies this year.
"At the heart of that is continuing to work with sport and all government to make sure we've got the best facilities in this state so that it continues to be the sporting and major event capital of the world.
There have been only minor adjustments made to the Docklands venue since it opened 16 years ago, and McLachlan said he would like to see facilities continued to be improved.
"I'd love it to have more of a spruce up, yes. It's like any major asset in any major city – you need to continue to reinvest to be best in class," McLachlan said.
"The stadium now is over 15 years old and it continues to be invested in on a yearly basis, but when you're competing with Adelaide Oval and the new Perth stadium coming along in 2018, it'll be 20 years between the building of Etihad and the new Perth stadium.
"You continually have to compete with new stadiums."