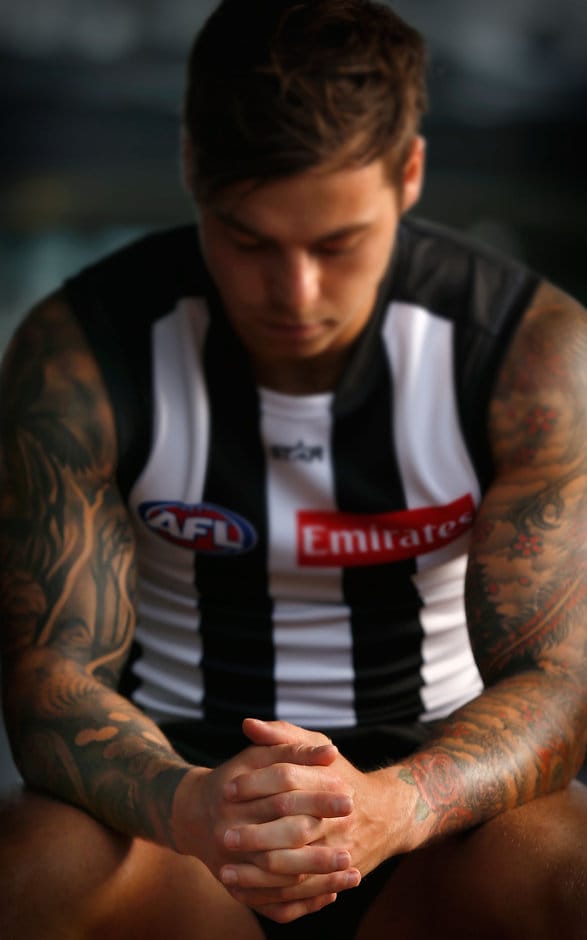 If it was in season, I could probably play with it but it wouldn't do it any good
Jamie Elliott
INJURED Collingwood star Jamie Elliott will begin running next Monday, but concedes the timing of his return to the field is still unknown.
Elliott has been battling an ongoing back condition known as pars defect, and the club chose to take him out of training in late February to allow it time to heal.
"I've been de-loaded for about four weeks now, so I'll start running on Monday and it's just a week by week thing to see how it tracks and pulls up," he said on Wednesday.
Swan a 50-50 chance of playing in 2017
"It's a gradual build up, so it's hard to put an amount of weeks on it … I don't know when I'll be back."
Elliott said he had been dealing with constant discomfort.
"Some days are good and I don't feel it all and then there's other days where it stirs up a bit," he said.
"It's a lot to do with my posture. At the moment, it's really good so I don't see why I wouldn't get through next week with the running, so I'm pretty positive."
Elliott said the layout of his training program over the next few weeks would be dependent on whether he responds well to Monday's session.
"I'll be out there as soon as I can and hopefully that's not too far away," he said.
Captain Scott Pendlebury and coach Nathan Buckley both endured the back complaint during their careers and Elliott has already sought their advice.
"I've picked their brains a bit and asked them about what they dealt with and how they dealt with it," Elliott said.
"So that's given me a good insight into what I need to do and how I need to manage it."
Elliott played 20 matches in 2015 and appeared to have moved beyond the injury issues that had dogged him in the past.
But the high-flying forward said the back issue had been extremely frustrating.
"If it was in season, I could probably play with it but it wouldn't do it any good," Elliott said.
It's an opportunity for me to rest it, get it right and whenever I do get back I can hopefully play the rest of the season."