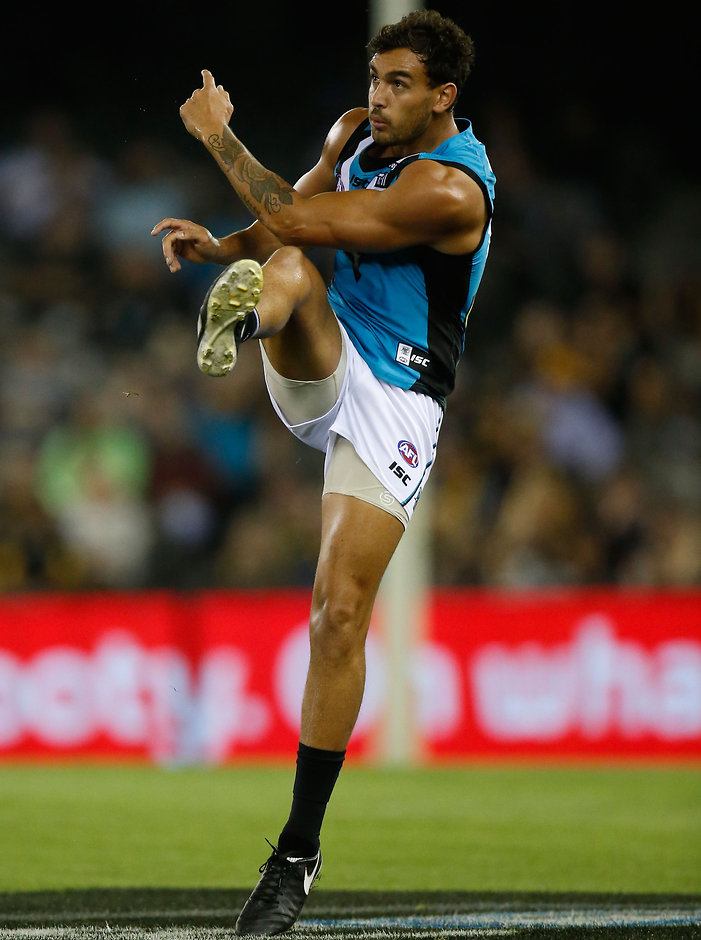 I'd been around the club since 2011 and never actually got to run out with the boys
Brendon Ah Chee
BRENDON Ah Chee entered last year having been at Port Adelaide for three seasons without playing a senior game.
He will start this year with 11 games next to his name, a more prominent place in Port's midfield and as one of its best performers throughout the NAB Challenge. But the 22-year-old isn't feeling comfortable yet.
Among many things the powerful midfielder learned while earning his debut – an AFL start that was delayed through injury, form and a drop in confidence – was that nothing is assured.
Young Sun Ah Chee right in the mix for round one
"I still feel like I've got a lot to prove and have a lot of stuff to work on. Obviously last year was a pretty important year for me – it was pretty much do or die," Ah Chee told AFL.com.au.
"I was lucky enough to put some good performances together but I don't think anything really changes. I'm not happy with where I'm at in terms of being comfortable I'll be selected every week.
"It's always going to be a challenge because our list is so talented. I just want to be here and help contribute to the team."
Ah Chee was drafted by the Power in 2011, but his breakthrough AFL game came in round three last year.
He played two of the next three games for the club before heading back to the SANFL, but he returned to feature in eight of the last 11 rounds and signed a one-year contract extension.
"The most pleasing thing was that I finally played with the boys I'd trained with for four years," he said.
"I'd been around the club since 2011 and never actually got to run out with the boys – I'd just sit in the box and watch.
"To be actually able to run out with them, play with them, fight with them and come out with a few wins was what it was all about for me."
Ah Chee was one of the Power's best in last week's pre-season win over Richmond, looking established in the midfield and adding some class and craft to Ken Hinkley's on-ball unit. He gathered 24 disposals and seven clearances.
He said the challenge of being in the Power's first-choice midfield was driving him in 2016.
"I like being in the midfield and in amongst it. I like hunting the footy and hunting the opposition and being the bloke who wins the ball when it's there to be won. That's my ideal spot," he said.
"I'd love to play round one. But our midfield is so talented that it's going to be really hard. But that's good for me, it means I'll have to work even harder and be the best I possibly can."
Hinkley praised Ah Chee after Thursday night's win over the Tigers, and said he should be determined to continue his development this season.
"The expectation was we wanted him to improve as a player at the start of last year. He's certainly done that. Those are the same expectations this year, but his starting point is much more proven," Hinkley said.
"He was starting at a lower level [last year]. This year he's starting as a ready-to-play AFL player. But we still want him to improve again this year. I thought [against Richmond] he was really exciting."
Port starts its home and away season on Sunday, March 27 with a clash against St Kilda at Adelaide Oval.