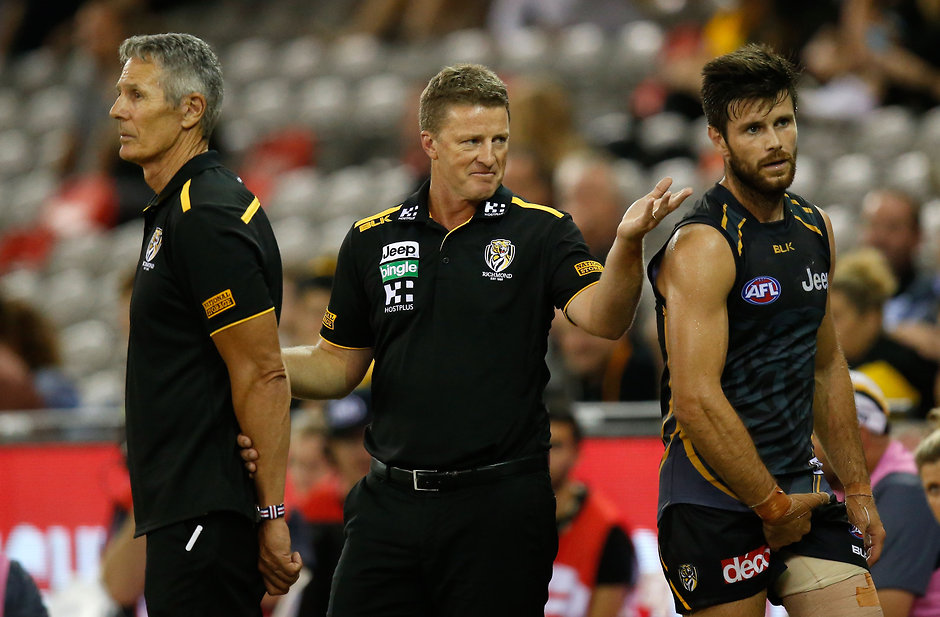 We've all agreed the time-honoured way of parking a player in the goal square, if you wanted to, is a better outcome
AFL football operations manager Mark Evans
RICHMOND has escaped sanction for fielding just 15 players in the final quarter of its NAB Challenge hit-out against Port Adelaide at Etihad Stadium last Thursday night.
Tigers coach Damien Hardwick asked the League during the game whether the match could be called off early as the club's injury toll mounted.
AFL football operations manager Mark Evans met with Tigers football boss Dan Richardson on Tuesday to discuss the situation and the club's obligation to fans and the broadcaster.
"I'm happy to leave it at that," Evans told RSN927 on Wednesday morning.
"In fact, I think the internal discussions have been very good and very well considered.
"We've all agreed the time-honoured way of parking a player in the goal square, if you wanted to, is a better outcome."
Evans said he understood why the Tigers made the inquiry to the League with round one fast approaching.
"I think there was a split decision to start removing players from the field. It was then pointed out that that's not we were looking for," Evans said.
"Dan Richardson and I had a discussion about this yesterday and he provided all the implications as to what they were dealing with at the time.
"I accept that was difficult for them, but equally they've accepted there were other ways of doing things."
The Tigers players dropped like nine-pins through the game with injuries to Shane Edwards (collarbone), Shaun Grigg (thumb), Reece Conca (hamstring) and Jacob Townsend (concussion) amplifying Hardwick's frustration.
Hardwick revealed post-match he had asked for the game to be cut short in the last 10 minutes.
That request was denied by the AFL, which then asked the Tigers to field a full team for the remainder of the game.