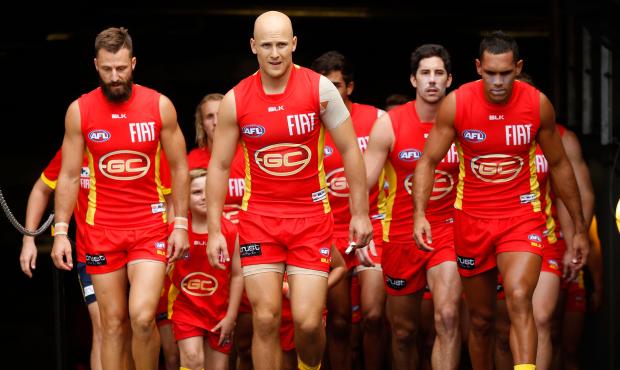 GOLD COAST can open a window to sustained success if it can develop the talent already on its list, according to inaugural Suns' chairman John Witheriff.

As the 56-year-old readies to hand over the leadership after round one to the more outgoing and entrepreneurial Tony Cochrane, Witheriff said the Suns have reached the "end of the beginning".

Having made do with a shed for a gym and makeshift offices for six seasons, the club is set to move into a state-of-the-art training and administration base next to Metricon Stadium in October.

A major sponsor will re-commit to the club soon and the Suns will have a $500 million asset to manage when the Commonwealth Games are run and won at Metricon Stadium on the Gold Coast in 2018.

Although the AFL has pumped money into the club – understood to be about $18.5 million in 2015 – Witheriff said the investment is well and truly justified, given the club's pivotal role in strengthening the AFL's national footprint, therefore helping to attract record broadcast dollars to the game.

The Suns also claimed at a recent media briefing to have significantly increased football participation in the Sunshine State (up 92 per cent since 2010) and unearthed latent AFL support in the region, as well as creating AFL infrastructure on the Gold Coast.

At some stage soon however everyone at the Suns knows the wins must come for the expansion club or doubts will continue to gather like clouds that precede a Queensland storm.

"I think we're getting there," Witheriff said. "Sustained success on the football field is our future."

No one can predict what the Suns are capable of this season.

Not having David Swallow and Jaeger O'Meara available until mid-year because of injury and having Gary Ablett and Dion Prestia missing through the NAB Challenge has lowered expectations.

But they tried 41 players last season because of injury, building their depth and have a good draw in 2016 after completing a promising NAB Challenge.

The Suns also have 13 top-20 selections plus Gary Ablett, but remain the third youngest list and 14th most experienced when it comes to games played.

External observers also see the club as vulnerable to talent raiders but the club thinks such perceptions don't match the reality.

Gold Coast points to a good history of retaining players, with Josh Caddy about the only quality player choosing to return home from the fledgling club.

This gives the Suns some hope they can retain O'Meara and Prestia beyond this season and they have already secured Kade Kolodjashnij and Peter Wright and are expected to announce soon Tom Lynch has been re-signed.

They continue to build talent from underneath, adding six top-20 picks in the past three drafts, and have recruited for need, building midfield depth and experience.

"I think we have done very well in creating a group of players that believe in the club and are not just what you call fly-in, fly-out players," Witheriff said.

No discussion AFL.com.au had with their out-of-contract youngsters when visiting the club last week contradicted the departing chairman's view.

That doesn't mean challenges (and external doubters) don't exist.
John Witheriff (centre) with his board at the launch of Gold Coast Football Club in 2008. Picture: AFL Media.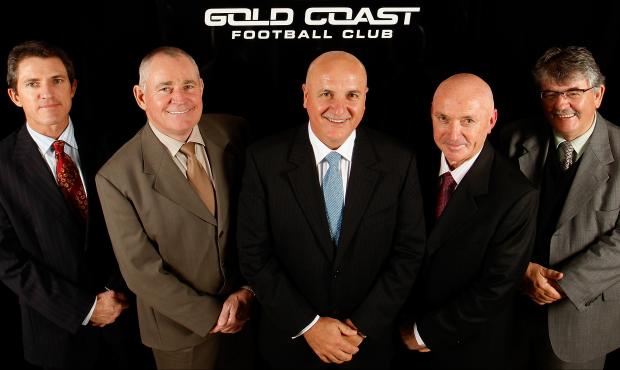 Long-term injuries to Swallow and O'Meara have been frustrating for player and club alike but the duo's confidence in newly appointed fitness boss Justin Cordy is high.

The club also understands the need to find non-football sources of revenue to ride any future bumps, a difficult task for any club.

It also knows it still must convince some skeptics that Queensland can provide a football future that matches anything on offer in the traditional football states.

To that end incoming chairman Cochrane will play an important role.

Having turned the V8 Supercars into a multi-million dollar empire Cochrane has turned his substantial energy and experience to the Suns, after the Chairman sought him out to a couple of years ago to be part of a succession plan with a view to him leading the club.

"People will sit up and pay more attention," Witheriff said.

He thinks Cochrane is exactly the type of person the club needs at the helm, especially with the steady Andrew Travis in the CEO's chair.

Despite flat lining on-field last season and having their culture, with some justification, questioned and scrutinised, the Suns managed the risk.

Witheriff said that hanging tough during that turbulent period when everyone was clamouring for instant decisions satisfied the AFL, supporters, sponsors and key players they could manage the transition from past to present.

It was, he says, an important process to embed a culture into the club.

The club, he says, proved it was credible and it has an exciting list good enough to push the club toward finals.

Whether it can move up the ladder as quickly as the lift that takes tourists to the top of the Gold Coast's SkyPoint Observation Deck remains to be seen.

"Where we have got to go to from here is we have to step up to another level," Witheriff said.

"We have to continually win football games, certainly a lot more than we lose."