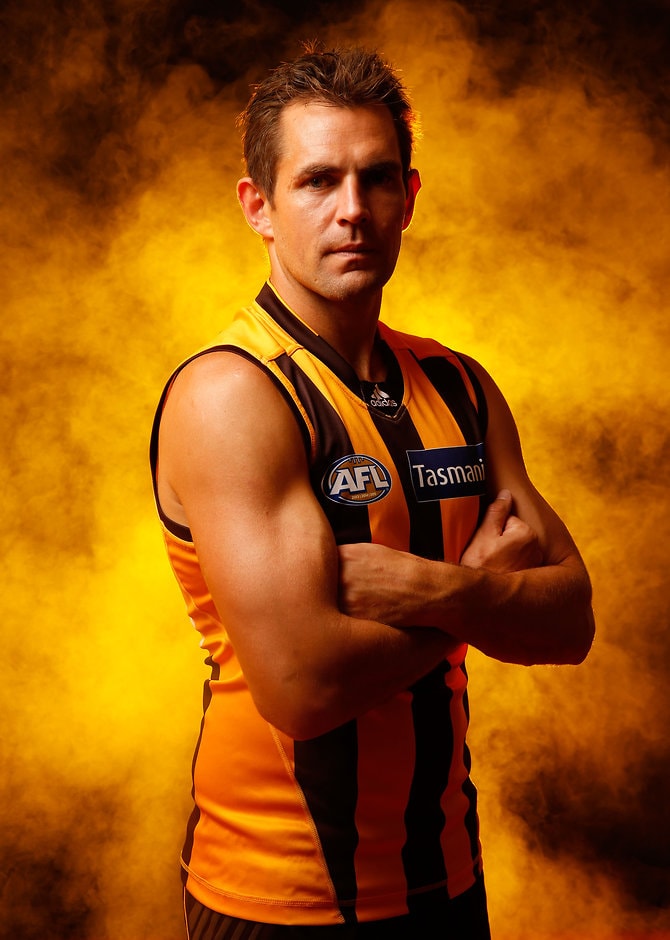 With today's game and to play a bit forward you need a bit more bulk, so I didn't want to lose any more weight. As it is I can't run out of sight on a dark night
Luke Hodge
• Captains' call: Danger in the Brownlow zone, Hawks set for GF
• Recap: Captains' Day and 2016 season launch
• 'It was pretty average': Cotch keen to atone for finals failings
HAWTHORN coach Alastair Clarkson has suggested deploying a smaller forward line this year, and now Luke Hodge has dropped a hint that he might well be part of it.
Speaking at the AFL Captains Day on Thursday, the Hawk captain said he would enter 2016 at the same weight as last year – 88kg – and a reason why was the possibility of spending more time up forward.
"You'll have to ask 'Clarko' that," Hodge said when asked whether he would see more time up forward as the Hawks restructure their side in the absence of the injured Jarryd Roughead for the first half of the season.
"I played a bit more forward on the weekend, but it will also depend a bit on who we're playing whether its back, midfield or forward."
It was Adam Simpson a few years back, then an assistant coach with the Hawks and now the senior coach of West Coast, who urged Hodge to lose a kilogram every year after he turned 30. He will turn 32 during the season.
"I have stayed the same this year. With today's game and to play a bit forward you need a bit more bulk, so I didn't want to lose any more weight. As it is I can't run out of sight on a dark night," he said with a laugh.
Hodge said he spent more time in the forward line towards the end of last season, but he added that it was a key requirement for pretty much every player at Hawthorn to be able to hold down multiple positions.
"It's always good to go forward, and kicking a few goals always excites you, but it depends on the coaches, and I'm happy to play wherever they want me to play a role," he said.
The Hawks are chasing a slice of football history in 2016, seeking to win their fourth straight flag and become just the second team in League history to do so.
They start the season missing at least five players from the premiership side, with Brian Lake and David Hale retired, Matthew Suckling joining the Western Bulldogs and Roughead and Liam Shiels both injured. There might yet be a sixth with Taylor Duryea named on the injury list with a hip/groin complaint.
But Hodge is not concerned, citing the injuries to a number of senior players in 2014 as a precedent that didn't derail the club.
"You have to adapt with the personnel you've got, and with the blokes we've got coming in, they've been in our system for four or five years and they've been waiting for the opportunity.
"It's perfect – 18 or 19 of the blokes from last year who are ready to go and four or five others that are waiting to step up and take the opportunity."
He said James Sicily and Tim O'Brien were ready to play in the forward line if required and he also expressed confidence that young key defender Kaiden Brand could replace the departed Lake.
"Brand is ready," he said. "He is athletic, he can run and he understands the way we play. Anyone who is 196cm and can run like he does, it has to be an advantage."
Hodge added that like every other year, the Hawks had tinkered with their game-plan in a bid to remain ahead of the competition. The Hawks have said the same things for years, but he felt it worth repeating once more on Thursday.
"We found out after 2008 that if you keep things the same then teams are going to overrun you," he said. "We're always looking at ways to get better, because if you don't then you are going to be left behind."
Marc Murphy and Luke Hodge catch up at the AFL captains' day. Picture: AFL Media