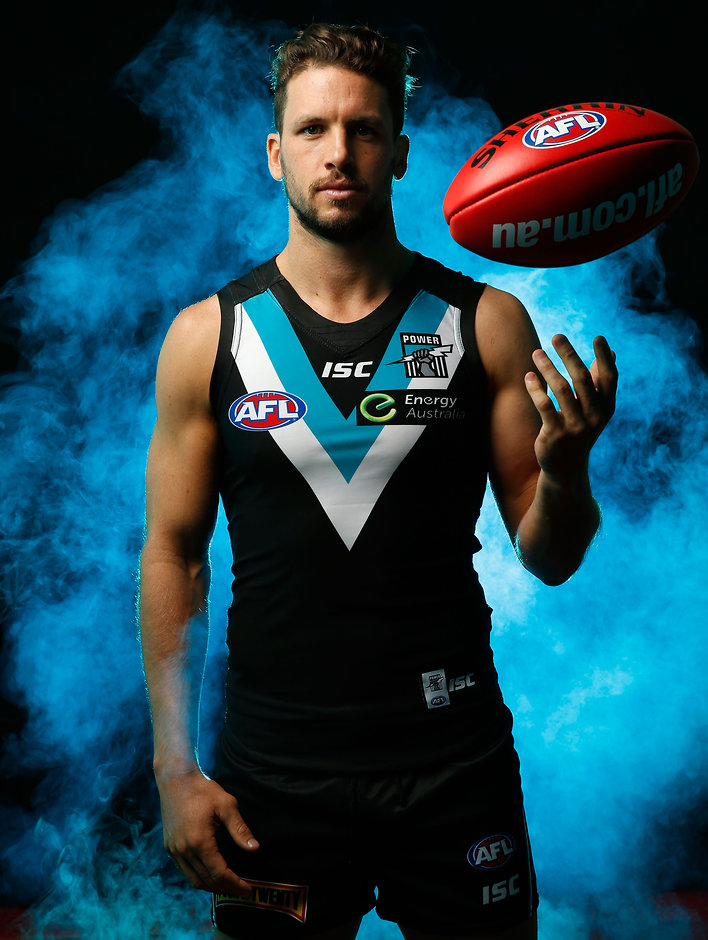 PORT Adelaide's run-and-gun brand of football will become tougher to defend because of the wider protected zone around the mark this season, skipper Travis Boak says.
But the Power aren't the only team keen to exploit the change, with Hawthorn's triple-premiership captain Luke Hodge saying the Hawks could hit even more targets with their pin-point foot skills.

The AFL recently confirmed the protected area will be increased from 5m to 10m after a successful NAB Challenge trial and Boak expected the tweak would aid the Power's fast-paced style, implemented by coach Ken Hinkley.

"That's probably why I like it and Kenny certainly loves it as well. It'll certainly help our game," Boak told AFL.com.au.

"I think it'll open the game up a little bit more and it'll keep it a little more free-flowing.

"There's a lot more space for a player to play on and make a decision quicker. That'll be good for the game."

Hodge's razor-sharp Hawks had the AFL's best kick-rating (the difference between a player's expected hit-rate and actual hit-rate) last season and Hawthorn's elite ball users could benefit from less congestion around the mark.

"I think it's going to be tougher for teams to defend because you're so used to manning the mark," Hodge said.

"A lot of teams put a price on that so teams have to be aware it's a big penalty.

"Hopefully with the way we use the ball it will give our kickers a bit more time and space to hit their targets."

Attacking through the corridor – generally viewed as the primary avenue to scoring more heavily – is also tipped to become more prevalent.

"Sides will find ways to use it and expose (the rule), but what the AFL want there is to get the ball movement so it's not played on the wings as much," West Coast skipper Shannon Hurn said.

"I suppose sides that like to go through the corridor, it might help them."
Travis Boak catches up with Gary Ablett at captains' day. Picture: AFL Media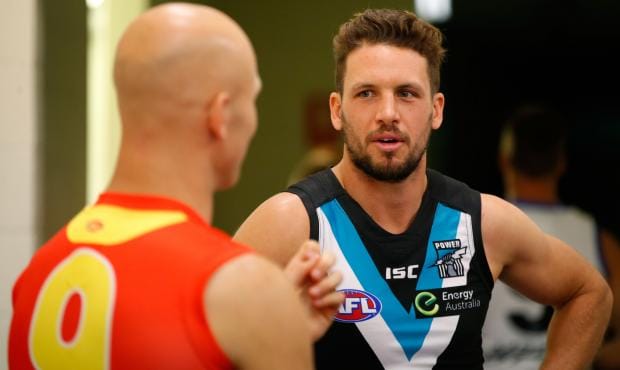 West Coast's cross-town rival Fremantle used the corridor more than any other team (36.3 per cent) last season, according to Champion Data's AFL Prospectus.

Geelong was ranked second (35.6 per cent), Port was fourth (32.9), Hawthorn ranked seventh (30.2) and the Eagles were 11th (28.8).

Encroaching on the 10m protected zone carries a hefty 50m penalty and Collingwood captain Scott Pendlebury predicted the rule change might catch out some players and umpires.

"If you get caught in that space you've got to get out of there really quickly. It makes it tough," Pendlebury told AFL.com.au.

"If your opponent is there and you've got to be within two metres of him and he puts the foot down and gets away then it's 50.

"It's new for the umpires too and they're trying their best."
#AFLSeasonLaunch #weareportadelaide pic.twitter.com/pm19WpPw13

— Port Adelaide FC (@PAFC) March 16, 2016