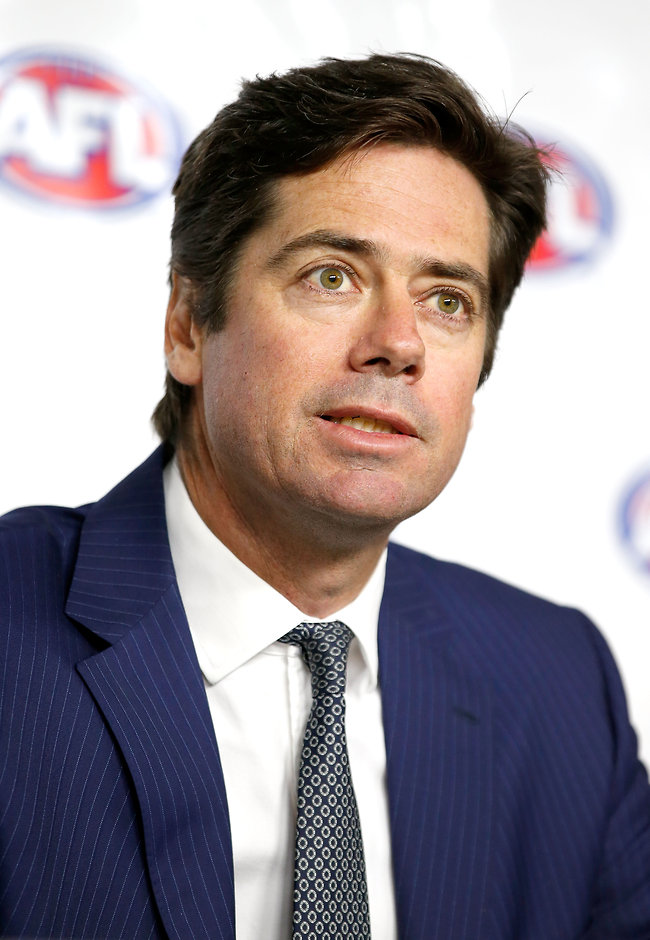 HOW THE spoils of the $2.5 billion broadcast agreement are divided will be the story of the first half of 2016, according to AFL CEO Gillon McLachlan.
But he said debate was to be encouraged as the game could not waste the golden opportunity to set the game up for the next 20 years.
AFL's apology on 'slow' response to Goodes booing
"We have a new $2.5 billion broadcast agreement which we must invest for generational returns, not just the next six years [but] to secure our game for decades," McLachlan said.
"It may also be our biggest challenge, as we are now a bit like a family that won the lottery."
As McLachlan launched the 2016 season in grand style on Thursday night in front of football's movers and shakers, he sent a message to suspended Essendon players and Bomber fans.
"The Essendon supplements case has tested our community, our football family, more than anything we've faced before," McLachlan said.
"The resilience of the 34 players involved will be tested severely this year, as at times will that of the Essendon supporters, but I have great faith in the conviction, strength and loyalty of both groups, that they will get through this year."
Click here to read Gillon McLachlan's full speech
McLachlan said such conviction was because the AFL attracted the most passionate and tribal supporters of any sport in the country, with one in 28 Australians being an AFL member.
He said that passion would underpin the game's capacity to meet its strategic goals to have an even competition, to make clubs profitable, to grow the women's competition, to attract all Australians regardless of background, to keep participation high and to put on a brilliant game each season.
Then with a rhetorical flourish he moved on to the game itself, the on-field action that will captivate football watchers for the next six months.
"Is there anything better than the start of the season? The promise, the anticipation, the stories," McLachlan said.