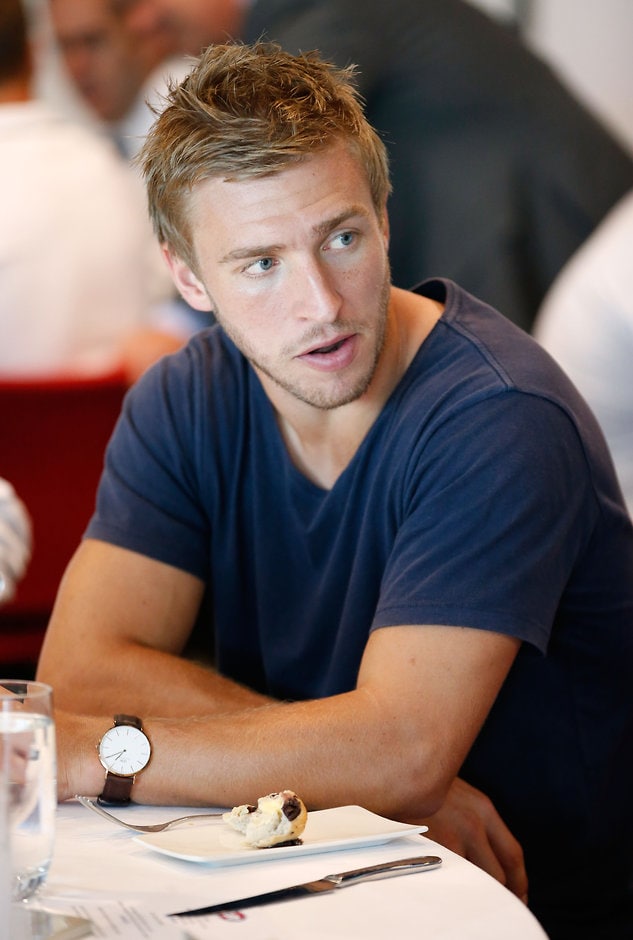 If I were to sign with the club now it would be for life, so hopefully that's the case
Kieren Jack
KIEREN Jack is confident of re-signing soon with the Sydney Swans on a long-term deal that will ensure he finishes his career a one-club player.
Jack, 28, is one of the few big names remaining on the 2016 free agency list, but opposition clubs have long expected the Swans co-captain will stay put.
AFL.com.au reported last month the Swans had opened negotiations with Jack in the hope of finalising a new deal early this year.
The midfielder told AFL.com.au on Thursday that as a free agent he accepted there would be speculation about his future, but said he hoped to remain a Swan for the long term.
"Free agency brings a bit of media hype with it, everyone is looking for something to talk about," Jack said at the AFL Captains' Day.
"The club has signed Luke Parker and Dan Hannebery on long-term deals and that probably took a little bit of a priority, which is fair enough.
"They're young guys who were going to be in demand, so to lock them away on long-term deals is great.
"But we're now well and truly underway with our talks and ideally you'd like to get it locked away as quickly as possible. The more it sort of hangs around the more speculation comes across and nobody really wants that.
"I think it will be done quite soon."
Asked whether the new deal would be long enough to ensure he finished his career at the Swans, Jack said: "Ideally that's the plan. If I were to sign with the club now it would be for life, so hopefully that's the case."
Meanwhile, the long-time midfielder said he could be used in a different role at times this season, across half-back.
Jack was trialled in defence in the Swans' NAB Challenge game against Carlton last Friday night and performed solidly, finishing with 23 possessions and four rebound 50s.
The Swans will be forced to rejig their backline in 2016 following the departures of Rhyce Shaw and Lewis Jetta at the end of last season.
Gary Rohan and co-captain Jarrad McVeigh are among the Swans' best options to replace Shaw and Jetta's run, but Rohan (hamstring) was placed on the long-term injury list earlier this month and McVeigh (knee) is unlikely to be fit for round one.
Which means Jack might be called on in defence, especially early in the season.
However, Jack expects he will be an occasional visitor to the Swans' defensive 50 rather than a permanent resident.
"I think with the injuries to Gary Rohan and Jarrad McVeigh, we just wanted to get some run off the half-back line in the NAB Challenge," Jack said.
"I think some midfielders can do that naturally, so we trialled that in the pre-season.
"I might do it during the year for bits and pieces, but I want to spend the majority of my time in the midfield.
"I think for our balance with our inside mids I probably need to be staying in the midfield".