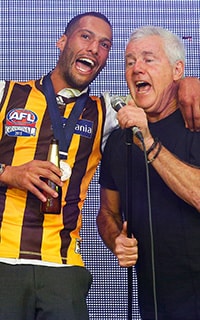 For us it's about providing an exciting and entertaining experience on-field first
Brendon Gale
RICHMOND has upped the ante with its match-day entertainment in 2016 and will use a parade of horses to launch the new season on Thursday night.

The Tigers are hosting the first game of the year against Carlton at the MCG and have planned their pre-game entertainment around Daryl Braithwaite's hit song Horses.
The song has been a feature of Hawthorn's post-match celebrations in recent years with the Hawks revealing last season they sing it after a really good interstate win.
Braithwaite will perform the song on the MCG stage as four horses do a lap of the ground.

It's a package that might remind fans of the Brisbane Lions' dumped idea to use a live lion during their pre-game entertainment in 2014.

The horses theme will continue at quarter time breaks, with crowd karaoke to Braithwaite's song, and again at half-time with a lip-sync battle on stage.

Shane Edwards looking good for round one

Richmond CEO Brendon Gale said, Braithwaite aside, the Tigers would roll out similar matchday initiatives as last year, such as VFL games at Punt Road pre-game and fan marches to the MCG.

"We'll just follow on from last year, we didn't do anything too radical," he said.

"For us it's about providing an exciting and entertaining experience on-field first and foremost, so I think we'll be focusing on that."