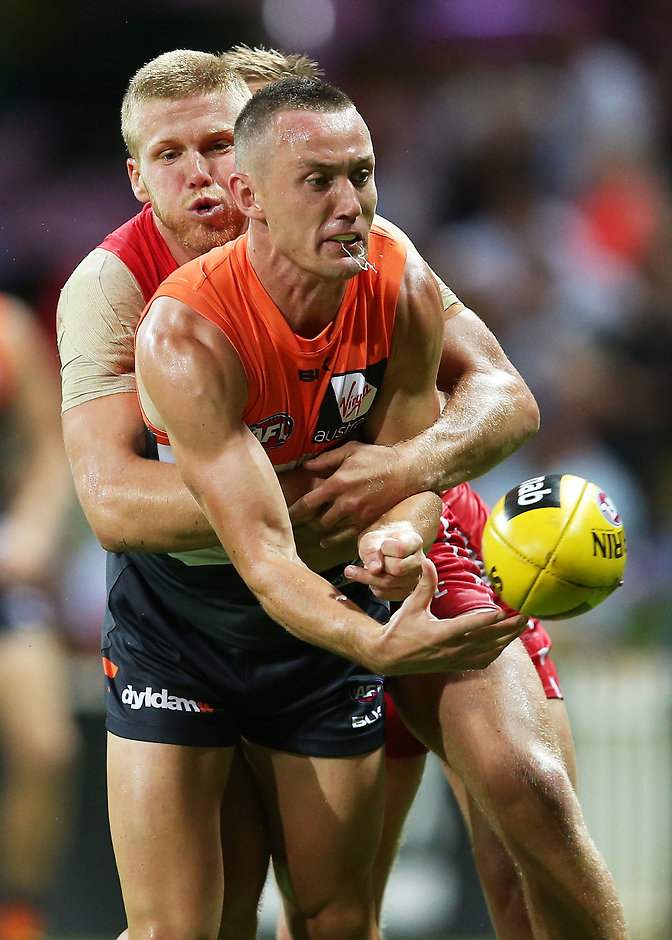 We didn't want the group too large, and seven is the perfect number for us
Callan Ward on the GWS leadership group
HIGH-PROFILE recruit Tom Scully and ruckman Shane Mumford have been left out of a new-look Greater Western Sydney leadership group as the club looks to its emerging stars to take them into the future.
Newly re-signed midfielder Callan Ward and key defender Phil Davis will co-captain GWS for a fifth-straight season, but Mumford and Scully have made way for four new additions to the group announced on Tuesday.
Reigning club champion Heath Shaw will again support Ward and Davis, who have shared the skipper's role since the Giants entered the competition in 2012.
Big deal for top Giant: Ward signs for life
Gun midfielders Stephen Coniglio, Dylan Shiel and Devon Smith, and defender Matt Buntine, all 22-year-old Giants' 'originals', have been given a spot on the leadership team for the first time.
The decision was made by senior coach Leon Cameron and his coaching staff after lengthy consultation with the Giants players and leadership coach Nick Maxwell over the pre-season.
Ward said Mumford and Scully had taken the decision well and it had nothing to do with their standing at the club.
"They totally understand the situation," he said.
"We've had young guys who have been doing leadership stuff for four years that they've been here and they're ready to step in.
"We didn't want the group too large, and seven is the perfect number for us.
"We've got four fifth-year players who are terrific leaders, terrific men; that's what we're about at this football club, great men and great people so I think it's really good signs for us.
"They'll fill the shoes really well."
Cameron agreed, and said the elevation of four players who have been with the Giants from the start was a fantastic sign for the club.
"As the club keeps evolving, it's a powerful message that we're on the right track," he said.
"They've displayed leadership throughout their short careers but we've seen in the last 12 months that they want to take this club somewhere, along with Heath (Shaw), Phil (Davis) and Callan (Ward), and get to where they want to get too.
Coniglio, Shiel and Smith have spent plenty of time working with leadership coach Nick Maxwell over summer and, with Buntine, have been part on an 'emerging leaders' group at GWS for the past three years.
While the trio of on-ballers are future stars of the competition and seemed like logical choices to step up their responsibilities, Buntine has struggled to establish himself after four injury-interrupted seasons at GWS.
The 22-year-old could be seen as a bolter to those outside the club, but is well respected by his teammates and officials at the club for the selfless way he goes about his footy.
"He trains really well, he sets that really high standard that we always speak about and from the start we've been trying to build this (Giants) culture, and 'Bunts' is that culture," Ward said.
"He does everything right, he's super professional, he's a terrific player, he's nice and tough on the field and he's just a great person to play with."