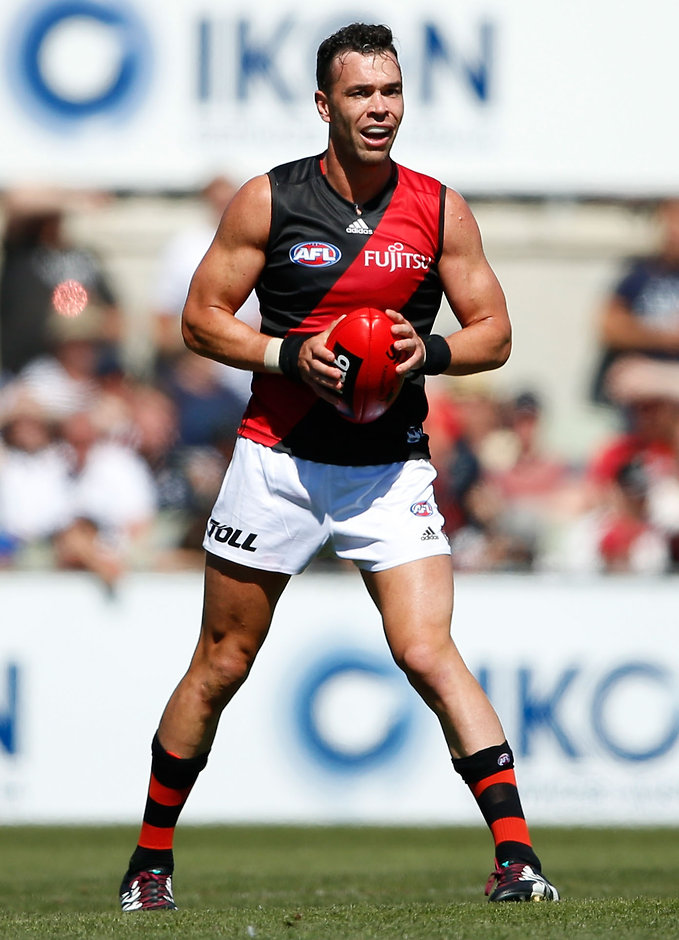 I'm sure we'll cross paths at some stage during the night. I might go and say 'Hi' and see how he's going
Ryan Crowley on Gary Ablett
ESSENDON'S Ryan Crowley is ready to return to the AFL scene and ready to renew his rivalry with Gary Ablett as he prepares for his first game in 18 months.
The former Fremantle tagger has not played since the Dockers' semi-final in 2014 after missing last season due to an anti-doping suspension.
But through the Bombers' loss of 12 players due to WADA bans Crowley received a career lifeline as one of the club's top-up players and he is set to debut in red and black against Gold Coast on Saturday.
The 32-year-old smiled at the prospect of lining up against Ablett, with the pair having a history of fiery clashes in the past.
"I'm sure we'll cross paths at some stage during the night. I might go and say 'Hi' and see how he's going, but it should be interesting … I'm happy to see him," Crowley said on Wednesday.
"The boys haven't had match committee yet, but he's a great player and you always want to pit yourself against the best and he's probably the best. It's an exciting challenge.
"It will probably let me know where I'm at, but we haven't really spoken about it yet. Whatever the match committee are happy with I'm happy to do."
Ablett did not play a game in the Suns' NAB Challenge series as he nursed a foot injury but has confirmed he will line-up against the Bombers at Metricon Stadium.
The dual Brownlow medallist voiced his displeasure at Crowley's tagging tactics against Carlton star Chris Judd in 2012.
"Crowley is a joke! Play the ball, not the man! That's why Lingy was such a great player he ran both ways! #givejuddafreekick" Ablett tweeted at the time.
Crowley suffered a minor hamstring injury in Essendon's first NAB Challenge game against Carlton and missed the next two games, but said he had taken a cautious approach to ensure he was fit for round one and beyond.
"I'll certainly be putting my hand up to play every game. It's amazing what a year out has done for my body," Crowley said.
"I had a few niggles towards the end of 2014 with my back, and they've all gone away. Just not getting hit week in week out has made such a difference for me. When it's taken away from you, you don't take it for granted so I'll be putting my hand up every week."
Ryan Crowley (centre) trains with the Dons squad on Wednesday morning. Picture: Getty Images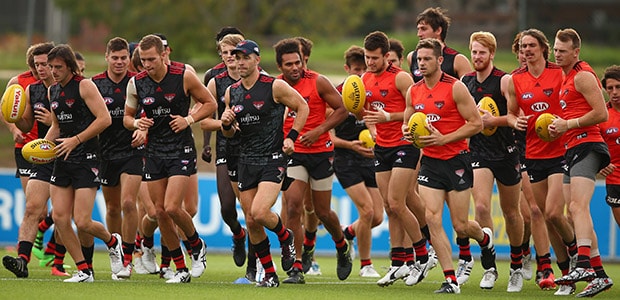 Crowley's 12-month suspension ended during Fremantle's finals series and although he could have been selected for the Dockers' preliminary final against Hawthorn, he did not make the cut. He was then delisted at the end of the season.
He said "a couple" of the Bombers' banned dozen had contacted him for advice about how to handle a year out of the game as they navigate their way through their own suspensions.
Crowley suggested the players should have a decent break from training during the year to avoid being drained by the time they are allowed to train again in September.
"There's a few things I wish I'd done differently [during the suspension] and I'm not sure if I helped, but I just passed along a few of my experiences. Hopefully it helped them," he said.
"This week will be quite difficult for them because it's round one. That's what I found – it was probably the toughest week. I thought I was all right but it was quite difficult.
"They've got each other and can lean on each other and hopefully they can get through it together."