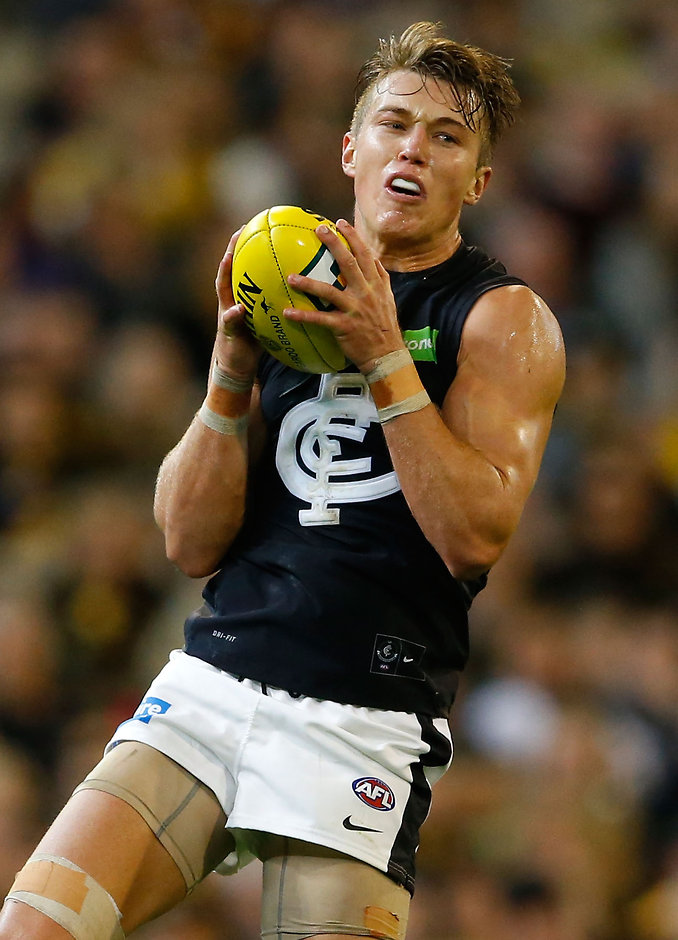 1. Patrick Cripps will explode this year
Carlton's reigning best and fairest winner was clearly the tallest midfielder on the MCG on Thursday night at 193cm, and it's an advantage he used to dominate the stoppages. The third-year star won 10 clearances in the first three quarters and had a game-high 17 contested possessions. Ranked No.15 in the AFL last year for total clearances (130), expect Cripps to rocket up the standings this year. His grunt work overshadowed his sublime skills, best demonstrated by his pin-point pass in tight after shaking off a Trent Cotchin tackle in the second quarter.
Click here for full match coverage and statistics
2. Brendon Bolton had a great pre-season
On the evidence of Thursday night, Carlton is going to be a good team to watch and a dangerous team to play if you're not careful. The Blues had a clear structure in Bolton's first game in charge, and a plan when they had the footy that involved quick movement and risk-taking. Most importantly, they swarmed on their opponents when defending. Richmond had no time or space in the first half and struggled to get the game on its terms. There were plenty of familiar faces in navy blue, but make no mistake – this was a new team.
3. There is always drama at Tigerland
Many fans and pundits sensed there was something in the air going into Thursday night's game, and it wouldn't be a regulation win for last year's elimination finalists. The only certainty for the Tiger faithful is that you get your money's worth going to the footy. Three times the Tigers fell behind only to claw their way back, and each time there was a sense that they were fortunate to have their noses ahead of last year's wooden-spooners. Sometimes the club must wish it started the season in a quiet Sunday afternoon slot, and not the glare of Thursday night primetime.
4. The last touch rule
One of the more bizarre umpire decisions on the night was a deliberate out of bounds call against Matthew Kreuzer when the ball was watched over the line on the wing by Tiger Kamdyn McIntosh. Kreuzer had kicked the ball out of a stoppage and McIntosh decided not to pick the ball up as it trickled over the line, deciding a boundary throw-in would serve his team better. Given the ball hadn't been touched, and there were no Blues in the immediate vicinity, Kreuzer was pinged. The umpires are tightening their interpretation of deliberate out of bounds, but it was questionable whether the decision was in the spirit of the rule.
5. Casboult's costly kicking
The sight of Levi Casboult lining up for a regulation shot on goal must lead Carlton fans to fear him missing rather than hoping he converts. That's the unfortunate reality for a player who could be a star if he didn't have the goalkicking yips. On Thursday night, Casboult's two misses came at crucial times, making them all the more glaring. He had a chance to extend the Blues' lead and put a foot on Richmond's throat early in the fourth quarter, but sprayed his shot from 30 metres out directly in front. He wasn't alone, with misses from Sam Kerridge and Andrejs Everitt leaving the Blues to wonder what could have been.