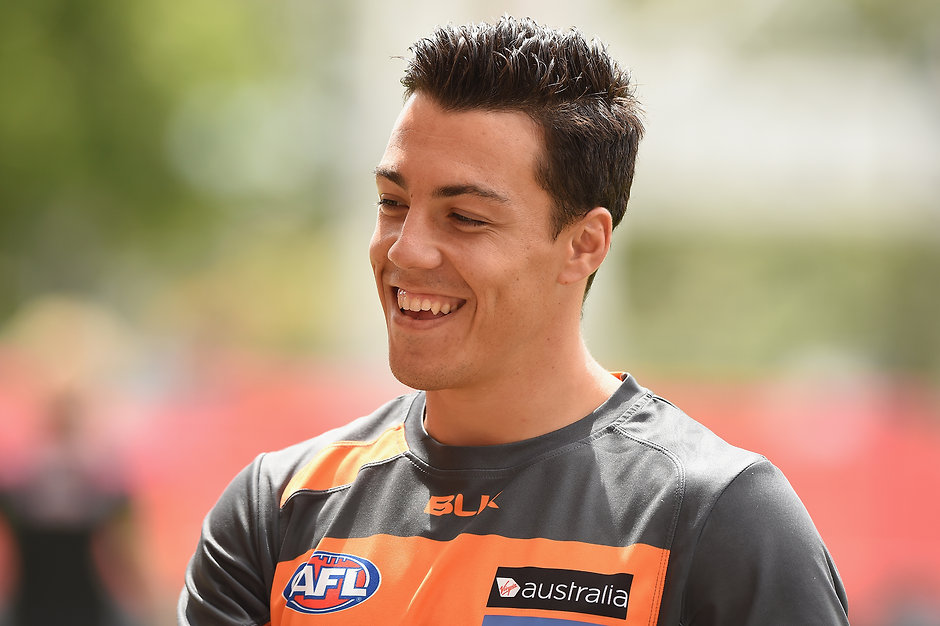 The body is feeling great and I'm feeling as fit as I've ever felt
Dylan Shiel
EXPLOSIVE Greater Western Sydney midfielder Dylan Shiel believes missing eight games at the end of last year has him in good shape to hopefully better the blistering start he made to the 2015 season.

Shiel, 23, was a star in the early rounds, averaging 29 possessions as the Giants won seven of their first 11 games.

Injuries took their toll in the back half of the season and the club missed the finals, winning just four more games after the bye.

The powerful onballer was one of several star GWS players - along with Shane Mumford (ankle), Tom Scully (knee), Phil Davis (hamstring) and Joel Patfull (ribs/lung) - to miss large chunks of footy during the second half of the season.

The injury list: all the teams

Showing just how good his form was, Shiel finished seventh in the club champion award, despite suffering a knee injury against St Kilda in round 15 that limited him to just 14 games for the year.

While the freak runner admitted that no player ever wants to see his name on the rehabilitation whiteboard, Shiel told AFL.com.au that he's tried to take the positives from his own bout of bad luck and couldn't wait to run out in the Giant's season opener against Melbourne at the MCG on Saturday afternoon.

Match preview: Melbourne v Greater Western Sydney

"It's been 7-8 months since I last played. I was really enjoying my footy last year and how we were performing as a team so I'm really looking forward to getting that going again," he said.

"The injury has given me extra time to prepare for this season, but probably the most important thing for me is that I've had a few pre-seasons now and my fitness is at a really good level.

"The body is feeling great and I'm feeling as fit as I've ever felt.

"The biggest thing was to get some game time in during the NAB Challenge and really start to get the feel of proper game-type situations and tick that off, and get into some form before round one."

Shiel was one of the Giants' biggest re-signings in 2015, along with Stephen Coniglio, Devon Smith and Matt Buntine, who were all this week voted into the club's leadership group.

The trio will join co-captains Callan Ward – who announced his own new five-year deal on Monday - and Phil Davis, plus reigning Kevin Sheedy medallist Heath Shaw in a seven-man leadership team.

If he hadn't committed to a new deal with GWS, the Victorian was expected to field several massive contract offers from his home state and the rest of the competition.

Declaring that his main driver for staying was that his 'best chance of on-field success is at the Giants', Shiel said his new position was one he's been working on for the past three seasons as part of the club's emerging leaders program.

Another summer working closely with former Collingwood premiership captain Nick Maxwell, who joined GWS in November, has also enhanced his leadership credentials.

"The biggest changes I've seen has been the way I'm now looking at the game from a different perspective," Shiel said.

"I'm trying to help others out and make them better.

"In that first couple of years (in the competition), and not that it's a bad thing, you're really focused on trying to establish yourself as a week-in-week-out AFL player.

"Now the focus is about helping others and that's going to help us as a team.

"Maybe it's not so much to do with on-field, it's off-field, sometimes it can just be spending time with teammates and having conversations that aren't football related.

"Guys that have just come into the system might need to bounce a few ideas off me with how to go about their footy, or how to cope with homesickness and stuff like that.

"Obviously we've got a group of young guys that have come in this year and we have a lot of our guys from interstate."

Shiel put up career-high numbers in possessions per game and goals in 2015. He was also voted best-on-ground by the umpires twice last year (for a total of six Brownlow votes).

He said despite the extra responsibility that comes with his leadership role, his focus on footy in 2016 won't change.

"The club isn't putting any pressure on us leaders to play above and beyond our capabilities or to have a 'try and win the game ourselves' type attitude," he said.

"We know what our role is around the club and on the field and when we all play our roles we get a pretty good result.

"Personally, I'm not feeling any extra pressure to perform and I'm just going to go about trying to continue on from last year."