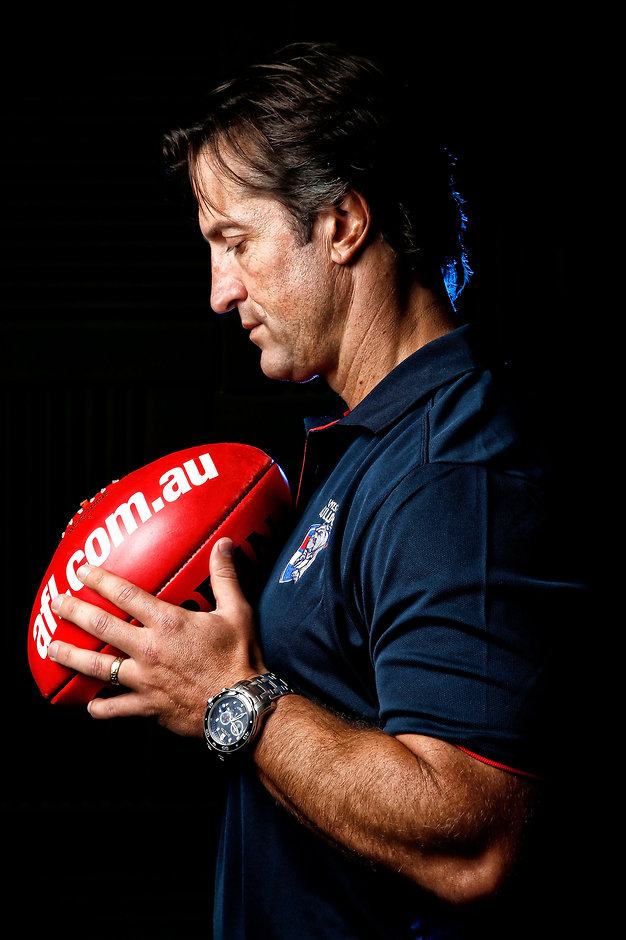 BEING an AFL coach is an all-encompassing vocation.

You need a varied skill set, ranging from astute football acumen through to being an amateur physiologist. Time and people management proficiency is also essential.

When your team isn't performing, a strong self-belief and thick skin is required to repel the intense scrutiny applied by fans and the media.

Luke Beveridge signed up for this lifestyle nearly 18 months ago, and while he feels privileged to be one of just 18 men in Australia to hold such a coveted position, he concedes life as an AFL coach is challenging.

And like a lot of his peers, he juggles those challenges with being a husband and father.

"I think I've got a good balance because I have good people who offset the workload for me and carry the load," Beveridge told AFL.com.au.

"As long as you don't stress, become anxious and have got good people around you, that's the buffer that helps you get through the difficult times.

"That's why it's critical in a crisis people react in a supportive way, not a judgmental way, because it really helps you move on and focus on the next challenge."

That support network within the club, and on the home front is crucial, with an AFL coaches' working load anywhere up to 80 hours per week.

"It just depends on how the hours are spent because you don't sit at a desk for those '80 hours'," Beveridge said.

"The communications are off the charts and the early part of the week is madness, but then it settles.

"I have no dramas switching off and sleeping, but you do find yourself thinking about footy when you shouldn't be, so that's the preoccupation that (coaches) needs to get past.

"Is it healthy? I don't know, probably not."

Another outlet for the avid surfer is watching oldest son Kye strive to emulate him and become a League footballer.

Starting his second season with Sandringham in the TAC Cup, the 17-year-old won't be the only son of a gun at the Dragons hoping to follow in his father's footsteps, with Dermott Brereton's son Devlin, and Stuart Maxfield's boy Jesse, in the mix as father-son prospects.

"Young Kye is in his draft year and he's a determined young man who really wants to make it," Beveridge said.

"He's playing as a defender at the moment and playing OK.

"It's an enthralling journey because we are so proud and love our kids so much, we've just got to make sure we keep our hands off to a certain degree."

With the Bulldogs' season proper starting against Fremantle on Sunday, Beveridge will have fewer opportunities to spend time with loved ones, but he's working hard to get his work-life balance right.

"Weekends become harder during the year," he said.

"I watched my other son Noah play in a basketball final the other night, so as long as their games are scheduled around your footy commitments it helps.

"And I'd like to find more time to catch up with friends and that's a challenge, but as time goes by hopefully I work that out."