• After the siren: Crunch time after one round?
• Nine things we learned from round one

MAYBE, just maybe, there are a few people living deep in the Amazonian jungle who were not aware that Patrick Dangerfield now plays for Geelong.
Dangerfield has been front and centre of anything and everything to do with the Geelong Football Club in 2016.
Membership? Tick. Merchandising? Tick. And naturally on the front page of the Geelong edition of the AFL Record for his debut game for the Cats.
That edition of the magazine now becomes a collector's edition as well after Dangerfield played the greatest debut game for a second club in AFL history.
A collector's edition: Patrick Dangerfield delivered history's greatest club debut on Easter Monday. Pictures: AFL Media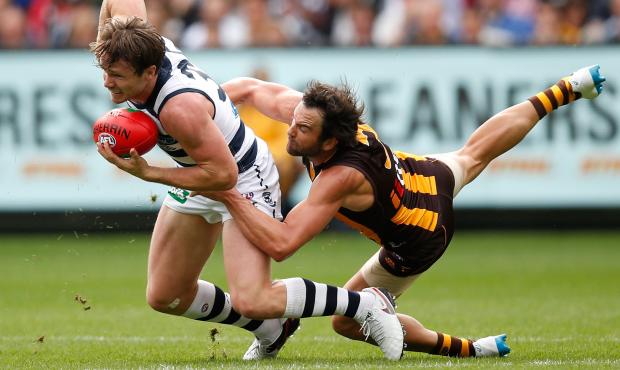 The numbers
Just astonishing. Dangerfield collected a career-best 43 disposals – 18 kicks and 25 handballs. Tantalisingly for the Cats, there were a few 'one-twos' with Joel Selwood, the pre-eminent Geelong midfielder of them all, at least until now.
His disposals were evenly split between contested and non-contested, and there were also five clearances and the equal team-best seven tackles.
About all that was missing was a goal.
The role
Midfield/do whatever you like. He was matched with Sam Mitchell for a fair part of the match, but a bit like Dangerfield's clash with Nat Fyfe last year, they played off, rather than on, each other. And this time he got the points, although Mitchell was very good for Hawthorn.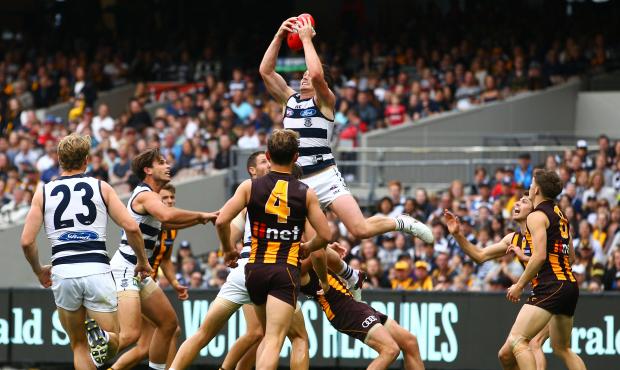 But he was brilliant going forward, took the mark of the match in the final stanza and was let down only by his conversion with three behinds – two of them sitters – also in the final term.
But it would be churlish to carp on them, for even a moment.
DANGERFIELD! #AFLCatsHawks https://t.co/b2slSRfX3n

— AFL (@AFL) March 28, 2016
The impact
On the field, Geelong now has one of the best midfields going around. Sit on Dangerfield and Selwood gets you. Clamp down on Selwood and he'll probably get you anyway. And Dangerfield will run rampant.
And in this age of fewer rotations and the best midfielders pushing forward, Dangerfield as a resting forward could be anything, as the final quarter on Monday attested.
Off the field, we can only imagine the front page of the Geelong Advertiser on Tuesday and the run on merchandise at the Cats shop.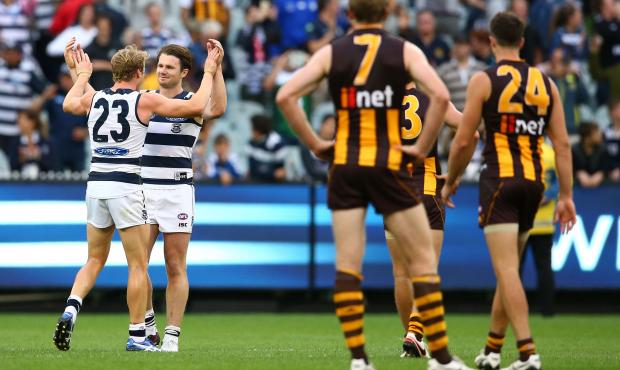 • How the fans saw the Cats-Hawks blockbuster
The history
Nothing will ever beat John Coleman's 12 goals on debut for Essendon in 1949 against, ahem, Hawthorn. That was his first game ever and a massive step-up from playing out of the goal square for Hastings.
John Georgiades kicked eight goals for Footscray on debut at Princes Park in 1989, but was out of footy within a couple of years.
In terms of impact on debut for a new club, Greg Williams racking 37 touches and kicking two goals for the Sydney Swans against North Melbourne in 1986 was pretty special, and it earned him three Brownlow votes that helped him win the medal that year. Until Monday, it was the most disposals by a player on debut at his new club.
But we can now safely say that Dangerfield has him beaten on that score. We can sit back and enjoy him and Geelong for the rest of the season.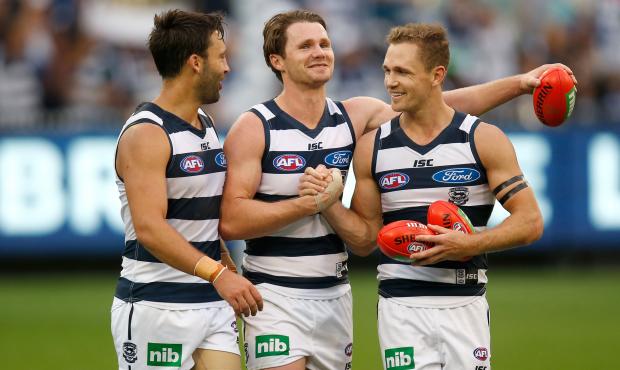 And as Cats coach Chris Scott reminded afterwards, he is still only 25. Look for his smiling mug on membership cards, billboards, t-shirts and AFL Record covers for years to come.
The hype will be off the charts, but given the noise already, perhaps the Cats will be happy to bask in it all.
Interestingly, chief executive Brian Cook said on ABC Grandstand pre-game that Geelong's history was one of celebrating its stars. Bob Davis started that philosophy, and the likes of Doug Wade, Polly Farmer, both Abletts and Selwood have been the recipients of that adulation, among others.
It will continue with Dangerfield, who has been backed into firm Brownlow favouritism, $9 before the match and now into $7. And the Cats moved from $8 into $6 for the flag, in what is suddenly a tight market.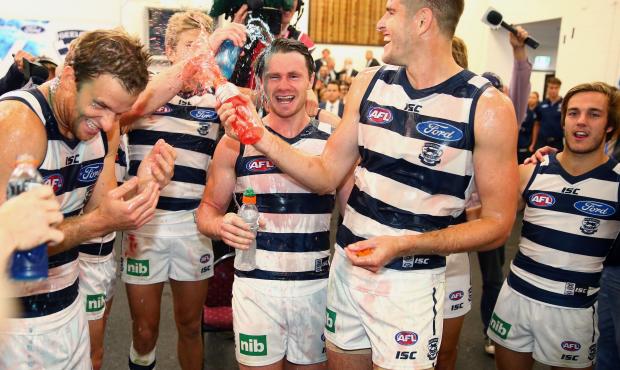 Cook said there were a few worries that Dangerfield might have spread himself to thin over the summer and in the lead-up to the season.
After 100 minutes of football, his worries are over.