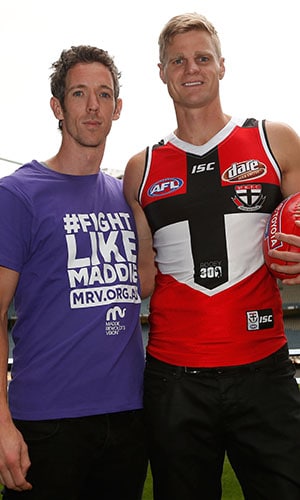 I certainly don't feel old, but it's gone so quick
Nick Riewoldt on his 300-game milestone
ST KILDA captain Nick Riewoldt says there will only be one thing missing when he runs out to play his 300th game on Saturday against the Western Bulldogs at Etihad Stadium.
Riewoldt's milestone game will coincide with the second annual Maddie's Match to fundraise for Maddie Riewoldt's Vision, the charity set up to honour Riewoldt's late sister, who died in February last year.
While flattered by the attention heaped on him this week as he becomes just the fourth Saint to reach 300 games, Riewoldt said the real honour was being able to use the occasion for his sister's cause.
"Maddie is the only thing that will be missing from Saturday night as far as I'm concerned," Riewoldt said on Wednesday.
"So to be able to pay tribute to her and honour her legacy and raise some money for bone marrow failure syndrome … it's a great thing to be able to do while we celebrate my 300th.
"There's not a day that goes by where I don't think about Maddie and how great it would be if she was here and able to do this herself.
"But in lieu of her not being able to do it, that's what we're doing as a family."
Riewoldt and Bulldogs captain Bob Murphy came together on Wednesday to promote Maddie's Match, with five dollars from every ticket sold going to the charity.
After the Bulldogs' exhilarating round one performance – and two nail-biting clashes between the teams last year that were split 1-1 – Riewoldt said there would be plenty of interest in Saturday's match.
"We've got a lot of respect for them for what they were able to achieve [last year]," Riewoldt said of the Bulldogs.
"I think they probably surprised a lot of people last year with all the turmoil in the pre-season and the way they were able to come together with a collective aim and have a great year of footy.
"It gives teams like us who have gone through a similar rebuild real hope."
Riewoldt, who was selected with pick No.1 in the 2000 National Draft, reminisced on his first season with the Saints, playing alongside 300-game veterans Stewart Loewe and Nathan Burke.
He said it was an honour to join that pair and premiership great Barry Breen in reaching the 300-game milestone.
"I was injured [when Burke and Loewe played their 300th games] but I remember thinking at the time that they were great St Kilda people, and old," Riewoldt said.
"I certainly don't feel old, but it's gone so quick. You don't feel like that's your place in the game.
"To play 300 games at the level is important, but it just means something really special to me to have done it at St Kilda."